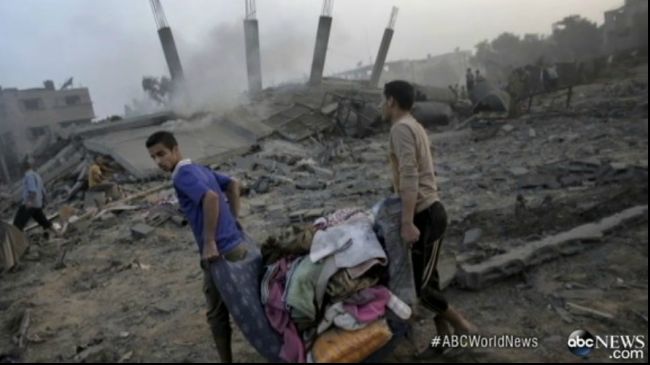 Tuesday 15 July, 2014
Written by: Anonymous Singer
Since Monday, more than fifty Palestinians have been killed and another 450 wounded because of Israel's ongoing assault on the Gaza Strip.
As we all know, mainstream media outlets are always trying to project Israel as the victim, defending its people against irrational Palestinian rocket fire.
We cannot equate the killing and maiming of dozens of innocent Palestinians with scared Israelis seeking shelter from air rockets that rarely cause damage. But that has not stopped media outlets from trying, and sometimes plainly lying, to pervert the violence.
Let me give you a recent example; ABC News' Diane Sawyer misidentifies scenes of the aftermath of Israeli missile strikes in Gaza as destruction caused by Palestinian rocket fire. You do not believe me? See it yourself: http://www.youtube.com/watch?v=k-m4PlW-KgI.
Well, as Sawyer segues into the segment, she says, "We take you overseas now to the rockets raining down on Israel today as Israel tried to shoot them out of the sky." Next to her is video footage that is not of Israelis or even Israel, but of Israeli airstrikes on Gaza.
Sawyer then incorrectly continued with describing an image of a Palestinian family, who are desperately trying to gather belongings in the smoke of a missile-hit home in Gaza, as "an Israeli family trying to salvage what they can."
After that, Sawyer describes an image of a Palestinian woman surrounded by destroyed homes as "one woman standing speechless among the ruins," which implicates that she is Israeli.
Sawyer's misreporting reflects either a deliberate lie by ABC News or wilful ignorance, so severe that Palestinian death and misery is invisible even when it is staring ABC producers right in the face.