The now famous and most hated hackers in the world, the Lizard Squad, have struck again. Most people familiar with cyber attacks and hacking have heard about the Lizard Squad and that they are known for DDoS attacks, and today at 12:00pm (Indochina time), the Lizard Squad attacked the Google Vietnam website (www.google.vn) and defaced it… leaving a small greeting on the page.
Hacked by Lizard Squad, greetz from antichrist, Brian Krebs, sp3c, Komodo, ryan, HTP & Rory Andrew Godfrey (holding it down in Texas)

Buy DDOS @ http://lizardstresser.su

Follow us on Twitter: @LizardCircle
The Lizard Squad added photo of a person holding an iPhone while taking a selfie and added a video on the defaced page.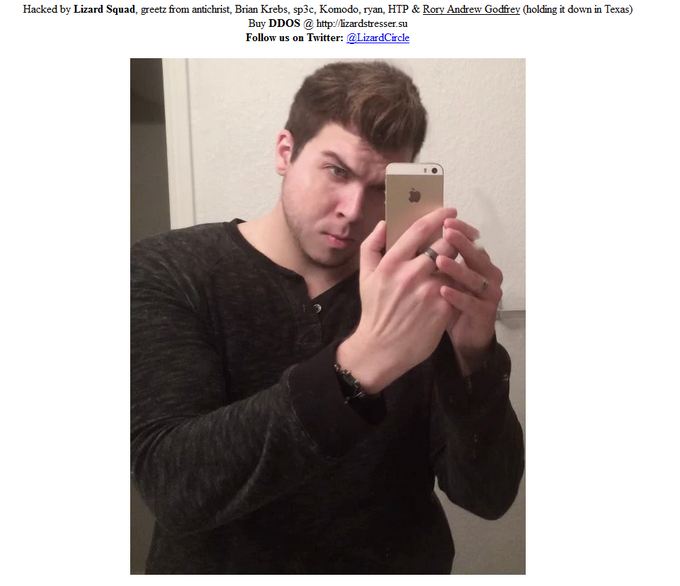 The Lizard Squad took to Twitter to announce their hack:
Anyone think http://t.co/IfjTUw7WRN looks a little different today?

— Lizard Squad (@LizardCircle) February 23, 2015
Internet users in Vietnam expressed their frustration about the hacking of the Google page on various social networking websites. Have a look:
@LizardCircle WHO THE HELL ARE YOU? WTF YOU DOING IN @google?

— Phan Nhật Vy (@MoOn20543) February 23, 2015
@LizardCircle You HACK my search. Stopping your HACK. If not, we will accuse you(I am From VN)

— Leonidas Duong (@LeonidasDuong) February 23, 2015
Around 2:oopm (Indochina time), Google Vietnam was restored and it was confirmed that the site was redirected by the hackers for a period of time. According to a local news site in Vietnam, www.zing.vn, the Google page was unavailable only to those users who were using Google's DNS. Once the users replaced the Google DNS (8.8.8.8) with their default address, they could then access the website properly. For the rest of the users and mobile users not using Google's DNS, Google Vietnam was working properly. It should be noted that there was no rippling effect of the attack on Google's other services, like Google+, YouTube, etc. It is not yet clear why the Lizard Squad hacked the Google site, though there is speculation that they are trying to promote their DDoS service (Lizard Stresser).