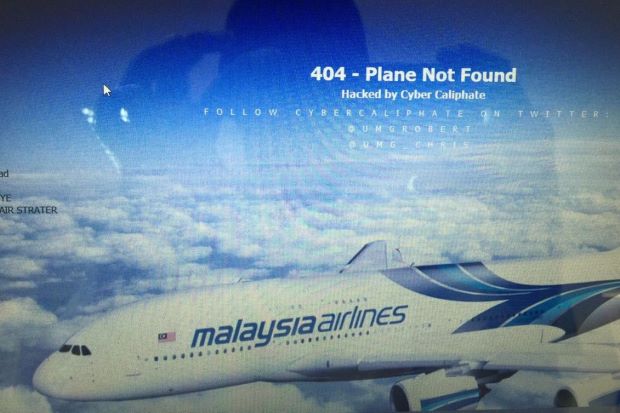 The Malaysia Airlines website was comprised on January 26 by hackers who claimed to be from the Lizard Squad, a group known for denial-of-service attacks. Lizard Squad, who late last year took down the Sony PlayStation Network and Microsoft's Xbox Live Network, threatened to release important data from Malaysia Airlines.
Going to dump some loot found on http://t.co/D9XYneQoaK servers soon

— Lizard Squad (@LizardMafia) January 26, 2015
The hackers at first changed the website to display a message saying "404 – Plane Not Found" (an apparent reference to the airlines' mysterious loss of flight MH370 in 2014) and that it was "Hacked by Cyber Caliphate", with a photo of one of the airline's Airbus A380 superjumbo jets. The browser tab for the website read "ISIS will prevail". The national carrier's homepage was replaced with an image of a tuxedo-wearing lizard, and read "Hacked by LIZARD SQUAD – OFFICIAL CYBER CALIPHATE".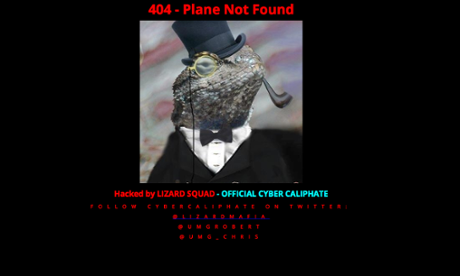 Malaysia Airlines released a statement confirming the news:
"Malaysia Airlines confirms that its Domain Name System (DNS) has been compromised where users are re-directed to a hacker website when www.malaysiaairlines.com URL is keyed in. At this stage, Malaysia Airlines' web servers are intact.
"The airline has resolved the issue with its service provider and the system is expected to be fully recovered within 22 hours. The matter has also been immediately reported to CyberSecurity Malaysia and the Ministry of Transport.
"Malaysia Airlines assures customers and clients that its website was not hacked and this temporary glitch does not affect their bookings and that user data remains secured".
You may experience difficulty accessing our website. We are currently working on resolving the issue. To book fares: http://t.co/tV2iIvlYxt

— Malaysia Airlines (@MAS) January 26, 2015
To check-in online, kindly visit http://t.co/eSWoAvFbge. We thank you for your patience and kind understanding.

— Malaysia Airlines (@MAS) January 26, 2015
[MEDIA STATEMENT]: User data is secured. 26th January 2015. http://t.co/HcqKZVAez9

— Malaysia Airlines (@MAS) January 26, 2015
It is unclear why Malaysia Airlines was targeted. According to reports, the government is concerned about the news of Malaysian citizens being lured to the ISIS cause in the Middle East in the recent past. Malaysian authorities last week acknowledged that they detained 120 people suspected of having ISIS sympathies or planning to travel to Syria.
---
Anonymous recommends: Protect your PC & mobile devices from hackers & governments & surf anonymously 
---
Sources:
http://news.yahoo.com/malaysia-air-hacked-group-claiming-support-060623472–finance.html
http://www.theguardian.com/world/2015/jan/26/malaysia-airlines-website-hacked-by-lizard-squad