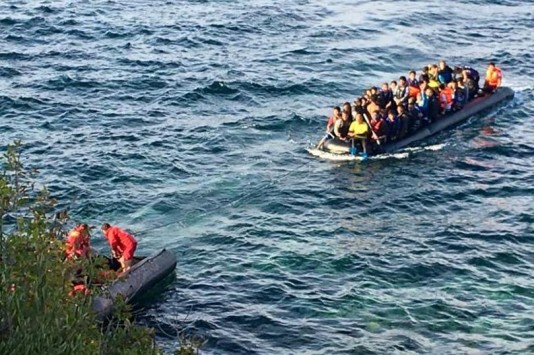 During the early morning hours on Friday October the 9, hundreds of refugees in inflatable boats started to drift upon the coast of Lesbos. In the middle of the international waters between the Greek island of Lesvos and Turkey, a heist broke out involving masked English speaking pirates.
Five masked and armed pirates using a speedboat had forced an attack on inflatable boats that was carrying migrants and refugees from Lesbos to Turkey. On one of the boats, the pirates took thousands of Euros as well as passports, cloths, and mobile devices. The captain of the boat, known as AZ-060 (which is a Greek Coast Guard boat), proclaimed that pain does not affect him as he showed off scars from previous forms of torture. After stealing everything from the migrants, the pirates then left them to die by means of disabling their engines completely, and allowing them to drift away further into the great unknown ocean.
After the attack, the boats started to drift away and where at a high risk of capsizing. The victims were at drift for over 8 hours, according to volunteers and other witnesses, several of the refugees started to jump out and aid in pushing the boats toward the shore. Life guards started to pulling boats to shore.
The attackers, as described by the victims, where masked and black dressed as well as armed. The pirates also only spoke in an English dialect. One of the pirates had a distinguishing feature as his eyes where blue.
Bouckaert spoke first of the attack and stressed that the attack from the pirates had in fact been a well-organized and planned out from the Greek far-right wind supporters.
The armed men in which were well built in size and extremely professional removed motors of boats and then punctured a hole on the boat forcing the people to board their speedboat. It was onboard the pirates ship in which they began to rob the people in which were Muslims. While the women would chant Ah Allah, Allah save us, it was provoking the pirates.
This is not the first time the pirates had attacked the refugees traveling in these waters. One of the victims was on the same voyage just 2 weeks prior and was robbed during that time as well.
The pirates are known for attacking other religions and taking what they want. Some say it is to start a new life in Europe.
While the reason for the attacks is still unclear, one thing is known, the Greek Coast Guard turns their head when these pirates are around.
---
This Article (Masked Villains Attack Refugees on Inflatable Boats! [investigate]) is free and open source. You have permission to republish this article under a Creative Commons license with attribution to the author and AnonHQ.com.