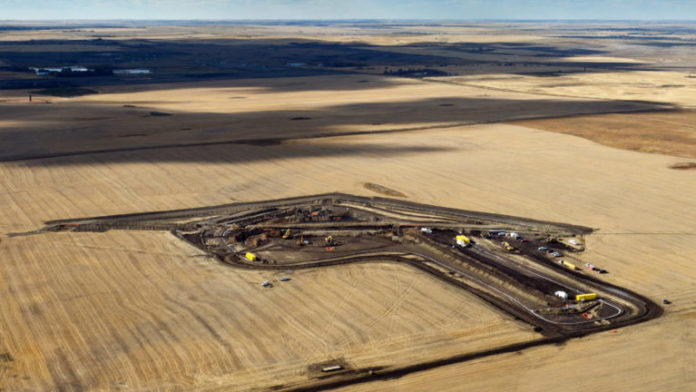 By Alexis Henning at trueactivist.com
The spill is one of the largest in North Dakota history.
A farmer in North Dakota discovered one of the largest crude oil spills ever recorded in the state just "bubbling up out of the ground" while harvesting wheat a few months ago.
Farmer Steve Jensen stated that he smelled the crude oil a few days before his combines were covered in it. The oil was "spewing and bubbling six inches high," he said in an interview with CBS News. The Tesoro Corp's underground pipeline spilled 20,600 barrels of oil under the farmland. It was four times the size of a pipeline that burst in March of 2013 that forced the evacuation of more than 20 homes in Arkansas.
Luckily for the general population of North Dakota, however, the pipeline is in a remote corner in the northwest The nearest home is half a mile away, and there have been no water contamination reports. No animals or people have been injured in the spill.
Tesoro Logistics released a statement that the affected portion of the pipeline has been shut down.
"Protection and care of the environment are fundamental to our core values, and we deeply regret any impact to the landowner," Tesoro CEO Greg Goff said in a statement. "We will continue to work tirelessly to fully remediate the release area."
The company estimates it will cost about $4 million for clean up, and that "it is completely contained and under control" due to a natural layer of clay that is 40 feet thick underneath the oil spill site that has kept it from contaminating the water.
Eric Haugstad, Tesoro's Director of Contingency Planning and Emergency Response has said there was a quarter-inch thick hole in the 20-year-old steel pipeline, which runs 35 miles from Tioga to a railroad facility near the Canadian border. The company is investigating possible causes.
Wayde Schafer, a North Dakota spokesman for The Sierra Club, said the spill is an example of the lack of oversight in a state that has exploded with oil development in recent years.
"We need more inspectors and more transparency," Schafer said. "Not only is the public not informed, but agencies don't appear to be aware of what's going on and that's not good."
Unfortunately for the farmer, his field will be unable to be used now for multiple years.
What are your thoughts? Please comment below and share this news!
---
This article (Massive Oil Spill 'The Size of Seven Football Fields" Found In North Dakota) is free and open source. You have permission to republish this article under a Creative Commons license with attribution to the author and TrueActivist.com