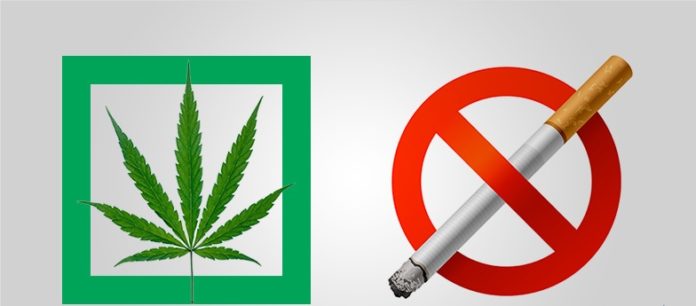 In 2013, on World No Tobacco Day, the European Society of Cardiology warned that smoking tobacco increases the risk of heart disease and stroke by five-fold in people under the age of 50, and doubles the risk in people over the age of 60. Prevention of smoking tobacco is the most cost-effective way to treat and prevent cardiovascular diseases, their researchers concluded.
According to the latest World Health Organization (WHO) figures, tobacco kills around 6 million people each year – up to half of its smokers. Tobacco smoking, responsible for over $1 trillion in healthcare costs and lost productivity each year, will kill more than 8 million people a year by 2030, WHO estimates.
While the world at large is concerned about how tobacco kills, there is very little focus on how cannabis heals.
#Cannabis Exerts Neuroprotective Effects, May Be Used In Stroke and Cardiac Emergencies https://t.co/ksSw6tUpRL #breakthetaboo #EndOurPain pic.twitter.com/6LfHGfmdZx

— Cannabis Law Reform (@CLEARUK) February 10, 2017
According to a study of 49,321 Swedish men, who were born between 1949 and 1951 and were conscripted into military service at the age of 18 and 20, cannabis use does not increase the risk of early stroke, which tobacco smoking does.
Using cannabis more than 50 times, the researchers found, was not associated with an increased risk of stroke at age 45 or younger. Heavy cannabis users, they claim, did have a two-fold higher risk of ischemic stroke due to blood-vessel blockage, but the link disappeared after the researchers accounted for participants' tobacco use.  The researchers concluded:
"Previous studies on cannabis and stroke are mainly clinical, retrospective, and cross-sectional. We have expanded current knowledge by examining cannabis use in young adulthood in relation to the subsequent risk of stroke in a large population-based cohort.
"We found no evident association between cannabis use and stroke, including stroke before 45 years of age. Tobacco smoking, however, showed a clear, dose–response shaped association with stroke across multivariable models."
History of #Cannabis Use Not An Independent Risk Factor for #Stroke

Read More – https://t.co/OIBjFdlWqe pic.twitter.com/hfQeBMUXAT

— MedicalMarijuana.eu (@mmjeurope) February 7, 2017
The researchers divided the participants into groups based on their cannabis, tobacco smoking and alcohol use. They followed the participants from 1971 until 2009 to assess the initial occurrence of fatal or non-fatal strokes.
During the follow-up period, there were 1,037 first-time strokes, of which 48% were ischemic strokes and 23% were hemorrhagic strokes. In addition, 192 first-time strokes occurred before the participants turned 45, of which 40% were ischemic strokes and 27% were hemorrhagic strokes.
Participants who had a stroke were more likely overweight, heavy smokers/heavy drinkers, had low cardio respiratory fitness, low socioeconomic position in childhood, and parental history of cardiovascular disease.
Lead author Dr. Anna-Karin Danielsson, of Karolinska Institutet in Stockholm, said men who smoked at least 20 cigarettes a day were at five times the risk of stroke before age 45 and more than two times the risk by age 60. More than 90% of stroke risk was related to modifiable risk factors such as tobacco smoking, alcohol consumption, poor diet, low physical activity and hypertension, Danielsson and her team noted in their report in Stroke.
Cannabis Heals
It is proven that tobacco kills, but it is also proven that cannabis helps people quit smoking tobacco.
A pilot – randomized double-blind placebo controlled study – aimed at assessing the impact of the adhoc use of cannabidiol (CBD) in smokers who wanted to quit smoking, found that participants who received the CBD inhaler reportedly smoked 40% fewer cigarettes weekly.
CBD, a phytocannabinoid derived from cannabis, is devoid of psychoactive activity, but it possesses analgesic, anti-inflammatory, antineoplastic and chemopreventive activities. The Free Thought Project observes:
"CBD is arguably much safer than the Selective Serotonin Reuptake Inhibitors (SSRIs) currently prescribed to smokers who want to quit smoking. The SSRIs are required by the FDA to carry what is known as a "black box warning label" warning consumers of suicidal and homicidal ideations and actions.
"CBD, however, is all natural, and is apparently a threat to the DEA. Just last month, in December of 2016, the DEA made the highly controversial move to classify CBD oil as a Schedule I narcotic along with heroin, and cocaine."
Why does "United States Of #America" has a #patent for using #cannabis to #treat #stroke, trauma, #Alzheimer's and #Parkinson's disease? pic.twitter.com/EkAL5I5dET

— UnCircus'n'bread (@trutherbit) January 17, 2017
Don't you wonder: When tobacco is addictive and lethal, why is it legal? When cannabis is safe and healthy, why is it illegal?
---
This article (Massive Study Confirms: Smoking Tobacco, Not Cannabis, Increases Stroke Risk Fivefold) is a free and open source. You have permission to republish this article under a Creative Commons license with attribution to the author and AnonHQ.com.
---
Supporting Anonymous' Independent & Investigative News is important to us. Please, follow us on Twitter: Follow @AnonymousNewsHQ