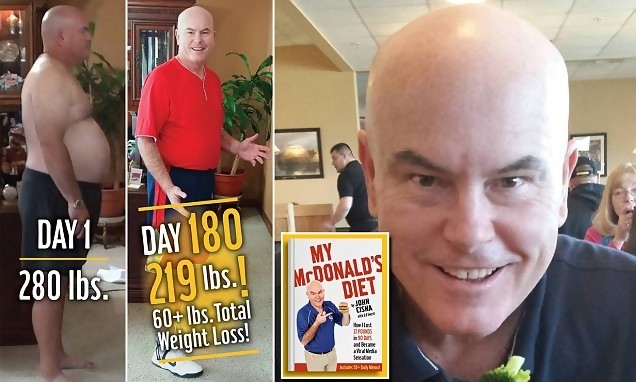 Can you lose weight while eating McDonald's fast food? Well, McDonald's wants you to believe its diet — which has been proven to be full of unhealthy ingredients — contains the daily recommended allowances for carbohydrates, proteins, sugar and fat; and so, it is healthy to eat and does not cause obesity and the other health ailments, as widely claimed.
Remember when John Cisna, a high school science teacher from Iowa, lost 56 pounds while eating nothing but McDonald's in 2013? Just so you know, John went for the McDonald's-only diet, limited his daily intake to 2,000 calories, and exercised for 45 minutes five times a week.
After six months, he lost a total of 21 inches off his chest, waist and hips; his total cholesterol dropped from 249 to 190; from 38, his body mass index came down to 30; and from 280 pounds, his body weight came down to 224 pounds.
"I ate 540 straight meals at McDonald's. I spent a half a year of my life eating nothing but McDonald's and I know it works so when I hear the skeptics, it doesn't disgruntle me. It actually fires me up because those are the people that I have to educate," John insisted in a documentary McDonald's pedaled to schools as a tool for teaching kids about healthy eating.
As a paid brand ambassador for McDonald's, he even traveled across the United States promoting the fast food chain to middle and high schoolers, as well as students studying dietetics.
The 20-minute documentary, titled 540 Meals: Choices Make The Difference,  showed John discrediting the famed documentary Supersize Me and explaining his unconventional weight-loss plan that made him lighter and healthier. While John tried to convince students that McDonald's fast food is a nutritious, wholesome choice for lunch, McDonald's swayed them to ignore any negative information about fast food, or McDonald's, that they may encounter on the Internet. John argued:
"This experiment wasn't about McDonald's, this experiment wasn't about me. This experiment was about teaching kids to use critical skills in making proper choices."
As expected, experts weren't impressed. Elisa Zied, a registered dietitian nutritionist in New York and author of Younger Next Week, told TODAY:
"Much of John's results have to do with cutting his calorie intake, so it's not surprising that he lost weight and lowered his cholesterol. But it's likely his diet was high in sodium, low in fiber and not as rich in vitamins and minerals as it could be because it lacked a variety of fruits, vegetables, whole grains and other nutrient-rich foods.
"I personally would not recommend this to anyone. Fast food can be part of a healthful, balanced and nutrient-rich diet but it… shouldn't be a large part. I would advise people trying to lose weight to cook at home more, eat out less, and follow current Dietary Guidelines for Americans."
Bettina Elias Siegel, a Harvard Law School graduate and renowned advocate on issues related to children and food policy, lambasted the documentary. Siegal claimed it as being a veritable infomercial for the beleaguered fast food chain promoted at high schools and middle schools by local McDonald's franchisees and paid McDonald's "Nutrition Consultants." Siegal went further, explaining how it was in order to woo customers at a young and impressionable age to change its image and profits. She also launched a petition on Change.org asking McDonald's to stop the program.
UPDATE:
Faced with widespread criticism, McDonald's not only stopped sending John to schools to educate students about nutrition and good habits, the company also stopped supplying related materials, including the 20-minute documentary the critics called a subtle form of fast-food marketing that could imperil kids' health and understanding of nutrition. Christina Tyler, a McDonald's spokesperson, said in a statement:
"John's currently focused on the opportunities that make the most sense for our brand at this time. Specifically, as our brand ambassador, John is currently focused on internal and local community events, and he is not appearing at schools."
In his response, John told The Washington Post:
"My focus has always been to encourage people to exercise and make more informed choices about food. Now I'm focused on and enjoying talking to employees and community groups about my story of choice and balance."
McDonald's New Kale Salad is Less Healthy Than a Big Mac https://t.co/qCbndK7TCx #foodiefriday #mcdonalds pic.twitter.com/xmuxPK2KvO

— Jetset Lawyer (@jetsetlawyer) October 14, 2016
---
This article (McDonald's Engages in Massive Fast-Food-Is Nutritious Propaganda in US High Schools) is a free and open source. You have permission to republish this article under a Creative Commons license with attribution to the author and AnonHQ.com.
---
Supporting Anonymous' Independent & Investigative News is important to us. Please, follow us on Twitter: Follow @AnonymousNewsHQ