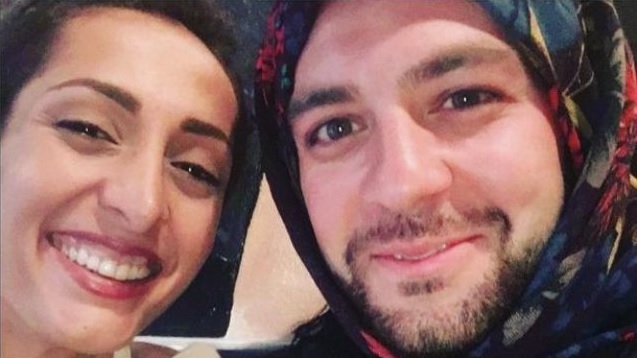 Wearing the Islamic hijab (a headscarf) has been made compulsory for women in Iran since the Islamic Revolution of 1979. According to the 'law' enforced by morality police, women are forced to cover their hair in public to enforce compliance with Islamic law, as well as prevent sexual advances from men; those who defy this, face punishments ranging from fines and lashes, to imprisonment.
Many Iranian women consider wearing the hijab as an important religious practice, but many others feel the law that insists women to wear hijab, in order to be labeled "modestly and appropriately dressed," is unjust and oppressive. One of them, New York-based Iranian journalist and women's rights activist Masih Alinejad, is up in arms about the conservative country's "decency" laws.
Alinejad founded My Stealthy Freedom — an online movement against the enforced hijab — in 2014, when approximately 3.6 million Iranian women were warned, fined, or arrested by the morality police for "crimes against public prudency and morality" (according to Esmail Ahmadi-Maghaddam, head of the national security forces in Iran).
Her Facebook page soon became a destination for Iranian women who wanted to vent their frustrations at the conservative regime's autocratic restrictions. After My Stealthy Freedom went viral, the Iranian government tried to discredit Alinejad. The state broadcasting service, writes VOX, fabricated a report that claimed she had taken drugs in London, stripped off her clothes, and then was raped in front of her teenage son.
But that didn't stop Alinejad. She once told VOX: "Iran is for all Iranians. Iran is me and my mother. My mother wants to wear a scarf. I don't want to wear a scarf. Iran should be for both of us." A woman showing her hair in public remains a criminal offense in Iran; still, hundreds of thousands of women and girls have bravely stood up for freedom of choice, and continue to support each other through My Stealthy Freedom (Alinejad's Facebook page has over a million followers).
Last week, My Stealthy Freedom put together a new social media campaign — #MenInHijab — to get Iranian men to take pictures of themselves wearing the hijab in support of their wives, girlfriends, sisters, and daughters. The #MenInHijab campaign is more than just a fashion statement — it's a social statement, writes Inc.com — It is fathers, sons, uncles, brothers, and husbands giving public and meaningful support to the women in their lives. It's about men backing women in a country that tries to shame them repeatedly and pervasively.
Alinejad told the Independent some men are also posting their images on their Instagram accounts, to show solidarity with their wives who are forced to cover their hair:
"Most of these men are living inside Iran and they have witnessed how their female relatives have been suffering at the hands of the morality police and humiliation of enforced hijab. For years, from childhood to womanhood, we've been forced to wear the compulsory headscarf and for years we have had to endure the loss of our dignity. Many men have gotten used to seeing women in compulsory hijab every day and you think that is normal. But for millions of Iranian women, this compulsory hijab is an insult to their dignity.
"In our society, a woman's existence and identity is justified by a man's integrity, and in many cases the teachings of a religious authority or government officials influence a man's misguided sense of ownership over women. So I thought it would be fantastic to invite men to support women's rights."
Alinejad is not against the hijab. She is against the draconian law that dictates how Iranian women must dress, which she says ultimately compromises their dignity. While a lot of Iranian men have come forward to join the movement to protest against the compulsory veil, the #MenInHijab campaign hasn't come without backlash. She told The WorldPost:
"People outside of Iran have reacted [to the campaign] by saying 'you're ruining the face of Islam' or 'Islam doesn't actually force anyone to wear a hijab.' We have to educate them. In Iran, it's compulsory. In some other countries [wearing a hijab is] just a cultural norm. There are people who say 'this is a cultural issue, we shouldn't get involved'. No! This is a human rights issue. We have to talk about it. We must not be silent."
---
This article (Men in Iran Challenge Morality Police, Wear Hijabs to Support their Wives [Photos]) is a free and open source. You have permission to republish this article under a Creative Commons license with attribution to the author and AnonHQ.com.