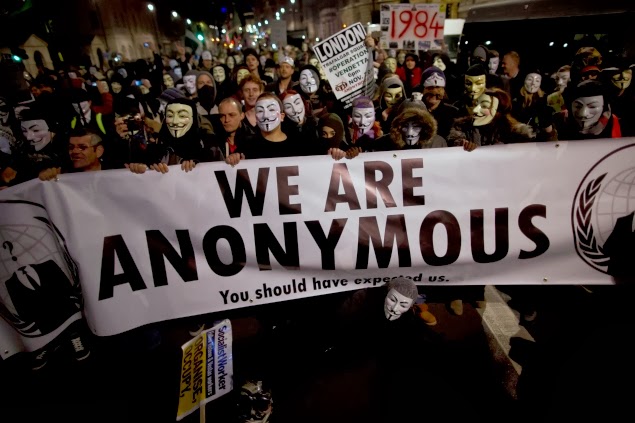 The Agenda: "Remember who your enemies are: billionaires who own banks and corporations who corrupt politicians who enslave the people in injustice."
The Mission: 7 billion people to 1,400 billionaires is 5,000,000 to 1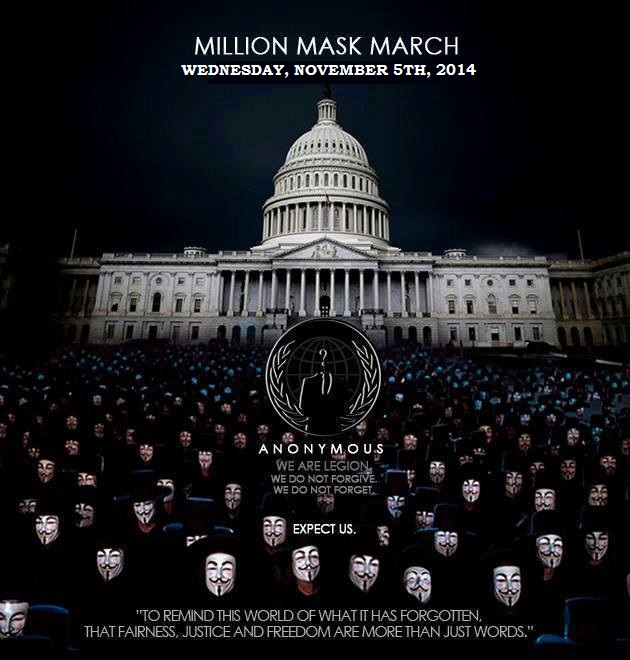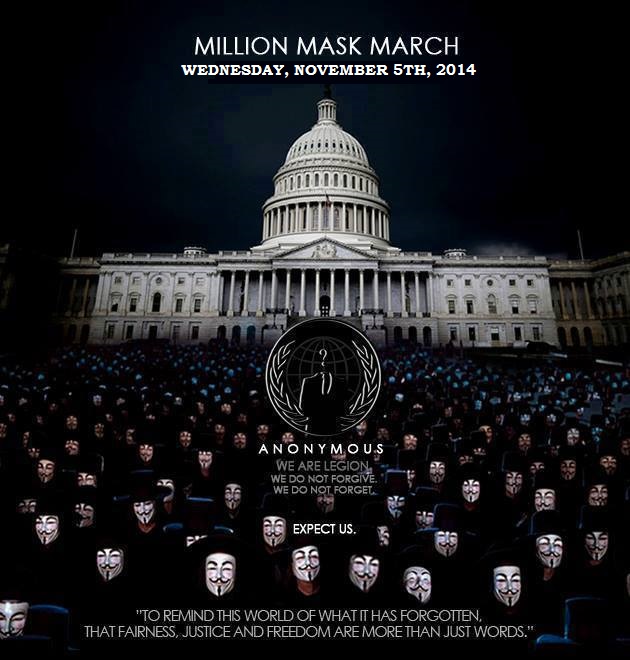 What is The 'Million Mask March'? 
Last year thousands of people worldwide joined Million Mask March rallies organized by the amorphous Anonymous movement. Rallies, both peaceful and confrontational, protested austerity, surveillance, corporate greed and corrupt governments.
In a mass demonstration of people power, crowds in 450 cities around the world filled the streets wearing Guy Fawkes masks. "The corrupt fear us. The honest support us. The heroic join us" – under this motto protesters united in a global mass-march to deliver various messages. 


From Sydney to Los Angeles, from Johannesburg to London – thousands came forward to make their voices heard. Among key ideas which virtually connected all different protests were anti-capitalist idealism and the rejection of NSA surveillance. Some rallies had a sense of carnival, where whole families with kids marched in protest, while other gatherings – like in London and Washington – turned more intense, with people not hiding their rage.
You Want To Participate This Year In The Million Mask March 2014 with thousands of others all around the world?
Here is all information you need for 2014:
HOW TO USE THE MAP

Make sure you have the latest version of Google maps.
Go to:  MillionMaskMarch.com/map.  (.com, .org & .net lead to the same place).  Once you start zooming in,  city names/event pages and the search option will appear.   As a protective measure, copy this link for safekeeping in case anything ever happens to this web site:  https://mapsengine.google.com/map/viewer?mid=zcw0ZYrLl5RQ.khgYCnHItPbY
HOW TO ADD YOUR EVENT TO THE MAP
1.  We add events to the map that you create.
2.  If you only see a 2013 event, contact the group, ask if they'll update it to 2014 and email us here or on Facebook with the link so we can add it to the map. Posting links on our FB discussion threads as the only way of informing us is discouraged.
3. If you don't hear back from 2013 MMM event page admins (don't wait more than 24 hours), trying searching for: "Million Mask March Facebook Wednesday (your city)" to see if a 2014 event has already been created. If you find an event, message us the link so we can add it to the map.
4.  If you can't update a 2013 event and don't find a 2014 event, create a new event page for 2014, we'll add it to the map and reference last year's page.  Set privacy settings to public.
5.  If you think any of event pages are hijacked duds, make another one and we'll add it the map. Yes, you have power and choices.
Please allow 24 hours for updates.
CONTACT
eMail:  [email protected] and [email protected].
Christine Ann Sands, MMM Domain Owner
Tel:  860-888-3127 – Washington, DC
MORE INFO 
https://www.facebook.com/millionmaskmarch/
ANONYMOUS SELF DEFENCE HANDBOOK
https://www.youtube.com/watch?v=YbsnU7I3aG0
MISSION ASSANGE
Defend the right to truth always:  Free Julian Assange today.
WEARING MASKS
Masks are permitted since no harm is intended.
WHERE TO GET MASKS
MillionMaskMarch.org/shop
Tell them Million Mask March or Anonomobile sent you (in the notes section with your order) and you'll get a FREE Million Mask March package (stickers) with your order.
PERMITS
In the spirit of ending tyrannical rule with civil disobedience, it is hereby recommended nobody obtain permits. Please, however, be courteous to other groups who may have events planned in places you wish to gather.
SAFETY
Bring pepper spray decontamination wipes just in case.
ADVERTISE
Use Facebook, Twitter, Craigslist and posters.