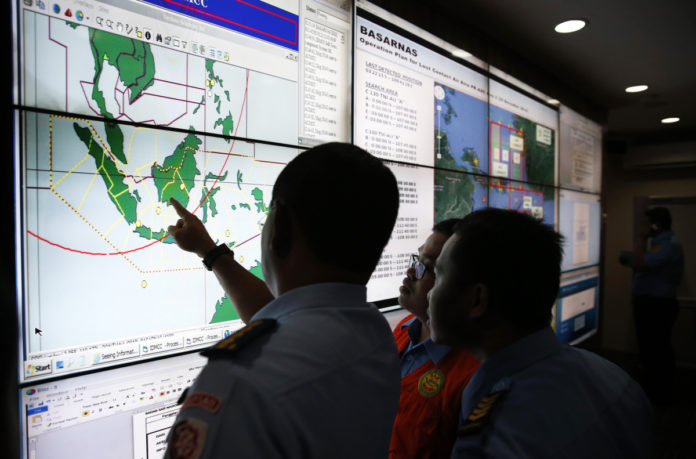 Written by:Vandita
AirAsia flight QZ8501, which went missing at 7:24AM (6:24PM EST) on Saturday carrying 162 people, is presumed to have crashed off the Indonesian coast, Indonesia's National Search and Rescue Agency chief said on Monday.
"Based on the coordinates given to us and evaluation that the estimated crash position is in the sea, the hypothesis is the plane is at the bottom of the sea. That's the preliminary suspicion and it can develop based on the evaluation of the result of our search," Bambang Soelistyo told reporters.
Indonesian Air Force spokesman Hadi Thahjanto said that two C-130 Hercules planes were focusing the search for Flight QZ8501 in areas northeast of Indonesia's Bangka Island, which lies roughly halfway between Surabaya and Singapore, in the Java Sea.
Singapore said that it had sent two naval vessels to help while Malaysia said that it would send three naval vessels and a C-130. An Australian P3 Orion surveillance plane left Darwin to join the search, the Australian Defence Department said. The United States, Britain, South Korea and India also offered help.
AirAsia has established an Emergency Call Centre that is available for family or friends of those who may have been on board the aircraft. The number is +622129850801.
<
I as your group ceo will be there through these hard times. We will go through this terrible ordeal together … http://t.co/6iO2zKcFzN

— Tony Fernandes (@tonyfernandes) 28. Dezember 2014
The ill-fated flight took off from Surabaya, Indonesia and was scheduled to arrive at Singapore at 8:30AM. There were 155 passengers on board, with 138 adults, 16 children and 1 infant. The crew included 2 pilots, 4 flight attendants, and 1 engineer. The plane was carrying 156 Indonesian nationals, 3 South Koreans, and 1 passenger each from Singapore, Malaysia and France. "The aircraft was on the submitted flight plan route and was requesting deviation due to enroute weather before communication with the aircraft was lost while it was still under the control of the Indonesian Air Traffic Control (ATC)," AirAsia said in a statement. "The aircraft had been flying at 32,000 feet before asking to fly at 38,000 feet to avoid clouds," said Joko Muryo Atmodjo, air transportation director at Indonesia's transport ministry. Atmodjo added, "Permission had not yet been given due to traffic in the area, and five minutes later, the plane lost contact with air traffic control".
AirAsia Indonesia regrets to confirm that QZ8501 from Surabaya to Singapore has lost contact at 07:24hrs this morning http://t.co/WomRQuzcPO — AirAsia (@AirAsia) 28. Dezember 2014
Data from Flightradar24.com, which tracks airline flights in real time, showed several nearby aircraft were at altitudes ranging from 34,000 to 36,000 feet at the time, levels that are not unusual for cruising aircraft.
Flight QZ8501 was an A320-200 model twin-engine single-aisle aircraft and had accumulated about 23,000 flight hours in some 13,600 flights, according to Airbus. The aircraft had undergone its last scheduled maintenance on November 16. The captain in command had a total of 20,537 flying hours of which, 6,100 flying hours were with AirAsia Indonesia on the Airbus A320. The first office officer had a total of 2,275 flying hours with AirAsia Indonesia.
AirAsia is a budget airline headquartered near Kuala Lumpur, Malaysia. It operates domestic and international flights to 100 destinations spread across 22 countries. The 2012 World Airline Awards in Farnborough, England ranked the airline the world's best low-cost airline. AirAsia has had no crashes since it started flying in 2002.
________________________________________________________________________
References:
http://www.deepcor.com/crisis/2014/12/28/z35bqkj9eskg07ped3um4om9orjk6t
http://qz8501.airasia.com/index.html
http://edition.cnn.com/2014/12/27/world/asia/airasia-statement/
http://www.voanews.com/content/missing-airasia-airbus-was-delivered-in-2008/2576551.html