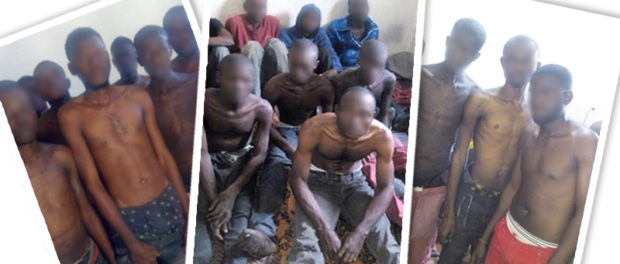 What would a person fetch on the sex market or forced labour market if sold? Around $500, according the United Nations Centre.
Al Jazeera has reported on the modern-day slave markets, where hundreds of refugees and migrants are passing though Libya. These African refugees and migrants are being held for ransom or exploitation in the forced labour markets.
The International Organization for Migration (IOM) said interviews they conducted with West African migrants exposed the deals and people-smuggling centers that occur in Sabha, a southern city of Libya. Refugees and migrants are traded as commodities from carparks and garages for between $200 and $500 per person, depending on their ability.
"Selling human beings is becoming a trend among smugglers as the smuggling networks in Libya are becoming stronger and stronger," Othman Belbeisi, head of the IOM's Libya mission, said.
Most refugees are caught enroute to Italy, as they catch boats, or when they're moving north towards the Libyan Mediterranean coast.
"About women, we heard a lot about bad treatment, rape and being forced into prostitution," Belbeisi said. For others used in agriculture and construction, some are paid, but most are forced.
Those who can't pay their captors are often left to starve to death or are beaten and killed.
Mohammed Abdiker, IOM's director of operations and emergencies said the situation is dire. "What we know is that migrants who fall into the hands of smugglers face systematic malnutrition, sexual abuse and even murder," he said. "Last year we learned 14 migrants died in a single month in one of those locations, just from disease and malnutrition. We are hearing about mass graves in the desert."
Belbeisi told the BBC that the refugees forced into slavery were priced according to their abilities. "Apparently they don't have money and their families cannot pay the ransom, so they are being sold to get at least a minimum benefit from that," he said. "The price is definitely different depending on your qualifications, for example if you can do painting or tiles or some specialised work then the price gets higher."
UNICEF released a detailed report in February, documenting the sexual abuse and slavery of vulnerable children journeying from Libya to Italy. The report found that almost 26,000 children crossed the Mediterranean in 2016 with a substantial amount of them suffering abuse. A Deadly Journey for Children: The Migration Route from North Africa to Europe states:
"The Central Mediterranean from North Africa to Europe is among the world's deadliest and most dangerous migrant routes for children and women," said Afshan Khan, UNICEF Regional Director and Special Coordinator for the Refugee and Response Crises in Europe. "The route is mostly controlled by smugglers, traffickers and other people seeking to prey upon desperate children and women who are simply seeking refuge or a better life. We need safe and legal pathways and safeguards to protect migrating children that keep them safe and keep predators at bay."
IOM staff are trying to educate those planning to migrate through this route, the dangers that they risk. Chief IOM spokesman Leonard Doyle said that recording testimonies of those who have already gone through this, and broadcasting over local FM radio and social media are a means, he hopes, to get the message across.
"Migrants who go to Libya while trying to get to Europe, have no idea of the torture archipelago that awaits them just over the border," Doyle said. "There they become commodities to be bought, sold and discarded when they have no more value."
---
This article (Modern-Day Slave Markets Trade Refugees in Libya) is a free and open source. You have permission to republish this article under a Creative Commons license with attribution to the author AnonWatcher and AnonHQ.com.
---
 Supporting Anonymous' Independent & Investigative News is important to us. Please, follow us on Twitter: Follow @AnonymousNewsHQ