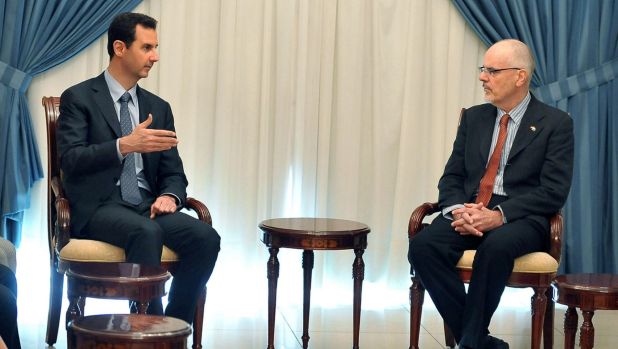 One of Australia's more prestigious universities has led the wave of a movement condemning US actions in Syria, calling the chemical attack a hoax used to frame the Assad regime.
The University of Sydney stands by its senior lecturer Tim Anderson, who has set the stage for a serious Syrian-US agenda debate. Dr Anderson, who is among other high standing academics calling the sarin gas attack a "hoax," claims there is sufficient amounts of evidence supporting that the Syrian civil war was a work of "fiction" by the US to perpetuate its advances in the region "to destroy an independent nation," SMH reports.
Dr Anderson, with other academics, have established the Centre for Counter Hegemonic Studies to counter "censorship" by other universities. Based in Sydney, the centre was formed "after concern that many Western academic bodies constrain, censor and marginalize counter-hegemonic or anti-imperial research and discussion due to their close ties with government and corporate sponsors," says Dr Anderson.
Other academics involved are Macquarie University's Rodrigo Acuna, senior lecturer Drew Cottle of Western Sydney University and several other academics, including two from East Timor.
Dr Anderson stated there was no government funding and that the centre operates on a "zero budget."
A spokeswoman on behalf of the University of Sydney told the SMH that the university supports Dr Anderson's statements under free speech but does not endorse them.
"This means tolerance of a wide range of views, even when the views expressed are unpopular or controversial," she said.
In 1990, Dr Anderson was convicted of his role in the 1978 Hilton Hotel bombing in Sydney, but was acquitted in 1991. He has also travelled to Syria on multiple occasions to meet with Syrian President Bashar al-Assad in Damascus.
---
 This article (Pro-Assad Push by Australian University Academics: US Framed Assad) is a free and open source. You have permission to republish this article under a Creative Commons license with attribution to the author AnonWatcher and AnonHQ.com.
---
 Supporting Anonymous' Independent & Investigative News is important to us. Please, follow us on Twitter: Follow @AnonymousNewsHQ