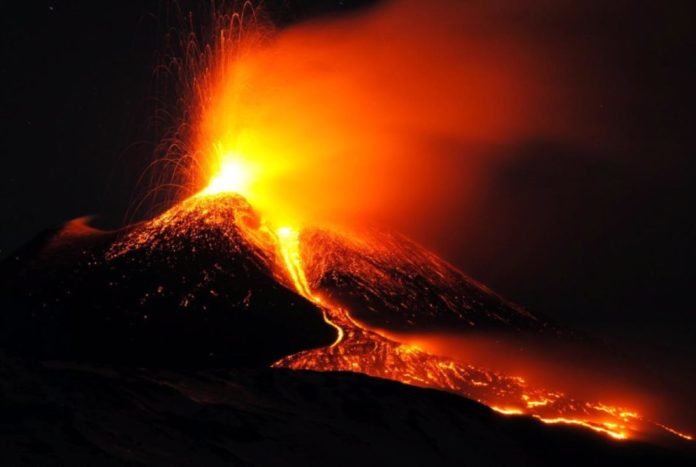 Mount Etna, the tallest active European volcano, located in Italy, erupted late February after a year of calm. Although the most feared volcano is actively spewing lava, there are no reported immediate threats to the towns below.
Mount Etna, located in northeast Sicily, stands at around 3,329[1] m high and dominates the island. Its last major eruption occurred in 1992, where earthworks were used to save nearby towns from the lava flows. Smaller ones have occurred frequently throughout the years, with only small periods of rest in between. Although this year's flare-up is a burning reminder of its power, the flow of lava also brings mineral rich content to the surrounding farmlands below.
The volcano, for its regular outbursts, has become a well-documented site for researchers. Although leaving some to still scratch their head on any patterns the volcano offers, the consensus is Mt. Etna being a "highly active volcano that is structurally complex."
Historical accounts possibly notate Mt. Etna's activity to as early as 475 BC, with the 1669 eruption being recorded as the most destructive. Lava flows that divided into three branches saw one reaching Catania. The 1669 account suggests an initial "20 days" of lava flow that stretched 162 feet per hour, and took eight years to cool after the event finished 122 days later [2]. Over 20,000 people lost their lives.
.

Because of the fertile soils around the base of the volcano, many towns established on its edges. When Mt. Etna erupts, there is always cause for concern. Web Pro News reports an estimated 25 percent of the Sicilian population lives around Mt Etna's base. Catania, alone, is home to over 1 million residents.
Although the first Mt Etna eruption has occurred for 2017, sparking photographic opportunity and piquing interests, life on Sicily is business as usual. The local airport is still open and operating normal flights, there are no immediate dangers to the locals or tourists and the explosion has already shown signs of settling.
Authorities however remain on alert and continue to track the volcanic activity as the lava flow persists.
[1] Lonely Planet's Best of Italy: Top Sights, Authentic Experiences, pp 284-285. 1st Edition, 2016.
[2] ibid, pp 284-285.
---
This article (Mount Etna Erupts for First Time This Year, Lave Still Flowing) is a free and open source. You have permission to republish this article under a Creative Commons license with attribution to the author AnonWatcher and AnonHQ.com.
---
Supporting Anonymous' Independent & Investigative News is important to us. Please, follow us on Twitter: Follow @AnonymousNewsHQ