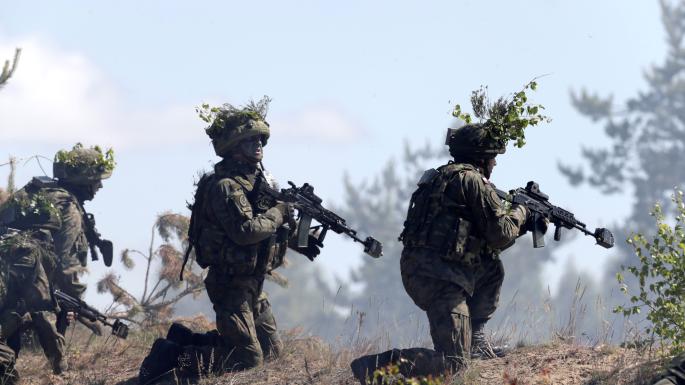 Tensions between the West and Russia are growing, with Vladimir Putin deploying all of the Northern fleet – and much of the Baltic fleet – on Europe's border in the largest surface deployment since the end of the Cold War. Putin has also unveiled 'Satan 2',  Russia's new nuclear missile, which is powerful enough to wipe out nearly all of the United Kingdom, France or Texas.
In a desperate attempt to square up to Vladimir Putin, hundreds of thousands of NATO troops have been placed on a higher state of alert, assisting NATO commanders in preparations for a substantial land force in the region that will be capable of deterring Russian ­aggression. Jens Stoltenberg, NATO secretary-general, told The Times:
"We have seen Russia being much more active in many ­different ways. We have seen a more assertive Russia implementing a substantial military build-up over many years; tripling defence spending since 2000 in real terms; developing new military capabilities; exercising their forces and using military force against neighbours. We have also seen Russia using propaganda in Europe among NATO allies and that is exactly the reason why NATO is responding.
"We are responding with the biggest reinforcement of our collective defence since the end of the Cold War. We are looking at improving the readiness of many of the alliance's three million soldiers, sailors, airmen and Marines. We are addressing what we call the follow-on forces. There are a large number of people in the armed forces of NATO allies. We are looking into how more of them can be ready on a shorter notice."
As part of NATO's response to Russia's military build-up, European nations, including France, Denmark and Italy, are expected to fill four battle groups led by the United States, Germany, Britain and Canada. These groups will consist of some 4,000 troops to be deployed at Poland, Lithuania, Estonia and Latvia. More troops, backed by NATO's 40,000-strong rapid reaction force, are expected to be sent to the Baltic States and eastern Poland early next year.
Infographic on how #Russia's airforce tests #NATO response time: pic.twitter.com/cpJjfxtPuW

— Alex Kokcharov (@AlexKokcharov) November 8, 2016
NATO has already created an emergency response force of 5,000 ground troops, backed by air, sea and Special Forces. In addition, the alliance has agreed to triple the size of an incumbent response force to 40,000 troops.
According to Adam Thomson, Britain's outgoing permanent representative to NATO, the goal is to speed up the response time of deployment of up to 300,000 military personnel, to about two months. At present, a force of this size could take up to six months to deploy. "I am not sure that everyone has realised how difficult and how expensive it is going to be, but it is part of that concept agreed in February of this year."
The @USArmy has announced that it will deploy a full armored brigade to #Europe to support #NATO & deter #Russia: https://t.co/ZtTh2J58H5 pic.twitter.com/nYqCky8xJG

— Agnia Grigas (@AgniaGrigas) November 7, 2016
The Daily Mail quoted Sir Michael Fallon as saying that the British mission would incorporate Challenger 2 tanks, Warrior vehicles and hand-held drones; and that the alliance's build-up will see 800 UK troops deployed to Estonia for six months from May.
"This is Britain stepping up in NATO, beefing up the reassurance that we are able to offer. Although we are leaving the European Union, we will be doing more to help secure the eastern and southern flanks of NATO."
Last week, NATO held disaster relief exercises in Montenegro, while Russia conducted war games training exercises just 150 miles away, in Serbia. While the 5-day NATO drill included training on fighting floods and chemical attacks and involved 680 unarmed personnel from seven NATO countries, the 13-day armed exercise in Serbia involved 150 Russian paratroopers, 50 air force staffers, three transport planes and troops from Serbia and Belarus.
#Russia, #Serbia launch military drills pic.twitter.com/JU1lv0lxBc

— RT (@RT_com) November 5, 2016
The parallel drills were seen as a brazen stand-off between the West and Russia, who are currently at loggerheads over Syria. Igor Sutyagin, an expert at the Royal United Services Institute for Defence and Security Studies, noted that "Russia wants to show that it can intimidate NATO… and NATO is saying to Russia, 'If you show up, we'll be there as well'."
---
This article (NATO Prepares for War Against Russia, Puts 300,000 Troops on HIGH ALERT) is a free and open source. You have permission to republish this article under a Creative Commons license with attribution to the author and AnonHQ.com.
---
Supporting Anonymous' Independent & Investigative News is important to us. Please follow us on Twitter: Follow @AnonymousNewsHQ