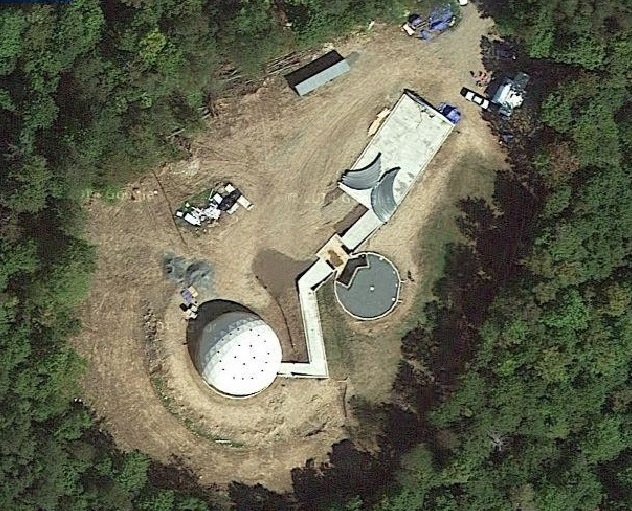 In 2011, an exciting and revolutionary project aptly named Haven For Humanity is aiming to unify people with nature, and educate the public on the benefits of a self-sustaining ecosystem. Based in the Catskill Mountains in New Haven, the upstate New York project demonstrates the endless possibilities of a green future.
After considering the stress and negative effects that modern-day society had on human health and the environment, the Kovalyov family started the not-for-profit project to create a place where the idea of a natural lifestyle could fully blossom.  "We are passionate about re-connecting with what it really means to be a human being," says Sam Kovalyov, sustainability co-ordinator and co-founder of the project.
The geodesic greenhouse dome shown in the video was built by the family and a collaboration of engineers, biologists and "aquaponic" system experts. The astonishing structure can house over 600 organic and "aquaponically"grown fruit and vegetable plants, fresh-water organic fish and clams, gourmet mushroom logs as well as hundreds of gallons of fresh organic compost.
The components of the greenhouse was inspired by NASA's Island One, Bernal Sphere, which was an idea first proposed in 1929, designed to hold and economically sustain a population of 20,000 humans.
Haven for Humanity has utilized the principle and methods of aquaponics, a system that combines both aquaculture and hydroponics to establish a flourishing ecosystem. Within the greenhouse dome, the interior spans a large moat where a variety of fresh water species are sustained by a high abundance of organic matter. The by-products created by the aquaculture system is then sent into the center of the dome, where the hydroponic system kicks in to help assist in providing the necessary nutrients to grow the desired vegetation. The cycle of this process produces natural gasses which can in turn be used to run a generator and natural gas appliances, resulting in the location being almost entirely self-sustainable.
Haven For Humanity is scheduled to be open to the public in the summer of 2015. It will offer a variety of workshops and educational activities, including raw-vegan cooking classes,  yoga, meditation and seasonal seminars. One of the project's most spectacular highlights is a stunning 40-acre edible forest, which will also be available for the public to explore. To find out more information about the dome itself and how you can follow in their footsteps, you can visit the Haven For Humanity website.
---
You want to support Anonymous Independent & Investigative News? Please, follow us on Twitter: Follow @AnonymousNewsHQ
---
---
You want to support Anonymous Independent & Investigative News? Please, follow us on Twitter: Follow @AnonymousNewsHQ
---
---
Sources: http://www.trueactivist.com/inspirational-new-project-uses-nasa-technology-to-build-a-green-future/