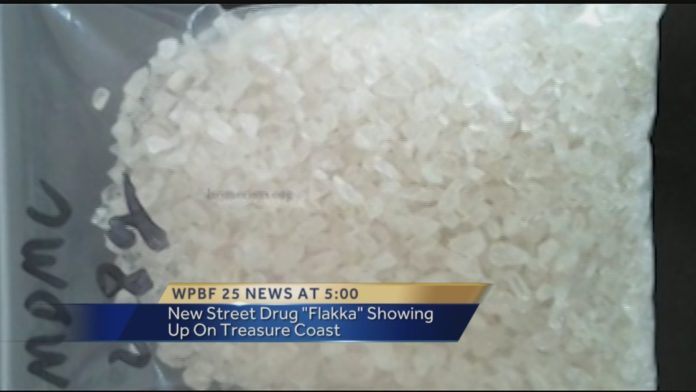 The state of Florida has recently seen a rise in the number of… peculiar… behavioral cases being reported. So far the common element in each of these cases has been the consumption of a new and popular designer drug called Flakka. The drug is classed as a stimulant and makes its users feel like they have superhuman strength, much like the infamous "bath salts" which were both widely-used and reported on back in 2012.
Most commonly found in a crystalline rock form, Flakka can be swallowed, snorted, injected, smoked or even used in a modern day e-cigarette or vaporizer. This makes it easily concealable for users in public areas. The substance rivals the strongest cocaine, crystal meth and MDMA in terms of its effects. Made from the chemical Alpha-PVP, a synthetic version of cathinone, Alpha-PVP is currently legal in any U.S state without its own ban.
The effects of the drug can last as few as 3-4 hours, or can in some cases linger for several days. When the substance leaves the body, the user is left feeling depressed and fatigued- a common side effect of most stimulants.
Jim Hall, an epidemiologist at the Center for Applied Research on Substance Use and Health Disparities at Nova Southeastern University explains the drug's effects on a user:
"We're starting to see a rash of cases of a syndrome referred to as excited delirium," said Hall. "This is where the body goes into hyperthermia, generally a temperature of 105 degrees. The individual becomes psychotic, they often rip off their clothes and run out into the street violently and have an adrenaline-like strength and police are called and it takes four or five officers to restrain them. Then once they are restrained, if they don't receive immediate medical attention they can die."
Among the number of reported Flakka-related cases are some truly horrifying stories. These extreme cases include one where a man stood naked and armed on the roof of his house yelling "I feel delusional, and I'm hallucinating". Another fellow attempted to break down the door of a police precinct. An 86-year-old woman was attacked… and a man impaled himself through the groin during his attempt to scale the fence of a police station.
It is uncertain at this point how addictive the substance is, both psychologically and physically, however it is certain that the effects of the drug are extremely dangerous, with the potential to cause serious harm to both its users and to innocent members of the public.
---
You want to support Anonymous Independent & Investigative News? Simply, follow us on Twitter: Follow @AnonymousNewsHQ
---