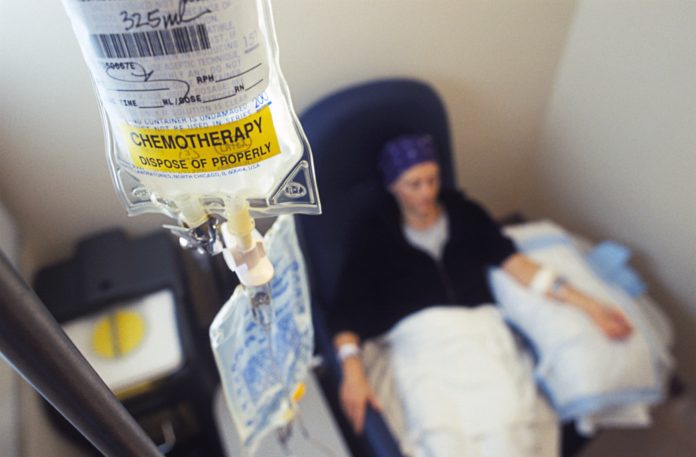 Chemotherapy, a combination of drugs used for cancer treatment, has once again been proven to be dangerous by a study conducted at Albert Einstein College of Medicine, New York City.
According to the study, published in Science Translational Medicine, chemotherapy before surgery can actually increase the tumor cells and spread the cancer to other parts of the body.
Natural News reports:
"In the study, the researchers used four mouse models of breast cancer that were developed to imitate the clinical scenario of patients getting chemotherapy before surgery for shrinking primary tumors in locally advanced disease and killing the cancer cells that have moved into the nearby lymph nodes and elsewhere.
"They found that the mice who were given the chemotherapy drug paclitaxel had anywhere from two to three times the number of TMEM [tumor microenvironment of metastasis] as those who were not given the drug, and their TMEM activity was also heightened."
Apart from Paclitaxel, the researchers also used two popular anti-cancer drugs, cyclophosphamide and doxorubicin, in the study. Both cyclophosphamide and doxorubicin led to higher TMEM activity, more TMEM sites, and a greater number of circulating tumor cells in mice.
Natural News adds:
"To see how humans fared, the researchers compared biopsy specimens that were taken from 20 breast cancer patients prior to and following treatment using a neoadjuvant regimen of doxorubicin, cyclophosphamide, and paclitaxel.
"They discovered that the majority of the patients studied had noted a rise in TMEM sites following the neoadjuvant chemotherapy. Five of the patients experienced an increase in the number of TMEM that was more than fivefold, while none showed a decrease."
The latest study adds to growing body of evidence that proves chemotherapy is a sham.
Since January, 2000, nearly 18 million people have died from chemotherapy. Apart from the fatalities, chemotherapy also has lots of side effects. In 2011, a study conducted by researchers at the Stanford University School of Medicine found that women who had undergone chemotherapy for breast cancer had reduced cognitive abilities in the areas of the brain responsible for planning, memory, and cognitive control.