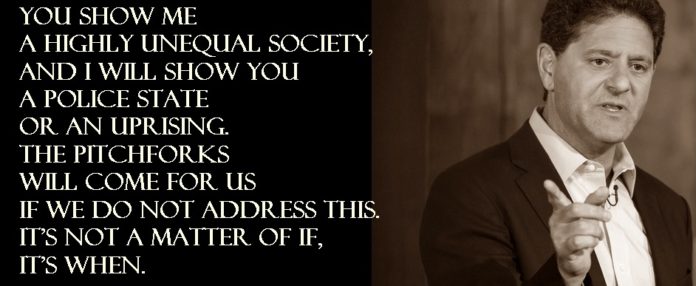 Multi-millionaire Nick Hanauer, a proud and unapologetic capitalist, has urged his fellow filthy rich 1% plutocrats to fix the glaring economic inequities or face the consequences.
The divide between the haves and have-nots is getting worse in America. In 1980, the top 1% controlled about 8% of US national income; the bottom 50% shared about 18%. Today the top 1% share about 20%; the bottom 50% share about 12%.
In June of 2014, Hanauer wrote an op-ed for Politico magazine in which he foresaw pitchforks coming for his "fellow .01%ers" if they did not address the issue of increasing wealth inequality, resulting in the destruction of the middle class, which is a far larger job creator than wealthy entrepreneurs like himself.
Hanauer feels that inequality is at historically high levels in the United States and getting worse every day. He advises that the policies must change or the middle class will vanish and as a result, America, which is becoming less a capitalist society and more a feudal society, will be thrown back to late 18th century France.
Financial inequality does have social and political consequences and the rich tend to ignore them at their peril. Watch Hanauer speak about rising income inequality in the US and the problems it may cause to future business ventures…
---
You want to discuss a certain topic with likeminded people or you want to organize a local protest or you have an idea for a project that can help people in need in your local community or all around the world? Join our forum! www.anonboards.com
---
You want to discuss a certain topic with likeminded people or you want to organize a local protest or you have an idea for a project that can help people in need in your local community or all around the world? Join our forum! www.anonboards.com
---
You want to support Anonymous Independent & Investigative News? Please, follow us on Twitter: Follow @AnonymousNewsHQ
---