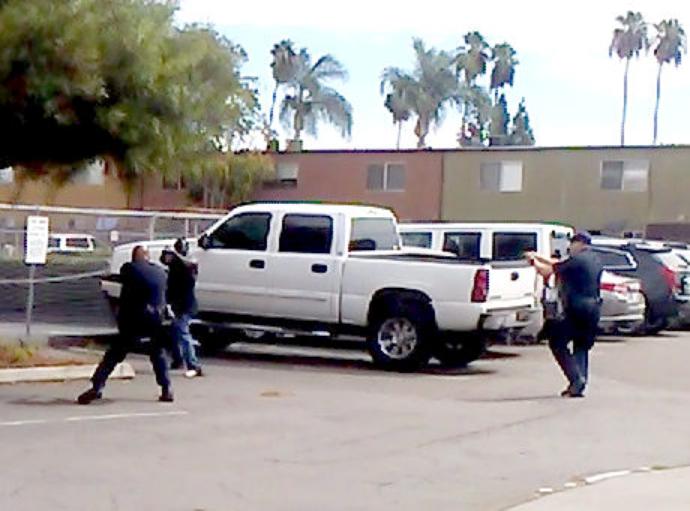 The fatal shooting of an emotionally disturbed man holding a vaporizing device, was just ruled justified by the San Diego District Attorney. Alfred Olango, age 38, was in the midst of a psychological breakdown. His sister had called to have him taken to a mental facility, as he was on the street causing a disturbance. Within minutes of police arriving, Alfred was shot and killed.
When he pulled his hands from his pockets, he held a shiny metallic e-cigarette. He then pointed toward officers with both hands, as if it were a gun. Unfortunately, his actions that day appear to be a suicide-by-cop type scenario. Despite the anger from protesters, the District Attorney had a tough decision to make. There are many cases of blatant murder which get swept under the rug. This case, regardless of how bad it looks, should not have landed these cops in criminal court. This is yet another example of a shooting that was done "by the book." The problem is realizing that the book needs to be re-written.
The officers attending knew this was a mental health case from before they arrived. Police are rarely provided with the specific training necessary to understand how to deal with individuals suffering from a mental and/or emotional crisis. Alfred Olango should not have died that day; the system is simply ill equipped to deal with extreme cases like this without killing people. "After carefully reviewing the facts, the evidence and the law, we've determined the officer's use of deadly force was reasonable under the circumstances,' DA Bonnie Dumanis announced in a statement to the press.
The problem with many police shootings – that in hindsight appear unnecessary – is the reality that you can't prove the officer's arbitrary fear. Once a cop says that he is in fear, if anyone questions the circumstances of the shooting, they are seen as questioning the officer's honor and patriotism. No one can ever really tell what is going on in the mind of the officer, so once he says he feared for his life, the District Attorney usually doesn't have much to counter it.
"We're living in a time when the actions of police officers are under scrutiny more than ever – especially when it comes to police shootings. The law recognizes police officers are often forced to make split-second decisions in circumstances that are tense, uncertain and rapidly evolving," Dumanis stated. While the DA has decided not to move forward with charges, you can be sure that the family of Alfred Olango will be filing a civil rights lawsuit, one that the county will be all too happy to settle.
---
This article (No Charges in the Fatal Police Shooting of Man Holding E-Cigarette) is a free and open source. You have permission to republish this article under a Creative Commons license with attribution to the author and AnonHQ.com.
---
 Supporting Anonymous' Independent & Investigative News is important to us. Please, follow us on Twitter: Follow @AnonymousNewsHQ