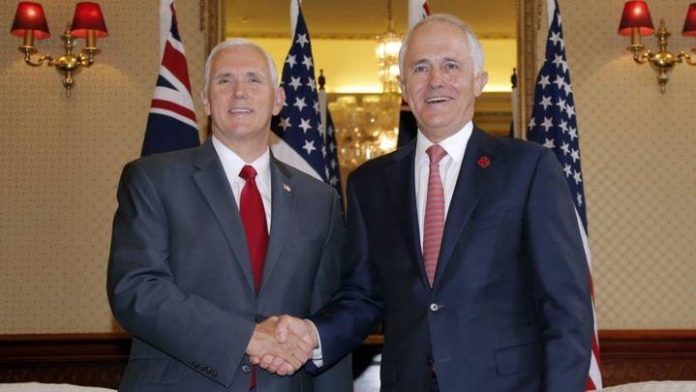 SYDNEY, Australia – Vice President Mike Pence's visit to Australia's NSW capital city Sydney got tongues wagging after the shutdown of its vibrant and busy streets, wreaking transport havoc for locals.
Flying into Sydney on Friday night on Air Force 2, Pence was accompanied by his "mini-Cabinet" of officials including energy, trade and defense advisors. The security detail included Secret Service officers working with Australian police that had several snipers positioned on the roof tops of Sydney buildings, and a medical team.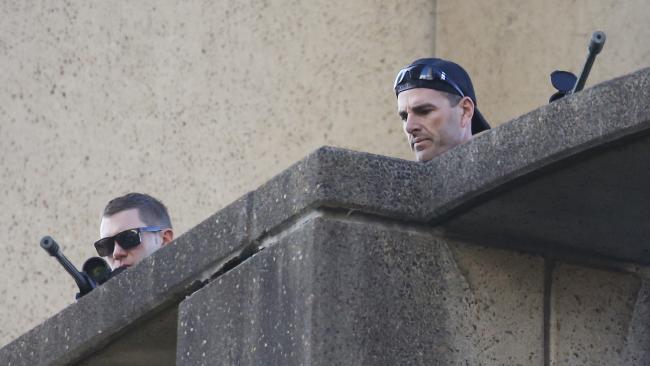 Sydney CBD suffered road closures throughout the city to Kirribilli house and North Sydney until Monday morning, with commuters urged to find other sources of travel. Some disruption will delay or change public transport times as well.
The security detail will also be using "jamming" equipment to scramble any mobile phones within the vicinity – including those of citizens – it has been reported, in case of improvised explosive devices (IEDs).
Helicopters have also been seen hovering in the sky, as the heavy police presence lines the streets and parks that are usually bustling with people. In effect, Pence's visit has shut down major Sydney streets over the weekend and has left Sydney residents displeased.
Has Pence left Sydney yet? Are we safe to leave our houses again? #VPinAUS

Personally I couldn't be trusted not to yell abuse if I saw him

— Leanne Donnelly (@Leanne_Donn) April 22, 2017
The cost of Vice President Mike Pence's visit to the Australian taxpayer and to local businesses has not yet been released.
Discussions on the table have focused heavily on North Korea with Prime Minister Malcolm Turnbull telling reporters in Sydney the American line that "the eyes of the world are on Beijing." Pence congratulated the PM for calling out China, one of Australia's largest trade partners, to do more.
@AndrewBGreene @mike_pence I hate it when lunatic North Korean leader trots out something rational…Australia toeing American line #VPinAUS @TurnbullMalcolm #auspol

— Emilie (@paintsandsings) April 22, 2017
 "While all options are on the table, let me assure you the United States will continue to work closely with Australia, our other allies in the region and China to bring economic and diplomatic pressure to bear on the regime," Mr Pence said in Sydney.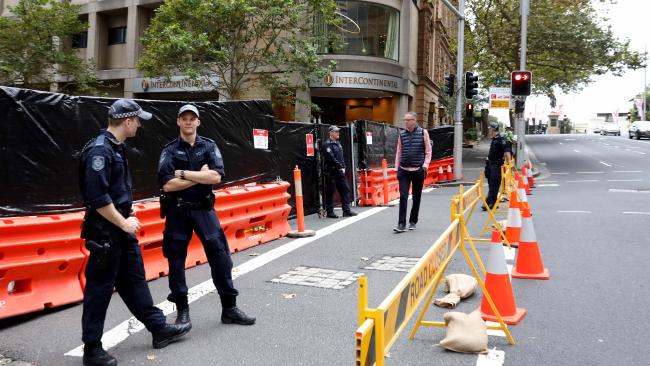 Confirmation occurred that the US has agreed to honor the refugee settlement deal that was made with former president Barack Obama last year. Something that Trump called a "bad deal" previously. PM Turnbull has also agreed to support POTUS' and "stand firm" with the United States and to "stand strong in the face of North Korea," Pence tweeted.
#VPinAUS talks dominated by North Korea. The US grudgingly agrees to take Manus Is refugees. Do the maths #insiders

— Liam O'Neill (@shootin4love) April 22, 2017
North Korea has threatened Australia this week with nuclear warfare if the Australian government continues to ally itself with the United States.
"If Australia persists in following the US moves to isolate and stifle the DPRK and remains a shock brigade of the US master, this will be a suicidal act of coming within the range of the nuclear strike of the strategic force of the DPRK," the North Korean state-run KCNA reported.
As the PM & I reaffirmed, under @POTUS' leadership, the U.S & Australia will stand firm & stand strong in the face of North Korea #VPinAUS

— Vice President Pence (@VP) April 22, 2017
---
 This article (North Korea Threatens Australia with Nuke Attack as VP Pence's Visit Shuts Down Sydney) is a free and open source. You have permission to republish this article under a Creative Commons license with attribution to the author AnonWatcher and AnonHQ.com.
---
 Supporting Anonymous' Independent & Investigative News is important to us. Please, follow us on Twitter: Follow @AnonymousNewsHQ