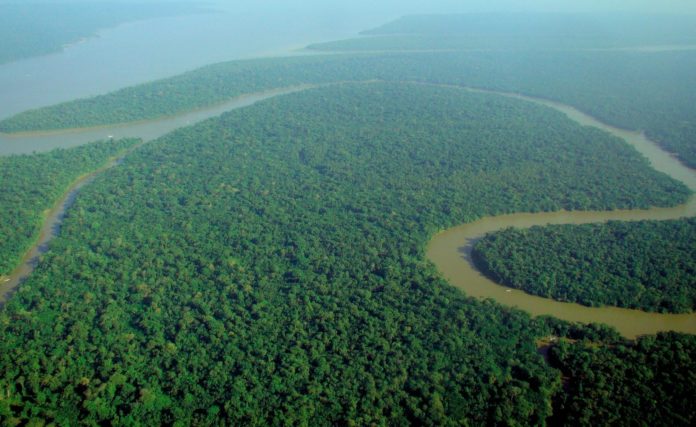 By Amanda Froelich at trueactivist.com
"This is an important victory in the fight to protect the rainforest."
Did you know? Every year, an estimated 55 billion tons of fossil energy, minerals, metals, and bio mass is extracted from the Earth. As a result, humans are using up 50% more natural resources than the planet can comfortably provide. Scientists even speculate that within 100 years, the world's rain forests could completely vanish.
This spells trouble for future generations, which is why Norway recently banned the practice of deforestation – the first in the world to do so.
According to HuffPost, the country committed to zero deforestation on May 24th. The groundbreaking move means that the nation pledges to ban any product in its supply chain that contributes to the deforestation of rainforests through the government's public procurement.
Nils Hermann Ranum of Rainforest Foundation Norway, said in a statement:
"This is an important victory in the fight to protect the rainforest. Over the last few years, a number of companies have committed to cease the procurement of goods that can be linked to destruction of the rainforest. Until now, this has not been matched by similar commitments from governments. Thus, it is highly positive that the Norwegian state is now following suit and making the same demands when it comes to public procurements."
Lawmakers also committed to finding a way to source essential products like palm oil, soy, beef, and timber so that they leave little to no impact on their ecosystems. Such could be transformational as the U.N. estimates that the production of palm oil, soy, beef, and wood products are to blame for a little less than half of all total tropical deforestation.
Norway's pledge was made at the U.N. Climate Summit in 2014 alongside Germany and the United Kingdom. Now, says Ranum, it's time for the countries to uphold their pledges and follow Norway's example.
"Other countries should follow Norway's leadership and adopt similar zero deforestation commitments."
What are your thoughts? Please comment below and share this news!
---
This article (Breaking: Norway Becomes First Nation In The World To Ban Deforestation) is free and open source. You have permission to republish this article under a Creative Commons license with attribution to the author and TrueActivist.com