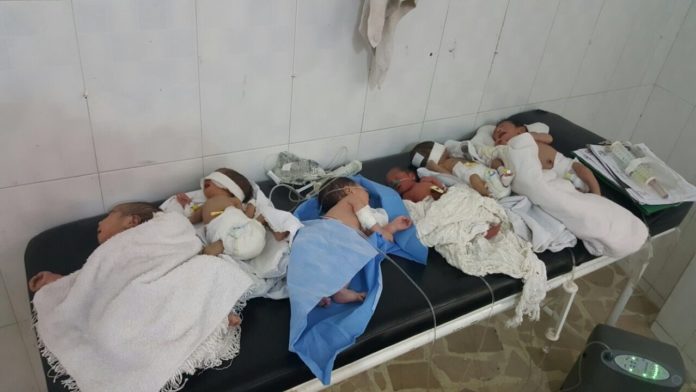 (MEE) Medical staff were left "trampling each other" to try and rescue nine premature newborn babies in Aleppo after heavy bombing damaged a children's hospital and forced it to partially close on Wednesday, medical staff and activists said.
After heavy bombing, staff were forced to try and relocate the babies to the basement to try and stop them from inhaling the dangerous smoke and chemicals which would be extremely hazardous to young children, activists added.
The situation in the northern Syrian city is so bad that earlier this week activists said that other hospitals had run out of body bags as the death toll continued to mount and launched an emergency appeal for more bags so the dead could be burried with dignity.
Dr Hatem, the chief of the al-Hakim children's hospital, told advocacy group The Syria Campaign, that staff were able to move the incubators but that there are now only 18 left for rebel-held parts of the city. Although no official figures are available, the population of the eastern part of the city is estimated to be around 40,000.
''It was a horrible moment. The nurses were trampling each other to rush the babies to the basement, while many of them started to cry," Hatem said in a statement.
"As my staff moved the incubators, I went to tell the people in the waiting room to leave the hospital. I ordered them to 'Leave now! There might be a second attack."
Human rights groups have widely accused the Syrian government and its Russian allies of purposefully targeting medical facilities, although Moscow and Damascus deny this.
However, on Wednesday government bombardment of rebel-held eastern Aleppo struck just a few hundred metres from three medical facilities, including Al-Hakim and the Al-Bayan hospital. Twenty people are believed to have died in the attacks, Al Jazeera reported.
"We expected that it would happen one day, and today is that day. There are now only 18 incubators left in eastern Aleppo," Hatem said.
"I want every president to imagine that one of these newborns were his own son or daughter. Whatever they would do for their sons if they were bombed, they must do for these newborns."
There are also mounting concerns about deteriorating medical conditions across rebel-held parts of the city.
"Aleppans' options are running out," said Dr Samah Bassas of the Syria Relief Network, an umbrella organisation of 60 humanitarian groups in Syria.
"The bombs we are used to. But if we are to be held under siege, hunger and disease will quickly take hold. Even more death is inevitable," she told AFP.
Founded in mid-2012, the hospital has been forced to relocate multiple times in fear of government raids, said its funder, the Independent Doctors Association.
Syria's brutal conflict has killed more than 280,000 people although UN's peace envoy Staffan de Mistura says the death toll is closer to 400,000.
---
This article (Nurses 'Trampling Each Other' to Rescue Newborns from Bombs in Syria) by MEE staff originally appeared on MiddleEastEye.net and was used with permission.