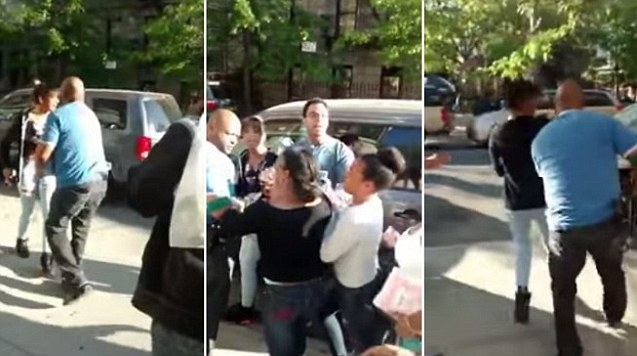 An intense video of police abusing their badges, manhandling underage girls in Upper Manhattan and local residents' attempt to extricate two young girls from police custody has gone viral.
On May 14, Michael Barber of the Copwatch Patrol Unit captured two undercover NYPD officers attempting to arrest a 14-year-old girl over allegations that her 7-year-old companion had pushed the button on a police call box. The arrest attempt, which went down around 7 pm in the uptown neighborhood of Washington Heights, was thwarted by other members of the community.
VIDEO: NYPD oversteps. Community intervenes. NYPD backs off. No one injured, no one arrested. http://t.co/xQAcUH1uETpic.twitter.com/91cyAacMT4

— Keegan Stephan (@KeeganNYC) May 18, 2015
Watch the whole video below — the intervention begins at around six minutes.
In the video, one of the officers can be seen calling and grabbing two young girls over to his car and questioning them before an angry local resident confronts him. The angry woman is seen warning the officer that he had no business laying his hands on a child. She keeps demanding the officers' names and badge numbers as other residents step in the path of the two officers trying to seize the girl. After successfully separating the officers from the children, one of the women is seen screaming at the officers, "You know you're doing wrong! Go Home!" The officers then retreat to their car and drive off empty-handed.
wonderful! a police officer acts like a thug. a crowd intervenes and stops him arresting a 14 year old girl… http://t.co/smhY2feKJO — Shiatsu & Massage Ce (@spawaikiki) May 17, 2015
a cop tries to arrest a 14 year old girl, adults who were watching stopped it and shamed him into leaving http://t.co/MwaqtIdDMe — Sikko of the Sea Ppl (@JustSikko) May 17, 2015
"Community policing is very important. We have a lot of these officers who aren't from the community that they're policing. They don't know who is who, and who is what, so they automatically assume that everyone is a criminal. We document any type of police interactions with the community. Usually we record all the way to the very end, because in a situation like this, you never know what might happen," Barber told RT.
He also said the officers' behavior was unusual. They never called for backup or tried to explain why they were detaining the girl. They also refused to give their names and badge numbers, only saying they were from the 30th Precinct. That drew jeers from the locals.
---
This Article (NYPD Cops Try To Arrest Teen Girls, Watch How New Yorkers Shoo Them Away) is free and open source. You have permission to republish this article under a Creative Commons license with attribution to the author and AnonHQ.com.