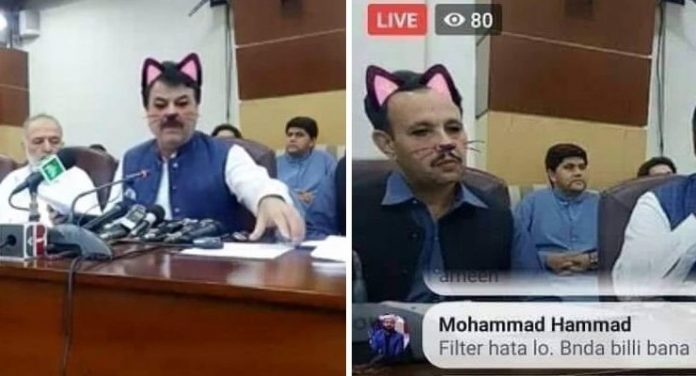 Pakistan – In a hilariously funny and embarrassing political moment, a political press conference has left the online community in stitches after a "cat filter" was applied to the live stream. Although an accident, the serious event had politicians in cute cat whiskers and pink ears.
Although nobody is immune to the odd modern butt dial or accidental tweet, the live streamed event went viral on Facebook. Causing an uproar, regional minister Shaukat Yousafzai, the 'guilty kitten' of the event and ally of Prime Minister Imran Khan, was flooded with public comments.
Some users began posting comments on the video, urging for the cat filter to be disabled:
 "Remove the filter, the man has been turned into a cat."
Mansoor Ali Khan, a journalist, tweeted:
"According to the KP government's social media team, we now have a cat in the cabinet."
You can't beat this! Khyber Pakhtunkhwa govt's live presser on Facebook with cat filters.. 😹 pic.twitter.com/xPRBC2CH6y

— Naila Inayat नायला इनायत (@nailainayat) June 14, 2019
Despite the embarrassment, Facebook continued to live stream the event with the cat filter turned on. The filter, a tool that evolved out of Snapchat, detects facial features and adjusts the video to movements of cute animations—in this case, cat ears, a button nose and whiskers.
PTI's social media team forgets to remove the cat filter from a live press conference. 😂 pic.twitter.com/VPYCPMdW7r

— Ammara Ahmad ਅਮਾਰਾ ਅਹਿਮਦ (@ammarawrites) June 14, 2019
Yousafzai admitted his mistake, telling Agence France-Presse news agency about the blunder:
"I wasn't the only one. Two officials sitting along me were also hit by the cat filter. The cat filter was turned on by mistake. Let's not take everything so seriously."
The party released a statement saying the kitty incident was a "human error" made by a well-intentioned "hard-working volunteer."
The official Facebook hub of the ruling Pakistan Tehreek-e-Insaf (PTI) Party quickly deleted the video shortly after the conference ended.