The Rockefeller Foundation predicted in 2010 a deadly pandemic and published a detailed investment plan for West Africa in 2011, over 82 pages long. On the Rockefeller Foundation server there are two reports which suggest that the massive outbreak of Ebola in West Africa is not just an unfortunate coincidence. A document from 2011 includes not only a comprehensive investment plan that considers possible business area and useable West African resources, but also specific name of participating investors. Aga Khan, George Soros and Global players such as Google and Shell are mentioned.
Another document from 2010 reveals a planning report that the Rockefeller Foundation [1] has created in conjunction with the Global Business Network.[2] It is a worldwide fatal pandemic described as a possible future scenario that will ultimately create a police state in the United States as a result. If you are curious, the two documents with the name "Impact Investing in West Africa" and "Scenarios for the Future of Technology and International Development" are publicly available on the website of the Rockefeller Foundation.
Download:
http://www.rockefellerfoundation.org/uploads/files/bba493f7-cc97-4da3-add6-3deb007cc719.pdf 
http://www.rockefellerfoundation.org/uploads/files/ee894ae0-480a-40a0-95b7-8b7f75904f8e.pdf 
Report, 2010: Scenario of a Global Deadly Pandemic.
The report plays through responses and courses of action by the State, on various disasters, and then presents as a solution, "Global Governance." On page 18 it describes how it is portrayed and that the US government refuses to protect the borders ad restrict air traffic at the time of the outbreak of a deadly, new virus.
These quotes are from proposed simulations of Ebola/pandemic outbreaks.
In contrast to H1N1 of 2009, was this strain of influenza, extremely vicious and deadly. So the scenario presents…
"Even the best prepared nations came quickly to their limits as the virus raced around the world. Nearly 20 percent of the world population was infected within just seven months, killing 8 million people, most of them healthy, young adults…"
The similarities of the current Ebola problem are striking. A hesitant, almost seemingly amateurish approach by the US government is described in detail, while various populations are decimated on the African continent. It states:
"The pandemic came over the entire planet; with a disproportionate number of deaths in Africa, South East Asia and Central America. There was a lack of official protocols for containment, so that the virus could spread like wildfire. Even in industrialized nations, however, the containment was an enormous challenge."
The US government initially responded by strictly discouraging its citizens to fly. However, "this policy proved to be deadly in its lenience and helped to accelerate the spread of the virus not just within the US but also outside this country."
Interestingly, in this scenario, the Communist government of China is referred to as the governance, responded best in this situation. Explicit mandatory quarantines and border protection are called for.
"…A few countries were not hit quite as hard. This is especially true for China. The government imposes a quarantine for all citizens quickly and implements them strictly. In addition, they immediately seal all borders for closure almost heretically. They save millions of lives. The spread of the virus was significantly more likely to be stopped in this way than in other countries and the country recovered significantly faster after the pandemic. Not only did China's government intervene to protect its citizens from the risks of disease, they took extreme measures.
During the pandemic, leaders around the world use their authority and impose airtight rules and regulations. Wearing face masks became mandatory as well as temperature controls when entering public places such as railway stations and supermarkets are regulated…"
Even long after the end of the pandemic outbreak, necessary tactics to fight the virus remain in force (in the simulations), and are quite questionable. Under a guise, governments impose "authoritarian" controls to protect the public.
The simulations go on to suggest this.
"…Even after the pandemic had subsided again, this more authoritarian control of its citizens and their activities remain. More and more problems – from pandemics and cross-border terrorism to environmental crises and rising poverty – have global potency. In order to better protect themselves from political leaders, they have consolidated their power in the world. First, the idea of a more controlled world met with more acceptance and approval. Willingly, citizens were granted some of their sovereignty – and their privacy – so they offered increasingly paternalistic states in exchange for more security and stability. The citizens were supervised and controlled from above; the political leadership had to provide their own ideas according to more freedom for order…"
The pandemic was also used to introduce desired technologies, especially in the biometric data of citizens.
"…In developed countries, increased supervision took various forms: biometric data for example, was prescribed for all citizens, and industries that were classified for national interests as a central importance were more regulated. In many industrialized countries, the forced compliance with the new regulations and agreements led slowly but surely to the restore order and even more important, to economic growth. Another – and much more mixed image contrast – was found for the emerging markets. The exercise of power from top to bottom turned from country to country is the expression above all of the skills, the format and the intentions of the respective guide depended. In countries where the leadership was strong and thoughtful, the economic status and quality of life of the citizens improved. In India, for example, the air quality improved dramatically after 2016, after the government banded emitting vehicles…"
These simulations are of course fictitious. But if the think tanks and governments are performing predictions and simulations to major disasters, one can draw conclusions about what decisions are being taken. Certain medical protocols are undoubtedly essential, but the probability that seeks to secure more subtle powers by the State, is definitely there.
An executive order that President Obama has introduced in the wake of the Ebola crisis, is meeting criticism by civil rights activists. His response to the criticism is lackluster. The Executive Order Revised List of Communicable Diseases Quarantinable[3] allows President Obama to take all Americans that show only signs of "respiratory distress" and imprison them.
More disturbing is this statement when you know that the doctor, James Lawrenzi[4] from Missouri, last week exclusively revealed on the Alex Jones show that potential Ebola patients "disappear" from hospital without a trace.[5]
Report 2011: Investing in West Africa.
The document of the Rockefeller Foundation from 2011 bears the name "Impact Investing in West Africa. Within this document, all possible divisions and usable resources in West Africa are discussed. The map shown on page 14 in the document, provides a visual of the countries in which economic interests of Rockefeller and Ecowas – the company owned by George Soros – overlaps. Below, Sierra Leone, Liberia and Guinea are marked in red on the screenshot.
http://s14.directupload.net/images/141031/u7l3pu66.png 
On pages 67 to 82 of the report, more detailed information is provided about participating investors and institutional investors. Among them are Aga Khan[6], George Soros[7], and Internet giant, Google. Also noted is the French bank, Credit Agricole, and the U.S. oil giant, Shell.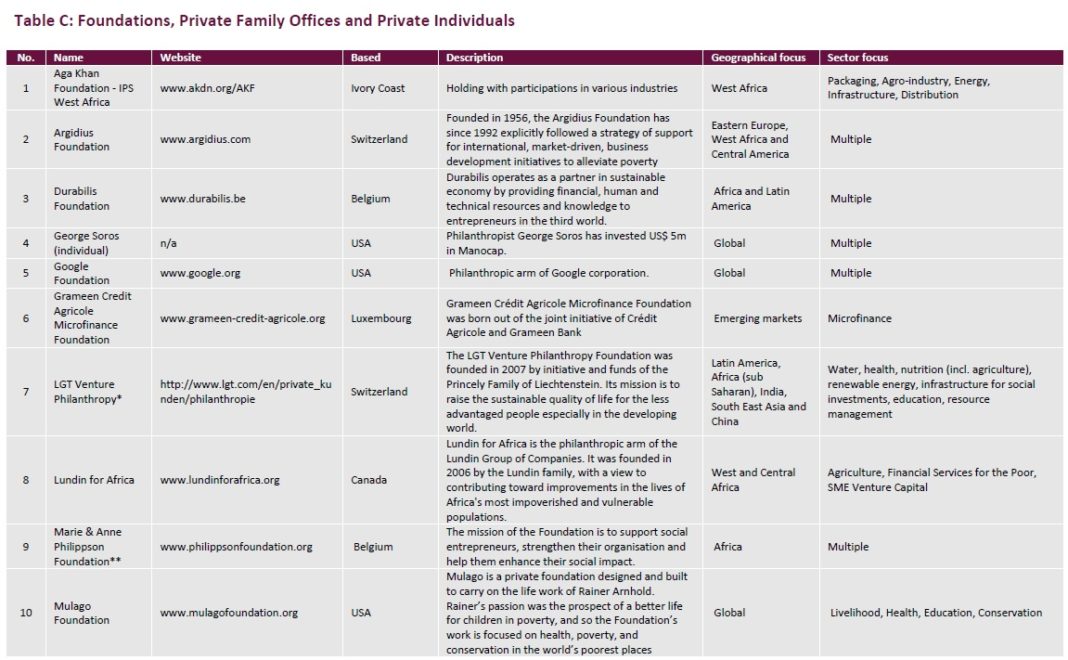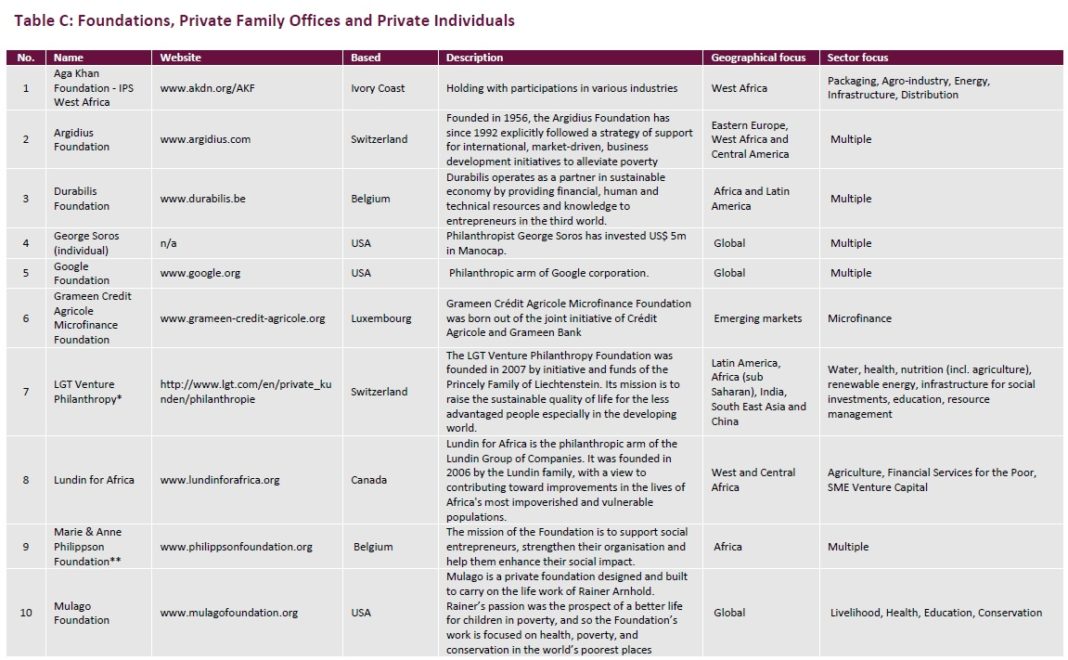 http://s14.directupload.net/images/141031/4ymicv2y.png 
________________________________________________________________________________________________________________________
[1] Wikipedia: Rockefeller Foundation http://de.wikipedia.org/wiki/Rockefeller-Stiftung 
[2]Wikipedia: Global Business Network http://en.wikipedia.org/wiki/Global_Business_Network 
[3] Executive Order – Revised List of Communicable Diseases Quarantinable http://www.whitehouse.gov/the-press-office/2014/07/31/executive-order-revised-list-quarantinable-communicable-diseases 
[4]James Lawrenzi, DO http://www.cassregional.org/aspx/result.aspx?pid=53 
[5] MO. Dr .: Ebola Cases Like Being Covered Up, Patients Being Disappeared  http://youtu.be/eOp2gF13-pA 
[6] Wikipedia: Karim Aga Khan IV.  http://de.wikipedia.org/wiki/Karim_Aga_Khan_IV. 
[7] Wikipedia: George Soros http://de.wikipedia.org/wiki/George_Soros
At the time of writing, the above links were available. They have since been removed by the mediator of the content.