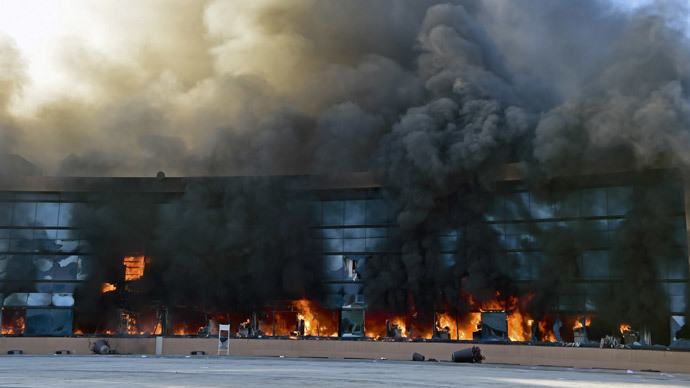 Written by: Tiobe
Students and teachers from Ayotzinapa teachers college in Mexico set fire to the Municipal Palace in Chilpancingo Oct. 13 to protest police corruption and the Sept. 26 disappearance of 43 students.
The missing students were protesting new education legislation in Iguala when local police, working with local gangsters and drug cartel Guerreros Unidos, attacked them. The police chief and mayor of Iguala, Jose Luis Albarca, are under investigation in connection to the incident, but have since gone into hiding.
A mass grave was discovered Saturday, Oct. 4 containing the charred remains of approximately 20 unidentified persons. A forensic investigation of the remains is underway, though Mexico City federal prosecutors warn it can take weeks or months to identify the burnt corpses.
"I have confidence that we'll find [the students] alive," state governor Ángel Aguirre told reporters. Aguirre maintains the mass grave contains other, separate victims "of organized crime," not the missing students.
For those waiting to know the fate of friends and loved ones, Aguirre's comments just underscored the realities of a corrupt and ineffectual government: if the missing students are still alive, why have they not yet been found and returned safely home?
So Monday, Oct. 13, a crowd of around 200 individuals stormed the state capitol. After a standoff with police in riot gear, the protestors allowed police to evacuate children, women and seniors from the office building. Police also escorted men out before protestors began torching the Municipal Palace and some surrounding vehicles.
United States officials have issued warnings for travelers to avoid the northwestern part of the state of Guerrero, due to these and other violent incidents.
_________________________________________________________________________
Sources:
http://www.washingtonpost.com/world/protesters-burn-mexican-citys-government-offices-over-suspected-murder-of-students/2014/10/13/ddfa3392-5346-11e4-ba4b-f6333e2c0453_story.html
http://rt.com/news/195788-mexico-students-teachers-protest-burn/