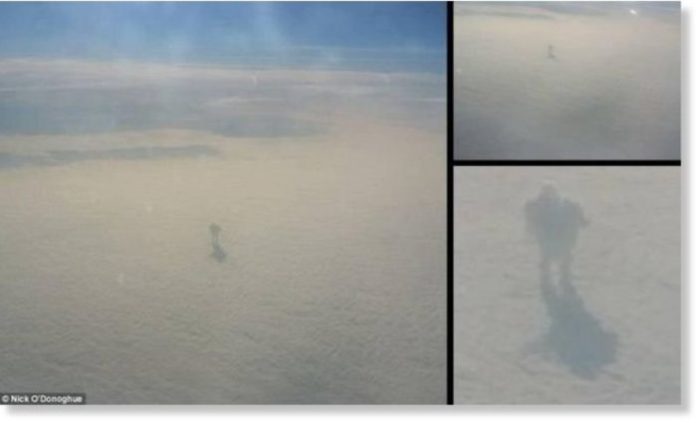 Our world is full of mysteries. Although we have our science, which is built on the principles of evidence and reason, we're still unable to use science to explain away some of the phenomena witnessed in our strange world.
Photos released by a man called Nick O'Donoghue have left many internet users stunned. The photos have gone viral on many social media platforms, and are simply mindboggling to look at.
According to Mr O'Donoghue, he was on board an EasyJet flight earlier this year. They were flying back from Austria to Cork, a city in the Republic of Ireland. After some time into the journey, his fellow passengers began to point out a strange phenomenon outside the aircraft.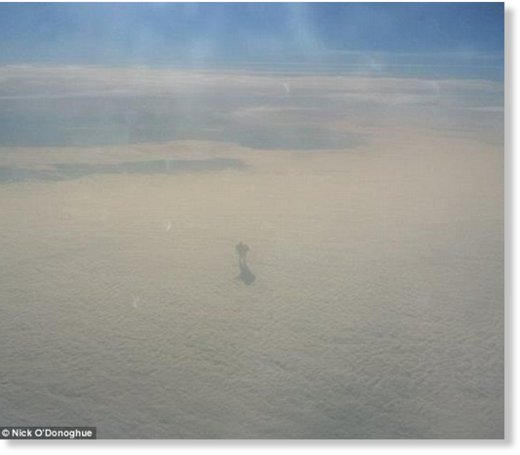 The passengers witnessed a man-like shape or figure walking in the cloud. All passengers were amazed at what they were seeing. At that time, the aircraft is said to have been flying at an altitude of 30,000ft above sea level. Despite the fact that the strange figure was in the distance, O'Donoghue revealed they were able to watch it for around two minutes. He took some images of the strange phenomenon before the aircraft slowly passed it. O'Donoghue expressed his shock at what he saw, admitting he still remains confused, trying to identify what it was that he had witnessed.
"I was gazing out the window and was amazed to see a figure in the distance in front of us and then as we flew closer the bizarre shape of a human-like figure walking along the clouds appeared.  To me, the shadow figure looks like a robot-like man or Michelin man but honestly I have no idea what it was, maybe it was just a rare cloud formation," Mr O'Donoghue told MailOnline in an interview.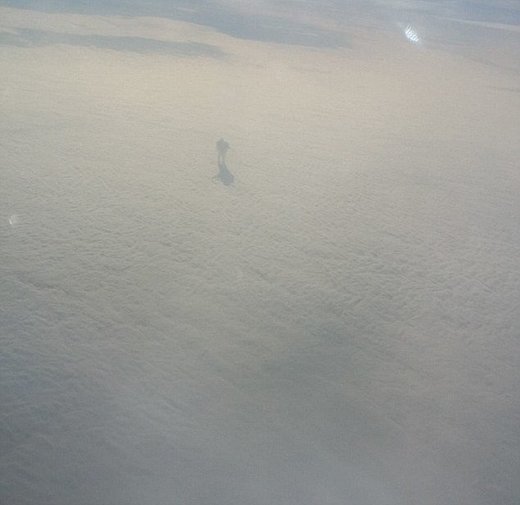 O'Donoghue said that all those who witnessed the figure described it as extraordinary. According to him, some passengers even suspected the figure to be something from another world.
When O'Donoghue posted the strange object captured online, internet users said the figure is probably columns of steam rising from a power plant through low-lying cloud cover. Others also said the figure could be an alien who was walking to his destination when the aircraft accidentally met it.
What makes the alien theory stronger is that in the last enlarged and enhanced image of the strange object, a human face is clearly visible. You can see closely from the photo below.
It's strange, especially in this era when the alien conspiracy is at its peak. There are many researchers who are currently looking for signals of extraterrestrial intelligence. The famous British Theoretical Physicist, Stephen Hawking has repeatedly said humans are not alone in the universe. He also warned humanity never to make contact with aliens because doing so would bring doom to the human race.
This isn't the first time people have witnessed strange phenomenon in the sky. In October 2016, thousands of people in China claimed to have seen a floating city in the sky.
Residents of Jiangxi and Foshan told local reporters that they have seen towering sky scrapers appearing from the clouds. This also went viral in China, and other places in the East.
Many residents said they believed they'd witnessed parallel universes, but weather experts later explained that the phenomenon was probably down to an optical illusion known as a Fata Morgana. Below is the video of what was spotted in China.
---
This article (Passengers Aboard Flight in Europe See a Man-like Figure Walking in the Clouds [PHOTOS]) is a free and open source. You have permission to republish this article under a Creative Commons license with attribution to the author and AnonHQ.com.
---
Supporting Anonymous' Independent & Investigative News is important to us. Please, follow us on Twitter: Follow @AnonymousNewsHQ