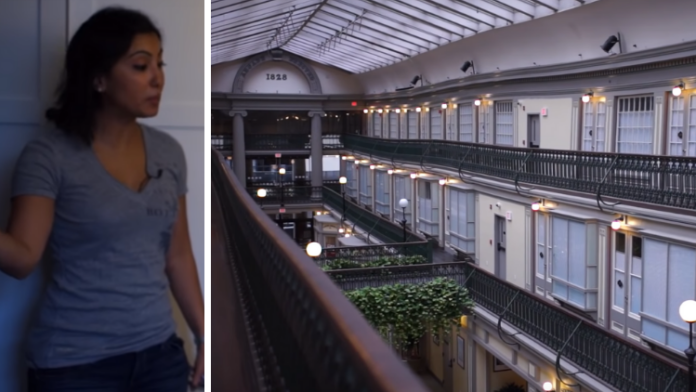 Micro lofts and tiny homes have become more and more popular as time goes by. Since finding an affordable place to live can seem tedious, downsizing might actually be a better idea. Luckily, there are some unique places that are being converted into livable spaces. The Arcade, for example, is the oldest mall in America. With some refurbishing, it has been transformed into shops and microlofts for people to live in.
The Oldest Mall On The Block
The Arcade has been around since 1829, is the oldest mall in America. The building has gone through a handful of restorations over the years. Located in Providence, Rhode Island, it has been declared a National landmark since the 1970s. It wasn't until 2013 that The Arcade was turned into a large micro loft building for people to live in.
The oldest mall was built with three levels. With the current revision, the two upper levels are meant for tenants to live in. While the first floor of The Arcade has retail stores for people to shop in. You can find restaurants, shops, and bars. However, the rooms can vary in size ranging from 225 to 900 square feet.
Evan Granoff, the owner of the oldest mall, wanted to make good use of the unwanted 48 spaces. Turning all of the out of business stores into affordable as well as livable places for people. Unfortunately, the lofts are not equipped with stoves, and tenants do not have permission to use them either. However, they do provide each room with a microwave for tenants to use. Additionally, each loft comes with built-in furniture. Including a bed with drawers, cushioned benches for seating, a refrigerator, and shelves for storage. As for laundry, some living spaces come with a washer and dryer. There's also a community room for tenants to do their laundry. Bathrooms are also included in every loft.
Life Of The Tenant
Of course, this concept works wonders for people who don't mind some of the missing utilities. For tenants who live a single lifestyle and have a career that makes them travel a lot, this could be a dream come true. That's exactly the case for tenants like Dr. Karim, as she internationally flies around for her job. The same could be said for tenant Sharon Kinnier, who also only lives in town part-time.
In addition to the lack of certain utilities, tenants also have to pay for their own cable or Wi-Fi connection, though that's pretty normal. However, there's also a common area that's available for people to entertain themselves.
It's not surprising that the demand for these affordable and livable spaces is sky-high. The Arcade has an extremely long waiting list to get in.
America's Oldest Mall: Some Units Are Now For Sale
The location and size are everything unless you live at The Arcade. This lifestyle is ideal for those that have the means for saving their money. Hopefully, this concept is adopted by others so that maybe more abandoned malls can be repurposed for housing people. The incredible amount of space gives so much potential for living situations. "I'm anticipating that a lot of people who are renting in the building right now will buy the units that they're in because it'll make economic sense for them," Explains Granoff. (2)
Most of the tenants that want to take residence at The Arcade happen to be students, singles, and seniors. All of these people are looking for something that will allow them to downsize but comfortable enough to live in. There really aren't a lot of other places that are like this one. Not only is this building a living relic but it still has the capacity to house people safely and at a reasonable price.
Ownership on the Horizon
However, early last year it was announced that tenants will soon be able to purchase their unit and own it outright. As he mentions that rent can cost $925 to about $2000 depending on the size of the loft. Granoff claims that he will most likely sell them at the starting price of $130,000, and the commercial spaces will start at around $125,000. Additionally, Granoff says that he wants to stress that nothing crucial will change for tenants that don't want to buy but will continue to rent. There will most likely be more renovations done to some of the units as they prepare them to be sold in the coming months. The Arcade speculates that it won't take a long time to sell these units.
References
"Microliving in the heart of downtown Providence." The Arcade Providence.
"Owner of Providence's historic Arcade to offer units for sale to tenants." Providence Journal. Madeleine List. January 3, 2020.