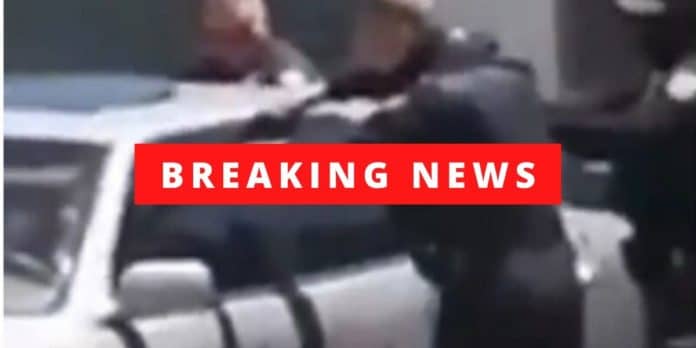 Residents of Arizona have responded with fury and protests after a man was shot to death on July 4th, in broad daylight, while seated in his parked car.
Residents of Phoenix, Arizona, have responded with fury and renewed community protests after a Latino man was shot to death on July 4th, in broad daylight, while seated in his parked car in a shocking incident captured on video by neighbors.
In the video, several uniformed officers can be seen surrounding the parked vehicle while shouting and pointing their guns at 28-year-old James "Jay" Porter Garcia. One of the officers shouted "Hey, stop f*cking moving! I will f*cking shoot you," as bystanders watching the scene pleaded, "Don't shoot him!"
Seconds later, officers appear to have shattered the passenger-side window, followed by the sound of a shout. After a brief moment of silence, police rapidly fired on the man from point-blank range about ten times.
As officers continue to shout and bark commands at the wounded Garcia, whose head was slumped over onto the window sill, witnesses could angrily be heard shouting at the officers, "That's f*cked up … What the f*ck!" and "He's dead, what are you guys doing?"
Garcia was taken to a hospital where he was pronounced dead, according to the Phoenix Police Department.
Video footage of the deadly shooting in the majority-Latino/Chicano neighborhood of Maryvale Village quickly went viral over the weekend, leading to raucous community protests.

On Sunday, community members from across West Phoenix and beyond marched on the Maryvale Estrella Mountain police station, where they were blocked from storming the building by dozens of officers clad in riot gear, according to social media reports.
The killing of Garcia adds to mounting grievances over nationwide police brutality and killings of Black and Latino people. However, the PPD have garnered a notorious reputation for being national leaders in terms of police violence. In 2019, police shot and killed 12 people. In 2018, PPD had 23 fatal shootings after averaging 21 per year from 2009 to 2017.
Advocates, elected officials, and community groups have voiced outrage over the Phoenix police's seeming unwillingness to address its culture of brutality and use of excessive force.
The Phoenix PD, headed by Chief Jeri Williams—who herself is Black—has also been engulfed in controversy after a report last June revealed thousands of racist, anti- homophobic and bigoted social media posts by Phoenix police officers.
Williams — who arrived in Phoenix after departing her scandal-plagued tenure as chief of police in Oxnard, California — was forced to place dozens of officers on "non-enforcement assignments" after what she called the "embarrassing and disturbing" revelation. The social media posts showed Phoenix officers gleefully bragging about their use of excessive force and brutality against civilians.
Critics have also blasted the department for routinely withholding basic information about police shootings such as police reports, 911 calls, and body-worn camera footage for cases that were recorded, according to AZCentral.
"It does not shock us that despite all the scrutiny from community Phoenix PD continues to respond violently to calls," Carlos Garcia, a member of the Phoenix City Council, said in a Facebook post.
"The department also issued a premature statement leaving out facts about the case. We cannot allow for dishonest narratives to be built by violent departments. we will continue to call for independent investigations into officer-involved shootings."
Phoenix police claim that they were responding to a 911 call about an aggravated assault, and allege that James Garcia was holding a handgun and brandishing it toward an officer before they unloaded the salvo on him. Spokeswoman Sgt. Mercedes Fortune said officers spoke to Garcia for roughly 10 minutes before shooting him, and that he was only killed after he told officers to shoot him and lifted his gun in their direction, according to the New York Times.
In body-camera footage from an officer who arrived at the scene following the shooting, a handgun could be seen being retrieved from inside the vehicle.
Neighbors and friends of the victim, however, dispute that the man was carrying any weapon.
"They put the gun on his head like this and they're still telling him not to move, to get his hand off a gun he don't have and then they shot him again," Steven Merry, a friend of Garcia, told KSAZ.
Neighbor Lisa Wagner said that during the encounter, "It sounded like a war had broken out in front of my house." Wagner, whose 26-year-old son Shawn Hansen considered James Garcia a best friend, described him as "very well mannered, very well-dressed [and] pretty much an all-around good guy." 
She also said that he was easily frightened and "kind of scared of his own shadow at times."
"I keep thinking it's a bad dream and we're going to wake up and we're all going to laugh about this, but unfortunately I walk out to my driveway and I realize that it's real," Wagner added. "Everyone kind of feels like they (police) murdered Jay."
Community organizers are demanding that the Phoenix PD release body-camera footage from the two officers who killed Garcia, but remain skeptical about whether the footage would be made available to them.
"What we want is the whole footage," said Viri Hernandez, executive director of Maryvale-based community organization Poder in Action, during a Monday candlelight vigil attended by about 100 people. "Every single body camera. Every single cop who showed up. Everything from when they were driving to when they got there to when they killed him."
Family members have also been grief-stricken by the loss of their loved one.
"Please help me get justice for my brother," a woman identifying herself as Garcia's sister told the crowd as she weeped. "Please. That's all we want, that's all we want. We love him so much. He was a great father, a great brother and a great son."
Jacqueline Fernandez, a sister of Garcia, also told New York Times: "I can only tell you what a good man [Jamess] was  … How kind and loving. Good father, son and brother. I can tell you that we are going to fight for justice, that we want to fight for the release of the body cams so that we can move forward."
At the end of the vigil, community members tearfully sang "Lean on Me" by Bill Withers outside of the home where the shooting occurred. Dozens of protesters then marched once again to the Maryvale Estrella Mountain Precinct, blocking traffic at one point to bring attention to the killing.