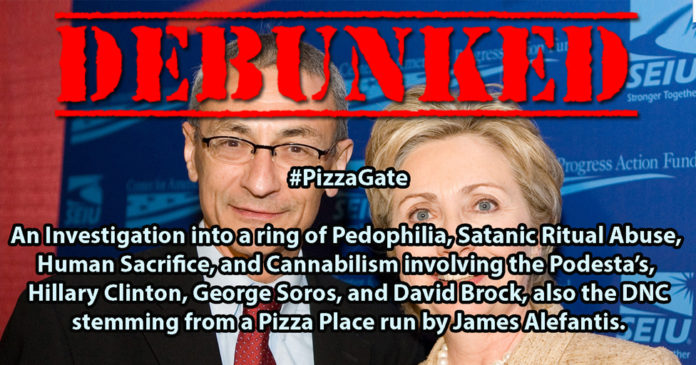 The U.S. is getting stupid on fake news – from the actual spreading of fake news, to the establishment using it as an excuse to censor reports they don't like. This is censorship, right? Hell yes, and those of us within the Anonymous movement won't stand for it. That being said, there is, unfortunately, a lot of fake news coming from the Alt-Right, much of which is originating at places like 4chan and 8chan. Not only is this confusing those who stand with the Anonymous movement, but it's giving the movement an even worse reputation.
Let's take the current "Pizzagate" and the resulting "Twittergate" scandals as an example:
Pizzagate is supposedly a scandal in which high-profile figures in America, such as the Clintons, have been using a pizzeria in Washington, D.C. called "Comet Ping Pong" as a nest for child-trafficking. Twittergate resulted when so-called Anons began trying to expose those they accused as the pedophiles, subsequently getting themselves banned from Twitter. So how did all this crap begin?
The pizzagate story reportedly originated at two websites: The New Nationalist, and The Vigilant Citizen. The New Nationalist's report, which is based on the testimony of "an anonymous citizen journalist" named only "Mark," is a baseless mashup that first provides statistics on missing children, and then ends with some pointless ramblings about demons, druids, and Halloween.
Related News: Alt-Right Creating "Fake Black Accounts" After Twitter Ban
The New Nationalist was called out by The New York Times (which let's be fair, is a piece-of-crap, too), to which those at The New Nationalist wrote a response claiming NYT ignored their "glaring evidence" of missing children stats, and sources on the occult. The New Nationalist also provided Instagram photos of Halloween pics taken at the pizzeria, as well as photos of employees with their own children, all of which was supposed to imply they are pedophiles.
Both the owner, James Alefantis (he goes by Jimmy Comet on Instagram), and his employees have now become targets, with many aggressors using bigotry towards Alefantis – who happens to be homosexual – indicating his sexuality is proof he's a pedophile (that's just… horrible). Take, for example, the following photo in which Alefantis is wearing a t-shirt that says "J' 'heart' L' Enfants." Trolls are now trying to claim that the nature of the photo, along with Alefantis's shirt, is proof he's a pedophile.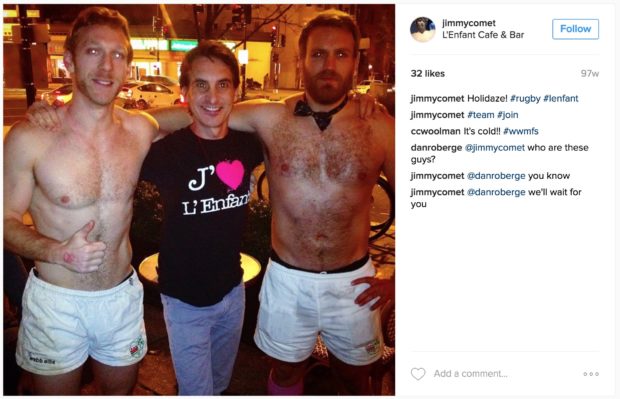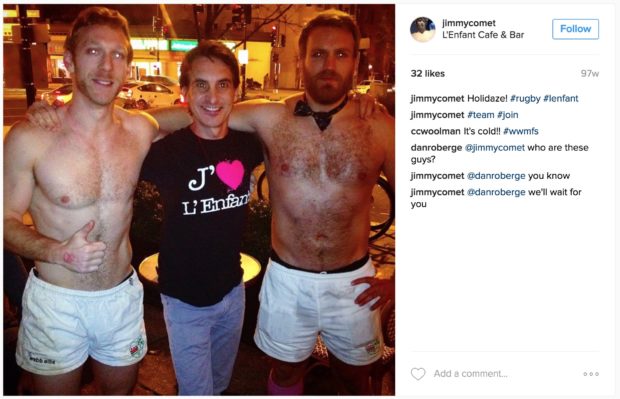 Hey geniuses: L' Enfant is a plaza in Washington, D.C.
So how did those at the Comet Ping Pong get mixed up in all of this? That's where The Vigilant Citizen's article comes in. James Alefantis was, at one point, in a relationship with David Brock; a Right-wing journalist who advocated for Hillary Clinton. Although Alefantis and Brock separated 5-years ago, this vague connection to Hillary Clinton was enough to muddy the pizzeria's reputation since the election of Trump.
The Comet Ping Pong is known to be frequented by politicians, which isn't uncommon; many politicians pick "favorite" restaurants to meet and do business, and Alefantis has since developed political acquaintances, including John Podesta's brother. Unfortunately for Alefantis, he allowed John Podesta to hold a fundraiser for Hillary Clinton at his pizzeria, and as a result, an email between the two was uncovered in the Podesta Files. The email is presumably regarding the invitations that were made for the fundraiser that included the Comet Ping Pong's logo: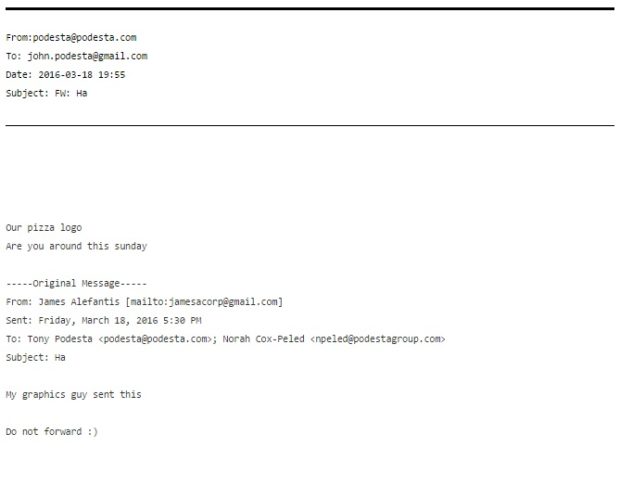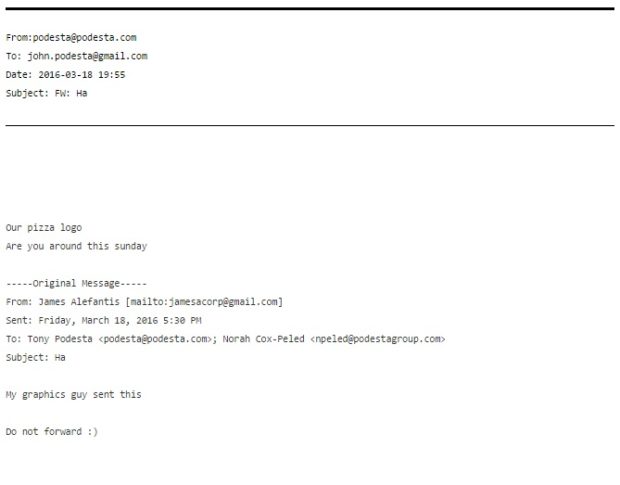 That email above is supposed to be the Pizzagate-troll's "smoking gun" proof that Alefantis's pizzeria is the center for a child-trafficking ring, and the child-trafficking ring was connected (by an extremely far stretch) due to the fact "spirit cooking" was mentioned in the Podesta Files, as well. Let us clarify: the spirit cooking emails have no connection to Alefantis, his pizzeria, or the email he sent to Podesta. That's why it's such a far stretch to connect the two – Alefantis and his pizzeria are being treated as guilty by association.
Related News: PizzaGate Conspiracy Theory DEBUNKED
Finally, we'd like to submit a piece of the puzzle we were lucky enough to stumble upon before it was deleted along with the thread. Provided below is an entry found at 4plebs (4plebs archives 4chan boards), in which the troll-architects of this whole scandal didn't really do a good job of covering their tracks. 4chan and Reddit have since begun to remove threads and posts related to pizzagate that illegally accuse individuals of pedophilia: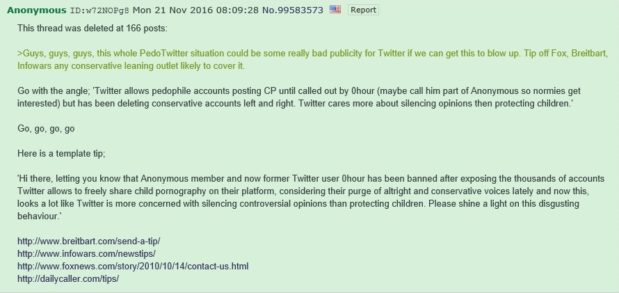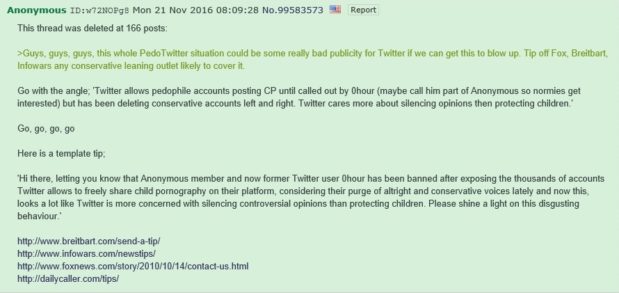 In short, this entire Pizzagate/Twittergate scandal, is in fact an operation being carried out against Twitter itself in retaliation for their censorship of the Alt-Right. The ultimate goal is to plummet Twitter's stocks under the created argument that Twitter will ban white-nationalist accounts, but not the accounts of pedophiles (apparently, the only thing white-supremacists can think of that's worse than themselves).
If you look up posts about Twittergate on Twitter – those you can still find, anyway – you will see a lot of people not asking about the fate of the so-called pedophiles, but whether or not Twitter's stocks have plummeted yet. This is a sloppy and dishonest operation that is not helping anyone, in fact it's only hurting those who are now being targeted as pedophiles, all so Alt-Rights who frequent 4chan can exact their revenge on Twitter.
Disgraceful.
---
This article ("Pizzagate/Twittergate" and the 'Fake News' Phenomena) is a free and open source. You have permission to republish this article under a Creative Commons license with attribution to the author and AnonHQ.com.
---
Supporting Anonymous' Independent & Investigative News is important to us. Please, follow us on Twitter: Follow @AnonymousNewsHQ