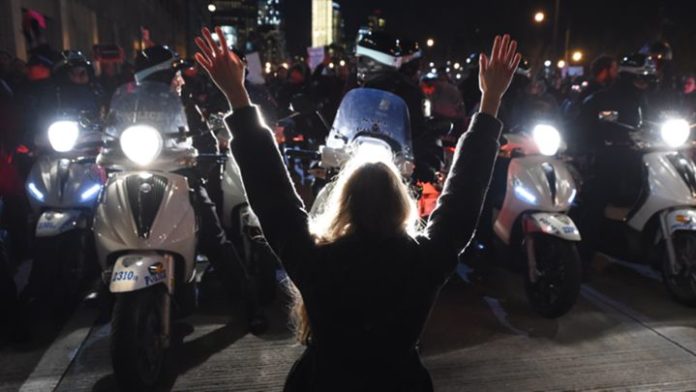 There's an interesting argument being posed on the Rolling Stone website about the necessity of police in today's society. The sub heading, 'it's time to start imagining a society that isn't dominated by police,' doesn't sound so far-fetched, once the imagination actually begins to wander.
The whole cause and effect of the police needs to be examined. Now, I'm not arguing that a society doesn't need some type of governing body to assist with the welfare of others. But in light of recent events around the world; the fair question to consider is: What role should the police take on? For the current situation isn't really benefiting the general masses nor the police force.
As Jose Martin, a writer for Rolling Stone reports, it is police reform that we need to examine. But what exactly would a police reform look like? Is it even at all possible? How would society function? Let's take a look at some of these questions with Martin in mind, and how he views the current complex situation.
Martin draws the analogy that the police are viewed as the line between chaos – 'a dystopic wild west' – and a functional society. He then focuses on six real world situations that are currently happening as a practicing alternative to the traditional method of policing. They are: [1]
Unarmed mediation and intervention teams
The decriminalization of almost every crime
Restorative justice
Direct democracy at the community level
Community patrols
Mental health care
We have seen many forms of community patrols from BACA, a motorcycle group to protect children from abuse, to the Policia Comunitaria in Mexico and to the more notorious KKK. When I personally consider the decriminalization of almost every crime, the movie 'The Purge' springs to mind. But restorative justice and direct democracy at the community level has been witnessed time and again as a successful and innovative way to curb criminal activity.
Russell Brand is a strong advocate of direct democracy. In his book, Revolution[2], he discusses the finer points of getting the local community involved in all aspects of society where everyone is held accountable to everyone, not just in a specific group. Getting people involved on a large scale, as Martin also discusses, "…is a more healthy political culture where people feel more involved is a powerful building block to a less violent world." He cites an article that pertains to a traditional Africa, where the community would deal with the 'criminal,' make them so ashamed that they would not act in such a way again. Jail would be unnecessary. [3]
If you combine this with the restorative justice that Martin discusses, we can see the huge potential for a police-free society. Community courts with community involvement, where "accountability is understood as a community issue," is a plausible alternative to the adversarial courts that we currently have. If you combine this with direct democracy you have a potentially powerful weapon. Would government then be held accountable at long last?
You don't need to select one or another banner to work under. Take the best from all and combine them to establish a judicial system for the people; to be run by the people. Working as a community, rather than an 'us versus them' mentality, may very well be the key to our evolution and success.
[1] Martin, J. (2014, 16 December) Policing is a dirty job but nobody's gotta do it. Six ideas for a cop free world. Rolling Stone. http://www.rollingstone.com/politics/news/policing-is-a-dirty-job-but-nobodys-gotta-do-it-6-ideas-for-a-cop-free-world-20141216 (Retrieved 2015, 7 January)
[2] Brand, R. (2014) Revolution.
[3] Moscow center for Prison Reform webpage. Merits of the Zimbabwe Model. http://old.prison.org/english/altmer.htm (Retrieved 2015, 7 January)