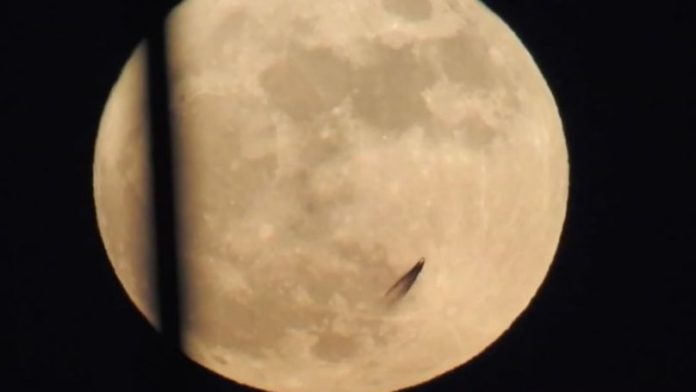 A video, reportedly taken by a Middle Eastern observatory in Oman, has sparked alien life speculation as it shows an unidentified flying object, or UFO, flying between the Earth and the surface of the Moon with a long plume trailing behind it. SecureTeam10, a group of UFO experts, claim the forked-tongue shaped object passing the Moon is proof of alien life.
SecureTeam10 owner Tyler Glockner argued:
"If you'll notice the way it's sort of moving sideways across the front of this beautiful shot of the Moon here, which also makes it difficult for me to say that it's an airliner or a plane of some sort. People are thinking it could be a meteor, or a spacecraft of some sort. We see what looks like a plume of smoke, or exhaust, or something coming off of the back of this thing and at the end of it, there is some sort of structure. Whatever this thing is, it is much closer to the Moon than a commercial airliner.
"It's very ignorant and selfish to believe we are the only living beings in whole galaxy. Yet there are some humans who prefer to ignore that which we can't explain.  While others question and seek knowledge and true about what is out there. We can't be the only ones in the galaxy. There is so much more than just us, there has to be something else beside us!"
We don't know whether this video is proof or not, but we are definitely closer than ever to finding out whether aliens exist. Earlier this month, photographer Mauricio Morales claimed to have shot multiple UFOs in the skies of Arizona while he was driving back from Arizona to Phoenix. As an evidence to prove his case, he shared the videos and the photos along with the timestamp in a Facebook post:
Members of the Society For Planetary SETI Research recently provided evidence supporting the hypothesis that certain features in the crater Paracelsus C, on the far side of the Moon, may be artificial in origin.
In a paper published in the Journal of Space Exploration, one of the authors, Mark Carlotto (an image scientist with 30 years of experience in satellite remote sensing and digital image processing), outlined how these lunar features look like unusual structures and even passageways:
In February, a jaw-dropping video of six UFOs passing the International Space Station live-stream, seconds before the feed is cut, created ripples across the world with UFO experts accusing NASA of covering up an alien sighting.
However, in April, NASA acknowledged one of Saturn's Moons — Enceladus — could support alien life in our solar system. The Cassini spacecraft, which has been orbiting Saturn for the last 13 years, discovered hydrogen molecules in water plumes rising from the stripe fractures in Enceladus' icy surface. Professor Hunter Waite, Principal Investigator for the MASPEX Europa investigation, commented:
"Enceladus is high on the list in the solar system for showing habitable conditions. The presence of hydrogen established another reference point saying there is hydrothermal activity inside this body, and that's interesting because we know in our own oceans, those are very important places that are teeming with life, and they are probably one of the earliest places where life happened on Earth."
---
This article (Proof of Alien Life? UFO Hunters Spot Mystery Object Floating Across the Moon [VIDEO]) is a free and open source. You have permission to republish this article under a Creative Commons license with attribution to the author and AnonHQ.com.
---
Supporting Anonymous' Independent & Investigative News is important to us. Please, follow us on Twitter: Follow @AnonymousNewsHQ