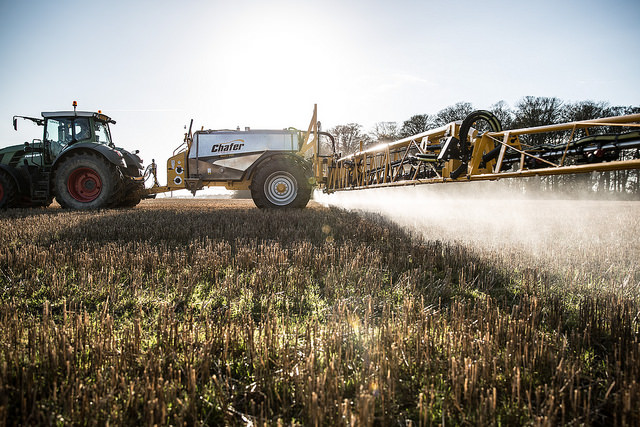 In rural northeast Argentina, the number of animals born with strange deformities has skyrocketed. According to locals, a supernatural spirit is responsible for the recent flux of deformities. However, experts discovered a correlation between the rise in deformities and the increased use of glyphosate.
"It is well-documented that glyphosate promotes soil pathogens and is already implicated with the increase of more than 40 plant diseases; it dismantles plant defenses by chelating vital nutrients; and it reduces the bioavailability of nutrients in feed, which in turn can cause animal disorders," wrote Don Huber, an emeritus professor of plant pathology at Purdue University.
In one case, a piglet born with skin so thin, allowed the farmer to see the piglets blood pumping. In a nearby village, a black puppy was born with a mini trunk protruding from its nose.
"It was kind of similar but also shockingly different to the other puppies, so I realised it was in some way deformed and at first I thought it was dead," said Eduardo, the owner of the puppy. "But then I saw it moving and trying to feed, so I helped it over to the mother and it managed to drink something but it's nose kept getting in the way."
The puppy, one of a litter of 11 and gained media attention, with photos going viral shortly after its birth.
"I was amazed at how quickly word spread and loads of people are coming round to look at the tiny puppy, and take pictures and videos," he added. "One of the children that came round said it looked like a character from the Harry Potter movie and that's what everyone is calling it in the local media here.
"I am worried if there might be something in the air or the soil or water causing this as we only live 15 kilometres (9 miles) away from the village where the last mutant was born that looked like that Potter character. One of the pigs in my litter was normal, but the other was a mutant freak," Eduardo explained. 
A number of similar deformities occurred across the region. So far, a baby chick with four legs; a piglet one head, two bodies and eight legs; and a goat with two heads has been born. Also, a two-headed calf and a piglet with eight legs have been recorded among the animals with strange and unexplainable deformities.
Goat with two heads, eight-legged pigs and a puppy with a TRUNK found in Argentina https://t.co/LOoNLCPJsK pic.twitter.com/U9pnnWB2R3

— Daily Mail Online (@MailOnline) 23 May 2016
Superstitious locals warned owners that the deformities are the work of the Almamula – a legendary woman-turned-donkey caught having an incestuous relationship with her father and brother. However, Mr Vasquez, the owner of the piglet with paper-thin skin, believes pesticides are to blame.
"But I think its probably chemicals. I want tests done, the local government should investigate," Vasquez said.
Argentina is the world's biggest user of the pesticide glyphosate. Over 12 million Argentinians live in regions surrounded by soya bean fields sprayed with the pesticide. The country currently supplies the UK with GM soya beans used to feed livestock; cotton used to manufacture products, including T-shirts and tampons.
"There is sufficient scientific evidence in Argentina and the rest of the world that proves with absolute certainty the damage the herbicide does to our eco-system and to the health of humans and animals when used intensively in the production of food," Silvana Bujan, Director of Environmentalist NGO Bios Argentina, told the MailOnline. "There is evidence that the change from pasture goods to genetically-modified soya, as well as the traces in the air, water and grasses that they ingest, could well be one of the decisive factors in the hormonal and genetic changes of the animals."
The future of glyphosate within the EU is currently uncertain. At this moment in time, EU member states are currently in disagreement over the relicensing of the chemical.  Expectations of a 15 year licence extension didn't follow the licence expiring on June 30. A postponed vote occurred for a second time after officials decided that a binding decision was unlikely.
"Since it was obvious that no qualified majority would have been reached, a vote was not held," a Commission spokeswoman told Reuters.
Image: Flickr, Chafer Machinery
---
You want to support Anonymous Independent & Investigative News? Please, follow us on Twitter: Follow @AnonymousNewsHQ
---
This article (Rise in Animal Deformities Linked to Monsanto's Glyphosate, the World's Top-Selling Pesticide) is a free and open source. You have permission to republish this article under a Creative Commons license with attribution to the author and AnonHQ.com.