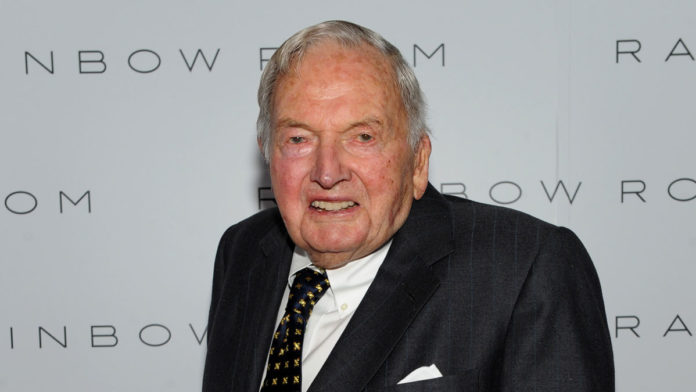 Nothing is quite as synonymous with the oil industry in America as the name John D. Rockefeller, who was the founder of Standard Oil in 1870 (which monopolized the oil industry with a 90% control of US refineries and pipelines) and was one of the wealthiest people, if not the wealthiest person, of his time.
(The US Supreme Court ordered Standard Oil dissolved in 1911 for violating anti-trust laws, but the value of his shares in the resulting companies propelled him into becoming the richest man in the world. Exxon and Mobil were both descendants of Standard Oil, before merging back into Exxon Mobil.)
However, it appears that the Rockefeller family has decided that it does not want the dark stain of fossil fuels on its name any more.  The Rockefeller Family Fund, worth approximately 130 million dollars, is selling off its investments in companies dealing with fossil fuels. This includes its holdings in Exxon Mobil and fracking oil producers.
"While the global community works to eliminate the use of fossil fuels, it makes little sense — financially or ethically — to continue holding investments in these companies," the Rockefeller Family Fund fund announced in a statement last week. "There is no sane rationale for companies to continue to explore for new sources of hydrocarbons."
This is not the first Rockefeller fund to sell its holdings of oil companies. In 2014 the Rockefeller Brothers Fund sold 7% of its approximately 860 million dollars of total assets, dealing with fossil fuels. "The action we're taking is symbolism, but it is important symbolism," said fund president Stephen Heintz at the time. "We're making a moral case, but also, increasingly, an economic case."
At the time, the Brothers Fund did not choose to sell off its stake in Exxon Mobil, ostentatiously so that it could "press the oil and gas producer to account for its carbon assets." An example of talking from both sides of one's mouth. It has recently sold its Exxon Mobil stake.
It should be noted that in both of these cases their stake in fossil fuels is sold for admittedly economic reasons, and that the moralistic reasons mentioned, probably have little bearing on the funds' decisions; the fossil fuel companies do not simply disappear when a fund chooses to sell its share of the company to someone else after all, and oil prices are near record lows – a phenomenon that may not go away in the near future.
The Rockefeller Family Fund has lambasted Exxon Mobil for "morally reprehensible conduct," stating that "evidence appears to suggest that the company worked since the 1980s to confuse the public about climate change's march, while simultaneously spending millions to fortify its own infrastructure against climate change's destructive consequences and track new exploration opportunities as the Arctic's ice receded."
"It's not surprising that they're divesting from the company since they're already funding a conspiracy against us," Alan Jeffers, a spokesman for Exxon, said in an email to CBS MoneyWatch. Jeffers noted that the Family Fund had funded a news organisation called InsideClimate News which wrote a damning report claiming that Exxon was misleading the public about its own research into climate change.
He claimed that InsideClimate "produced inaccurate and deliberately misleading stories" about the company's climate research.
"The stories wrongly suggested that we had reached definitive conclusions about the risks of climate change decades before the world's experts and while climate science was in an early stage of development," he said. "ExxonMobil believes the risk of climate change is clear and warrants action."
Sources: CBS News, CCTV, History, Bloomberg View, Wall Street Journal
---
This article (Rockefeller Family Fund Sells off Stake in the Oil Companies that made them Fabulously Wealthy) is a free and open source. You have permission to republish this article under a Creative Commons license with attribution to the author(CoNN) and AnonHQ.com.