217 passengers and 7 crew members – all Russian citizens – aboard a Russian airliner flying from the Sinai Red Sea resort of Sharm el-Sheikh in Egypt to St. Petersburg in Russia have died after it crashed in the Sinai desert. The Egyptian General Prosecutor's office has retrieved the black boxes that contain the recordings of the conversations between pilots as well as between pilots and flight operations officers.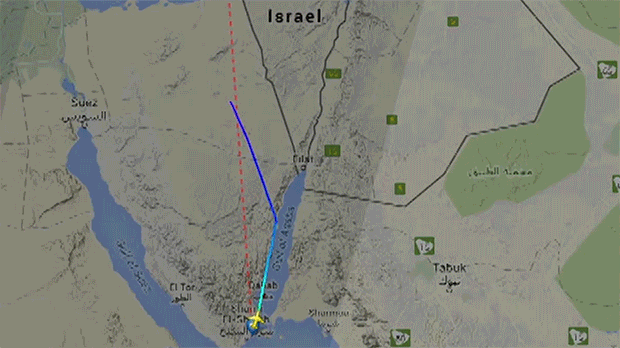 The flight, an Airbus A321 operated by Russian airline Kogalymavia under the brand name Metrojet with registration number KGL-9268, took off at 5:51 a.m. Cairo time (03:51 GMT) and lost contact with air traffic control 23 minutes later on October 31. It was at an altitude of 31,000 feet when it vanished from radar screens.  The plane was descending at a rate of 1,800 meters per minute before radar contact was lost. Its wreckage was found about 100 km south of the north Sinai town of El-Arish.
К сожалению, все пассажиры рейса 9268 Когалымавиа Шарм-эш-Шейх – Петербург погибли. Выражаем соболезнования родным и близким.

— RussianEmbassy EGYPT (@Rusembegypt) October 31, 2015
According to AFP, Islamic State (ISIS) group affiliate in Egypt has claimed it had downed the Russian passenger plane in revenge for Russian air strikes against militants in Syria, where ISIS controls territories that straddle Iraq. Sinai is the scene of an insurgency by militants who support ISIS. The rebels have killed hundreds of Egyptian soldiers and police and have also attacked Western targets in recent months.
#Egypt #ISIS Claim Responsibility for shot down the Russian Aircraft over Sinai #IS #ISIL pic.twitter.com/tBCRt7Xen1

— Abu Ibrahim Raqqawi (@raqqa_mcr) October 31, 2015
Although according to latest social media updates, even IS Sinai is stating that this video is fake.
#عاجل تنظيم #الدولة_الإسلامية ينشر مقطع فيديو يقول إنه ﻹسقاط #الطائرة_الروسية في #سيناء pic.twitter.com/wxE4KRanht

— غريب (@iq2015_bgd) October 31, 2015
The Russian Transport Ministry also refuted the claims that the Airbus A321 was shot down by terrorists.
"Now, different media report… that a Russian passenger airliner on a flight from Sharm El-Sheikh to St. Petersburg has been allegedly shot down by an anti-aircraft missile fired by terrorists. This information cannot be regarded as reliable. We are in close contact with our Egyptian colleagues and aviation authorities. They currently have no information that could confirm such allegations," said Russian Transport Minister Maksim Sokolov.
#ISIS claim re. #Russia airliner — 3 possibilities: 1. False claim 2. Bomb on plane 3. ISIS [somehow] has advanced air defense missiles. — Charles Lister (@Charles_Lister) October 31, 2015
A north Sinai security source told Reuters that initial examination suggested the crash could have been caused by a technical fault; but it was too early to draw any firm conclusions. The plane, he said, had landed in a "vertical fashion", contributing to the scale of devastation and burning.
Our latest information, including playback, raw data, and aircraft information for #7K9268https://t.co/7mOviajD4rpic.twitter.com/lbsMDlJDGo — Flightradar24 (@flightradar24) October 31, 2015
"I now see a tragic scene. A lot of dead on the ground and many who died whilst strapped to their seats. The plane split into two, a small part on the tail end that burned and a larger part that crashed into a rockface. We have extracted at least 100 bodies and the rest are still inside."
Появились первые фотографии с места авиакатастрофы российского лайнера Airbus A321 https://t.co/R14uT54rVS pic.twitter.com/sFQps8aT4W — LIFENEWS (@lifenews_ru) October 31, 2015
What caused the crash? Initial reports about the fate of the airliner are conflicting.
We regret to confirm an accident involving a Metrojet A321, flight 7K9268. Statement #1: https://t.co/n3dntVsdW5 1/2— Airbus (@Airbus) October 31, 2015
Russian President Vladimir Putin has declared an official day of mourning Sunday for victims of the crash. He has also ordered Prime Minister Dmitry Medvedev to open an investigation into the crash.
1 ноября объявлен в России днем траура по погибшим в авиакатастрофе — Президент России (@KremlinRussia) October 31, 2015
Airline @lufthansa to avoid flights over #Sinai after Russian plane crash; @airfrance reportedly taking same action https://t.co/Q0oj1nyPUX — BBC Breaking News (@BBCBreaking) October 31, 2015
In pics: Russian plane crash https://t.co/EECRMJ5kVD (Pic: AFP) pic.twitter.com/klxZvGfjek — Times of India (@timesofindia) October 31, 2015
The tragic recent history of Russian aviation https://t.co/wnveqtRqV4 — The Independent (@Independent) October 31, 2015
---
This Article (Russian Plane Crashes In Egypt, All 224 Onboard Killed – ISIS Takes Responsibility, Russia Rejects Claim) is free and open source. You have permission to republish this article under a Creative Commons license with attribution to the author and AnonHQ.com.