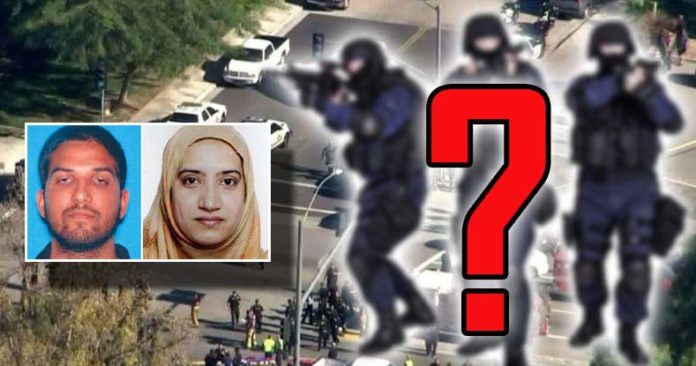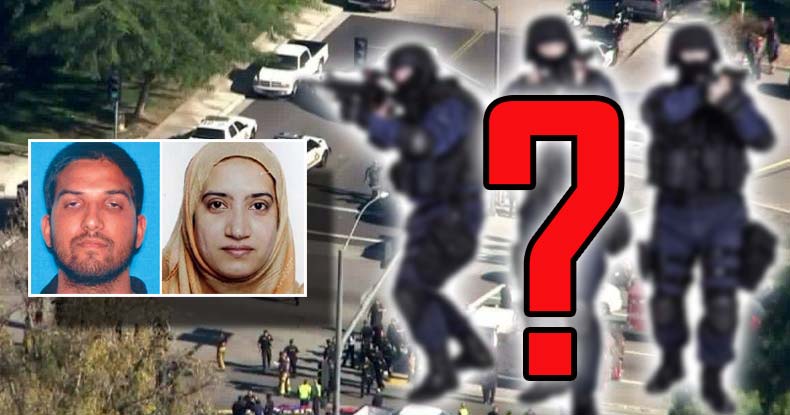 What do you know about the San Bernardino shooting? That a married couple – Syed Rizwan Farook, 28, and Tashfeen Malik, 29 – on December 2, shot and killed 14 people at the Inland Regional Center, and that hours later the American Muslim duo died in a shootout about 3.5 miles away? Well, the fact is, you only know what the investigators, the FBI and the mainstream media want you to know.
The FBI Director, James Comey wants you to believe:
They [the 'terror couple'] were actually radicalized before they started courting or dating each other online, and online as early as the end of 2013, they were talking to each other about jihad and martyrdom before they became engaged and then married and lived together in the United States. We also believe they were inspired by foreign terrorist organizations. We're working very hard to understand exactly their association and the source of their inspiration.
What the investigators want you to believe:
Police have discovered a potential link to Islamic extremism, saying they believe Malik posted a pledge of allegiance to the Islamic State on Facebook. While there was no evidence ISIS had directed the couple to stage the attack, the FBI claims there was enough evidence of "extensive planning", and the case was being investigated as an act of terrorism.
The New York Times wants you to believe:
About 11 am, Farook and Malik, dressed in combat gear, entered the building's east side and sprayed 65 to 75 rounds with assault rifles. A fire alarm was triggered, perhaps by a bullet, setting off the sprinklers. People in nearby buildings sheltered in place, remaining hidden in their offices for two hours. Within four minutes, the police began clearing the scene and evacuating the injured. The suspects had escaped in a black SUV. At about 3 pm, police reported shots fired on a local police scanner. The suspects fired 76 rifle rounds at the police. Local TV stations showed Farook on the ground, near a black SUV riddled with bullet holes. Malik was shot dead in the car, where police discovered 1,600 unused rounds.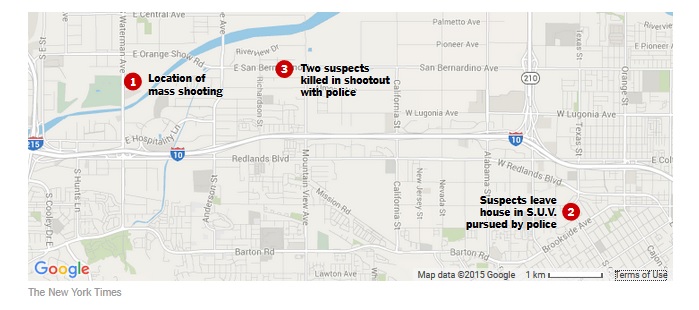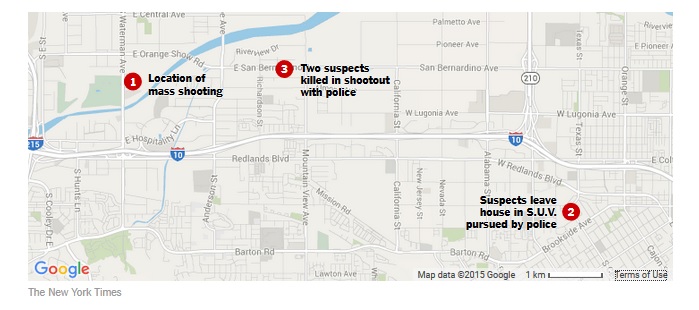 The eyewitness accounts that neither the FBI/investigators nor the mainstream media want you to believe:
Witness 1: Witness Sally Abdelmageed, who works at the Inland Regional Center, told CBS:
We saw three men dressed in all black military attire with vests on. They were holding assault rifles and as soon as they opened the door to building three, one of them started to shoot all over into the room, that's the room that we typically have conferences in, and we just heard more gunshots go off. I reached for my phone. I called 9-1-1 and I just hid under my desk…
I couldn't see his [gunmen's] face, he had a black hat on and from my view all I could see was a black hat and black long sleeve shirt, possibly gloves on. He had black cargo pants on, the kind with the zippers on the side and the big puffy pockets. He had a huge assault rifle and he had extra ammo… It looked like their skin color was yeah, was white. They looked like they were athletic in build and they appeared to be tall.
Witness 2: Mark Stutte, who works in information technology for the county's public health department, said his daughter called him from the scene, at the Inland Regional Center, and described the exact same thing.
It was like a Christmas party, an award party that we were having. She went to the restroom and she called me. She was huddled up in the restroom, and three gunmen came in and they started shooting people — colleagues that I work with.
Witness 3: Chris Nwadike, a third San Bernardino shooting eyewitness, recently told reporters he received a phone call from an unknown person at around 7 pm, on the evening of the shooting. Nwadike said that the person who called him, told him that he must say that Farook was the shooter [Video].
No it's not him [Farook]. I told them about it. He's quiet. He doesn't make any trouble. He was just spraying bullets everywhere. But the gunman was not Syed, or his wife.
Witness 4: Juan Hernandez, another eyewitness, told a local NBC affiliate he saw "three white men in military fatigues" leaving the scene.
"The hunt for one to three suspects was taking place near a San Bernardino center where as many as 20 people were shot Wednesday, authorities said," Fox News reported an hour after shots rang out at the Inland Regional Center.
#BREAKING: 14 people killed, 14 wounded in San Bernardino shooting. 3 suspects on the loose. @myfoxla

— FOX 11 Los Angeles (@myfoxla) December 2, 2015
#BREAKING: Reports of an active shooter in San Bernardino. Police looking for 3 white males dressed in military gear. At least 20 injured

— FOX 11 Los Angeles (@myfoxla) December 2, 2015
Fox News tweets were followed by BuzzFeed News tweets that indicated police had apprehended a third person:
#SanBernardino police chief: Third person was seen running from SUV scene, person is detained. Unknown if involved pic.twitter.com/oFniWLpGIu

— BuzzFeed News (@BuzzFeedNews) December 3, 2015
David S. Chelsey, an attorney for Farook's family, describes numerous ways that the official story of that horrible crime "doesn't add up".
There's a lot of disconnects, and there's a lot of unknowns, and a lot of things that quite frankly don't add up… Farook and his wife didn't appear to have the necessary background and skill set… Malik, who was nursing a newborn child, was only about 90 pounds, so it's unlikely she could even carry a weapon, or wear some type of a vest, or do any of this.
Dr. Steve Pieczenik, former United States Department of State official, told Alex Jones he is skeptical of the official narrative.
"You had a woman who was supposedly a Pakistani who went to Saudi Arabia, was less than a hundred pounds being able to wear a vest…carry guns, and at the same time shoot and twitter, absolutely impossible," Pieczenik said, adding that the incident transposes Sandy Hook and its underlying predicate is gun control for Obama. "His last wish, his dying wish… is that we have gun control in the United States."
Was San Bernardino a false flag? What would you like to believe?
---
This Article (San Bernardino Shooting Witnesses Claim 3 White Men, Not The Muslim 'Terror Couple', Carried Out The Attacks) is free and open source. You have permission to republish this article under a Creative Commons license with attribution to the author and AnonHQ.com.