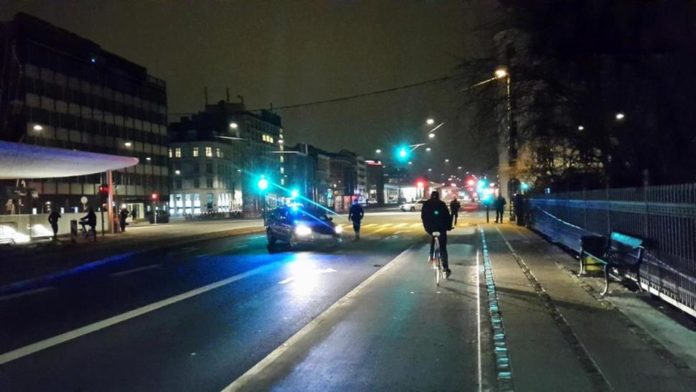 At a Copenhagen café where a freedom of speech debate was underway, one 40 year old man was killed and three officers wounded when shots were fired by a suspected lone gunman.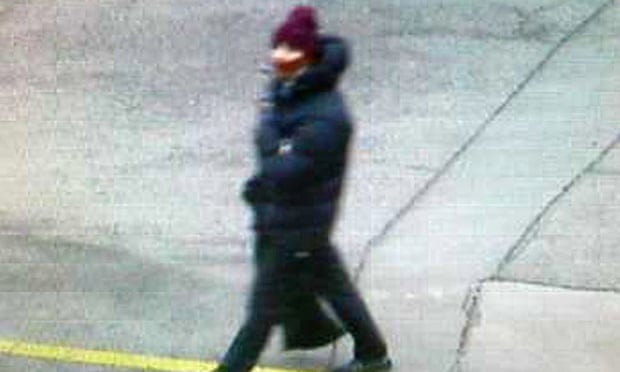 Other reports indicate that just after midnight on Sunday morning (British time) there was yet another shooting, this time at a synagogue where two officers were again injured as well as a third person. It was too early for the police to tell whether the incidents were related.
The above mentioned café event had been organized by a controversial Swedish artist, named Lars Vilks, who has been threatened for portraying the Prophet Mohamad in caricature. It is believed that he might have been the intended target.
According to witnesses, a hail of bullets were fired into the windows of the Krudttonden Café in Osterbro, near the city centre. This occurred at 3:30pm, with the suspect fleeing via car.
A photograph was released by the police, claiming that it was that of the suspect that they were hunting. Danish prime minister Helle Thorings-Schmidt had at the same time called the shootings a terrorist attack that had set the whole country on high alert. Be afraid, be very afraid. Of the one guy who just murdered one guy.
From Wikipedia:
Terrorism is commonly defined as violent acts (or threat of violent acts) intended to create fear (terror), perpetrated for a religious, political, or ideological goal, and which deliberately target or disregard the safety of non-combatants (e.g., neutral military personnel or civilians).
So, if terrorists do these things in order to perpetuate fear in order to achieve these political/ideological goals, wouldn't the primary objective of a government be to investigate these matters in a calm and level-headed manner and so prevent the public from becoming hysterical, overreacting to a single murder where the suspect has not even been identified as Muslim and so might not even be politically motivated? I immediately pronouncing these acts terrorism, one tends to wonder if fear is the exact agenda politicians seem to have in mind….
The prime minister said: "We feel certain now that it's a politically motivated attack, and thereby it is a terrorist attack. Our main priority at this stage is to catch the perpetrators and make sure that we find them as soon as possible."
David Cameron was quick to also join the condemnation bandwagon, saying "Free speech must always be protected." Dear Mr. Cameron, please explain why a nineteen year old person was charged and convicted under a certain "Public Order Act" for calling a policeman's horse gay? Or how about the fifteen year old who was summoned for holding up a sign saying "Scientology is not a religion, it is a dangerous cult". Apparently the wishes of the few very wealthy members of an organization that believes that the Earth was populated by an alien named Xenu, an organization created by a science fiction writer, trumps the freedom of a child to express his freedom of expression. The laws are so loosely worded that anyone could be arrested for doing anything, much less engaging in free speech…. So Cameron, stop with the hyperbole.
The French ambassador to Denmark, François Zimeray, was coincidentally at the scene of the latest shooting. "They fired on us from the outside. It was the same intention as Charlie Hebdo except they didn't manage to get in," he told AFP. "Bullets went through the doors and everyone threw themselves to the floor. Intuitively I would say there were at least 50 gunshots, and the police here are saying 200."
Among those reported to be inside was Inna Shevchenko, an activist with the feminist group Femen. A feminist group that has been rampantly degrading themselves via nudity in order to get their 30 minutes of fame, while serving a far more political purpose than feminism per se. Most people dooo't even know what their main agenda is to begin with. They do make great feature pictures for journalists though.
Helle Merete Brix, one of the organisers of the event, told TV2 News that she and Vilks hid in the cold store of the cafe during the attack.
She said: "I was in a cold room and kept hold of Lars Vilks's hand. He was very cool. We stood and told each other bad jokes. His bodyguards did a tremendous job. It is a dramatic and unpleasant reminder of what we are up against in these times."
She would later tell the Associated Press that she had seen "a masked man running past". Brix added: "I clearly consider this as an attack on Lars Vilks," saying she was eventually ushered away with Vilks by one of his Danish police guards.
Police were searching for a Volks Wagon Polo, with unconfirmed reports suggesting that the getaway car was found abandoned a short drive away from the culture centre.
Jodie Ginsberg, the chief executive of Index on Censorship, said: "The use of violence on a gathering exploring the intersection of religious and artistic freedom should send shivers down our spines. The Charlie Hebdo murders inspired intensified public debate about free speech and its value. Many people who had previously given little thought to free speech were drawn for the first time into online discussions or attended events to help them get a better understanding of the issues. It would be terrible if violent acts such as that in Copenhagen shut down free speech even further."
Within two hours of the attack, French foreign minister Bernard Cazneuve announced that he would be flying to Denmark to join in the condemnations.
Vilks is oh-so controversial because he had depicted the prophet Mohammad as a dog in 2007, provoking condemnation in Iran, Afghanistan, Egypt Pakistan and the usual terrorist nations that don't actually do terrorism. Several art gallaries apparently have declined to showcase his drawings, though cartoons getting showcased in art galleries is/should be a rare thing even if they weren't intended to simply piss people off for free publicity.
Vilks also spoke to the Wall Street Journal about the Charlie Hebdo attacks, and said that he refused to hide away. He added: "Police protection doesn't offer a 100% guarantee as we saw with Charlie Hebdo but it goes pretty far. I don't have to lie awake at night listening for odd sounds."
The tittle of the event was "Art, blasphemy and the freedom of expression". Real subtle. Apparently there was tonnes of security at the…. cafe? Pretty well-armored cafe. The photo is so grainy and blurry that it would be rather useless for the police to depend on it to locate the person in question. Why even bother releasing it to the public? Who even uses a crappy camera like that in this day and age, unless it was a random security camera.