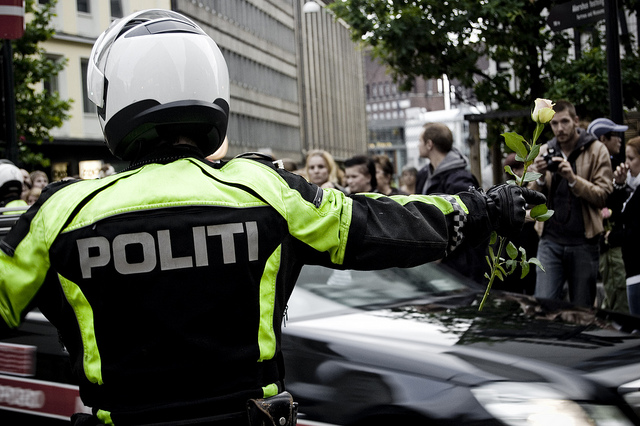 In the United States, stories of police brutality and shootings often appear on the pages of the daily newspaper. In fact, the issue has become so concerning, the incidents often become international news.
In comparison, police in Norway have not killed anyone in nearly a decade. You may be wondering how this is even possible, especially since U.S. police have killed more than 600 people so far this year, according to the Guardian's database The Counted: People Killed By Police In The US. Well, according to a new report released by the Scandinavian country's government, police in Norway hardly ever use their guns.
While this comparison may already appear disturbing, the reality of the matter is, it is highly likely this statistic accounts for just a small fraction of Americans that have lost their lives at the hands of police over the course of this year. In fact, even the FBI are unsure how many civilians U.S. police have killed across the country.
"We can't have an informed discussion, because we don't have data," FBI Director James Comey said in the House of Representatives in October. 
"People have data about who went to a movie last weekend, or how many books were sold, or how many cases of the flu walked into an emergency room. And I cannot tell you how many people were shot by police in the United States last month, last year, or anything about the demographics. And that's a very bad place to be."
While there are many differences in culture and policy that contribute to the to the lower occurrence of police murders in Norway – population and gun policies being the largest contributors – it appears the police approach to guns is one of the largest factors.
In Norway, police officers rarely carry firearms, and even when they are carrying a gun, they are far less likely to draw their weapons on suspects. In 2014, officers in Norway drew their weapons 42 times, and fired just two shots while on duty.
Sociologist Guðmundur Oddsson, speaking to Tech Insider, explains that Norwegians' higher sense of trust in law enforcement may contribute to the country's police shooting statistics.
"Trust is an extremely powerful mechanism of informal social control. In smaller, more ethnically homogeneous countries like Norway, building that trust is easy. People feel a sense of togetherness for many reasons, including the fact that most people look similar and hold similar beliefs," he said. 
Sadly, the same level of confidence is not often seen within the United States. Countless video's online clearly demonstrate this fact. In many of the recorded incidents, U.S. officers draw their weapons within seconds of approaching the situation. As a result, it is hardly surprising that some of these officers hastily fire their already draw weapons, even when the situation does not call for it.
Earlier this month, a behavioral therapist was shot by Florida police while he was lying on his back in the street, with his arms in the air. The victim of the shooting, Charles Kinsey, had been caring for an autistic patient who had wandered off. Kinsey had informed the officer upon approach that the boy was autistic, and pleaded with him not to shoot. Kinsey left the scene with a gunshot wound to the leg.
Shoot first ask questions later: this appears to be the police mentality in the United States. However, as demonstrated by Norway, there are other solutions.
In Detroit, United States, citizens have banded together to tackle local crime using only safe and non-violent measures. Detroit's 'Threat Management Centre' was founded in 2000 by Dale Brown. Today, The Threat Management Center uses successfully "developed tactics, strategies, and logistics to deter, detect and defend corporations and communities from both internal and external threats."
"Safety is the foundation of success for families, communities and cities," states the Threat Management Centre website. "Safety equals success."
Image: Flickr, Endre Krossbakken
---
You want to support Anonymous Independent & Investigative News? Please, follow us on Twitter: Follow @AnonymousNewsHQ
---
This article (Shaming U.S. Police: Police in Norway have not Killed Anyone in Almost a Decade) is a free and open source. You have permission to republish this article under a Creative Commons license with attribution to the author and AnonHQ.com.