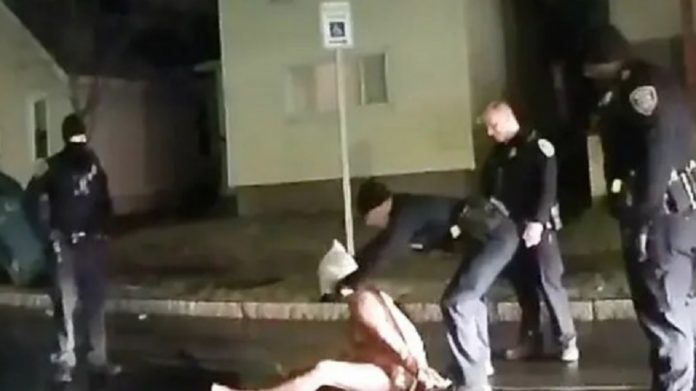 The fatal encounter, which occurred on 23 March, had gone unreported until this wednesday.
Disturbing new police body cam has emerged that shows New York police laughing as they placed a hood over the head of an unarmed man before pressing his face into the pavement for two minutes.
The victim, 41-year-old Daniel Prude, died on March 30, seven days after his brutal treatment by police and after his family determined that he should be removed from life support.
The release of footage showing the police apparently mocking their victim as they kill him is already sparking nationwide uproar just one day after community activists and family members released the footage on Wednesday press conference. The fatal encounter, which occurred on 23 March, had gone unreported until yesterday.
Officers in Rochester, New York's third-largest city, will now be facing an internal investigation as well as an investigation by New York State attorney general Letitia James. All of the officers remain on the force.
Prude, a Chicago native who was suffering from mental health problems while visiting family in Rochester, was detained by police on March 23 after leaving the home of his brother, Joe Prude, in a state of distress. Joe Prude had called 911, as did a truck driver who reported seeing a man without clothes trying to break into a car while saying he had the coronavirus.
In 12 minutes of police body cam footage first reported by the Democrat and Chronicle of Rochester, Prude can be seen with his arms handcuffed behind his back, in an agitated state, while officers restrain him with a so-called "spit hood" – a mesh bag meant to prevent arrestees from spitting on officers that has been criticized for causing deaths in police custody. At the time, New York was facing surging coronavirus pandemic numbers.
As officers laughed before placing the hood over Prude's head, he began shouting: "Give me that gun. Give me that gun." The three officers then shoved him to the ground.
Prude continued to yell at the officers before the shouts became muffled. One officer can be heard repeatedly urging Prude to "calm down"
and "stop spitting."
After two minutes of being held down with the spit hood over his head, the same officer asked, "You good, man?"
The officer then noticed that water was spilling from Prude's mouth, and asked "My man. You puking?" The officers then removed the hood and his handcuffs before medics performed CPR on him and loaded him into an ambulance.
One week later, Prude died in what medical examiners ruled a homicide caused by "complications of asphyxia in the setting of physical restraint," an autopsy report read.
The report added that "Excited delirium" and acute intoxication by PCP were contributing factors.
The death of Prude in police custody is disturbingly similar to the May 25 death of George Floyd, who was killed by Minneapolis Police officers who held him down on the floor until he was no longer able to breathe.
On Wednesday, family members and supporters demanded justice for David Prude while accusing police of upholding a pattern of practices that make such in-custody deaths inevitable.
Joe Prude called the incident a case of "cold-blooded murder" and compared his brother's death to a modern-day lynching.
"How many more brothers got to die for society to understand that this needs to stop?" Joe Prude aked.
Joe Prude, brother of Daniel Prude says his brother was lynched by RPD officers. Says his brother was having a mental health incident and he called police for help. Described his brother as being naked, unarmed, and following their commands. pic.twitter.com/1ibkUAd5e0

— Patrick Moussignac (@WHEC_Moussignac) September 2, 2020
Community organizers are also demanding that the officers face charges.
"We are in need of accountability for the wrongful death and murder of Daniel Prude. He was treated inhumanely and without dignity," said Ashley Gantt, a social movement organizer who works with Free the People Roc and the New York Civil Liberties Union. "These officers killed someone and are still patrolling in our community."
"The Rochester Police Department has shown time and again that they are not trained to deal with mental health crises," Gantt told the Democrat & Chronicle. "These officers are trained to kill and not to de-escalate. Daniel's case is the epitome of what is wrong with this system and today we stand firmly seeking justice for Daniel and his family, and for all the victims who have been murdered and terrorized by the Rochester Police Department."
Critics of police brutality and systemic racism are also pointing to the death of Prude as clear proof of the need to continue demanding that police departments across the nation be defunded.
"The only police reform that will prevent cases like George Floyd and Daniel Prude is to drastically reduce or eliminate the size and scope of policing," tweeted filmmaker Bree Newsome Bass. "Any measure calling for more $$$ or more officers will result in more death. We already know this. That's why [our demands are] defund & abolish."