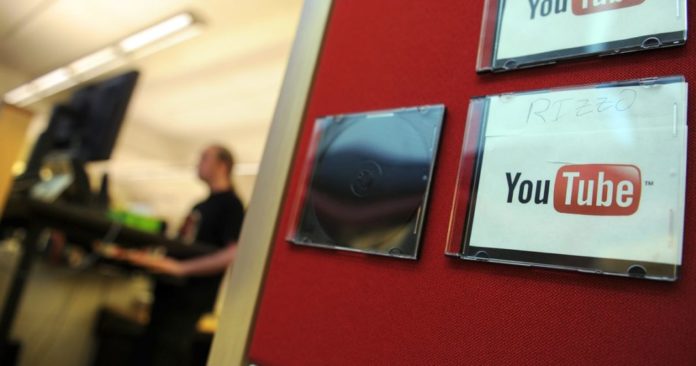 San Bruno received multiple 911 calls from headquarters, report says.
At least four people were shot at YouTube's headquarters in San Bruno on Tuesday, according to a police spokesman. Three victims were taken to local hospitals. A fourth person died at the scene, apparently of a self-inflicted gunshot wound, police said during a press conference Tuesday afternoon.
Shooting victims included a 36-year-old male in critical condition, a 32-year-old woman in serious condition, and a 27-year-old woman in fair condition, according to Zuckerberg San Francisco General Hospital spokesman Brent Andrew. Another woman present at the shooting was treated for a twisted ankle at Kaiser Permanente South San Francisco Medical Center, a spokesman said.
The shooting suspect was a woman, San Bruno Police Chief Ed Barberini said. Several hundred employees were evacuated on Tuesday afternoon after the shooting began. "It's with great sadness that I tell you — based on the latest information — four people were injured in this horrific act of violence," Google CEO Sundar Pichai said in a note to employees. "We're doing everything we can to support them and their families at this time."
Vadim Lavrusik, a product manager at the company, tweeted that there is an active shooter on campus. The San Bruno Police Department instructed people to stay away from 901 Cherry Avenue, where the company is located. Multiple 911 calls have been received from inside the building, according to a report from local news station KRON.
We are responding to an active shooter. Please stay away from Cherry Ave & Bay Hill Drive.

— San Bruno Police (@SanBrunoPolice) April 3, 2018
Some 1,700 people work at the YouTube HQ.
Images broadcast on local TV stations showed employees leaving with their hands raised. Other footage appeared to show evacuees forming a queue before being individually frisked by police.
Video captured by a nearby helicopter showed a glass door shattered in its centre, with glass fragments strewn across the ground outside.
The three wounded were taken to Zuckerberg San Francisco General Hospital. Officials said the 32-year-old woman's condition was serious and the 27-year-old's condition was fair.
YouTube product manager Todd Sherman tweeted that people fled the building in panic as the shooting unfolded.
We were sitting in a meeting and then we heard people running because it was rumbling the floor. First thought was earthquake. https://t.co/gmolQmRXm1

— Todd Sherman (@tdd) April 3, 2018
Another employee, Vadim Lavrusik, tweeted he was barricaded in a room with other staff. He later said he had been evacuated.
Active shooter at YouTube HQ. Heard shots and saw people running while at my desk. Now barricaded inside a room with coworkers.

— Vadim Lavrusik (@Lavrusik) April 3, 2018
President Trump said he had been briefed about the incident.
Was just briefed on the shooting at YouTube's HQ in San Bruno, California. Our thoughts and prayers are with everybody involved. Thank you to our phenomenal Law Enforcement Officers and First Responders that are currently on the scene.

— Donald J. Trump (@realDonaldTrump) April 3, 2018