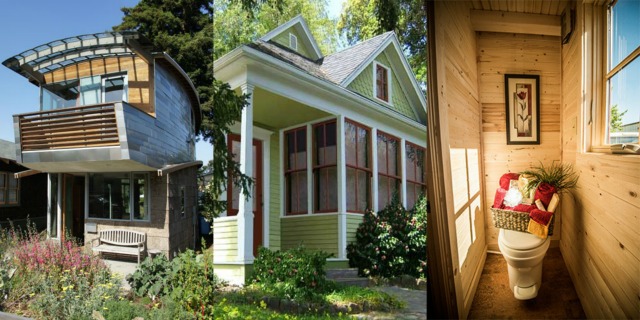 These days, simplified living is a luxury. A typical American home is around 2600 square feet, while a typical tiny house is around 100-400 square feet. People around the world are downsizing the space that they live in for a more practical, economical, eco-friendly, healthy and humane lifestyle.
While a spacious house can cost upwards of $1,000,000, a tiny house costs between $15,000 and $80,000. Less resources are needed to build and maintain these houses, and utilities are extremely affordable compared to the current average costs. Meg Stephens from Tumbleweedhouses.com writes:
"I typically spent less than $170 (total) on propane to heat my tiny house during the brutal winters in Iowa. In Olympia, Washington, Dee [her friend] spends an average of $5/month on propane for heating her tiny home."
Tiny house offers the chance to live without debt, free from the shackles which limit our quality of life. Jay Shafer, tiny house advocate and founder of Four Lights Tiny House Company, says that unlike sprawling houses, tiny houses demand that their dwellers downsize to the essentials. Shafer states that tiny houses are undiluted reflections of the people who live in them, adding:
"A tiny house is any house in which all the space is being used well. When my friends and I founded the Small House Society…that was our definition and we're sticking to it."
This means that if two people lived in a 300 square foot house, they could call it a tiny house and 8 people living in a 2000 square foot house could boast the same title. The idea is about simplicity and practical living.
There are prerequisites though, the main being that you have to get rid of everything: the crap you keep jammed in your storage closet, garage, couch, drawers, or under your bed, décor, gizmos and other junk has to go. Living in a tiny house is the perfect incentive to free yourself by de-cluttering.
So what are you waiting for? Sell your crap, pay off your debt, and do what you love.
---
You want to support Anonymous Independent & Investigative News? Please follow us on Twitter: Follow @AnonymousNewsHQ
---