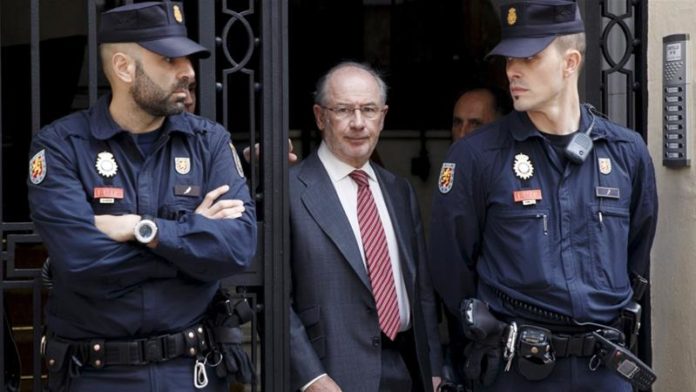 Spain's National Court has sent Rodrigo Rato, former head of the International Monetary Fund (IMF), to four years and six months behind bars over misusing corporate credit cards while in charge of two leading Spanish banks at the height of the country's financial crisis.
Put on trial with 64 other elite executives and board members at Caja Madrid and Bankia banks, Rato was found guilty of embezzlement when he headed up Caja Madrid and Bankia. Along with him, are those accused of misusing a total of €12 million between 2003 and 2012, using "black credit cards" to pay for personal holidays, hotel parties, jewelry, safaris, and luxury bags without declaring the lavish spending to tax authorities
According to the indictment, Rato maintained the "corrupt system" established by his predecessor Miguel Blesa — who was sentenced to six years in jail the same day — when he took the reins of Caja Madrid in 2010.
La querella que puso UPYD por el caso #Bankia sigue recogiendo sus frutos #Blesa #Rato https://t.co/0l8C0JIjGz

— UPYD (@UPYD) February 27, 2017
Rato, who still insists the credit cards were for discretionary spending as part of the pay deal for executives, then replicated the corrupt system when he took charge of Bankia, a group born in 2011 out of the merger of Caja Madrid with six other savings banks. AFP reports:
"Rato was economy minister and deputy prime minister in the conservative government of Jose Maria Aznar from 1996 to 2004, before going on to head up the IMF until 2007. His subsequent career as a banker was short-lived — from 2010 to 2012 — but apart from the credit cards case, it also led to another banking scandal considered the country's biggest ever.
"Thousands of small-scale investors lost their money after they were persuaded to convert their savings to shares ahead of the flotation of Bankia in 2011, with Rato at the reins. Less than a year later, he resigned as it became known that Bankia was in dire straits."
The massive corruption scandal, uncovered at the height of a severe economic crisis, prompted outrage in Spain because Bankia later had to be nationalized and injected with more than €22 billion in public money.
ESPAÑA: LA VERGÜENZA DEL MUNDO!
Muere gente de hambre.
Pobres roban un súper,??a la cárcel#RATO #URDANGARIN etc roban?A MANSALVA y a VIVIR! pic.twitter.com/1WH1ACdHaW

— jᎧᎦερ ρνиτᏟᎯᎢ ‼️⭐️‼️ (@josepuntcat) February 24, 2017
"Although there are other judicial cases involving savings banks in which the extent of the pillaging was worse, without a doubt, the episode of the 'black' credit cards will be seen as the symbol of an era of excess," noted El Mundo newspaper in an editorial.
Rato, who remains at liberty pending a possible appeal — because of his highly connected elite status — is the third IMF chief to be ousted for morally corrupt illegal activities. His successor, Dominique Strauss-Kahn, was tried in 2015 on pimping charges in a lurid sex scandal. Despite admitting to taking part in "only 12 sex parties in 3 years" and engaging in illicit sex with prostitutes at a series of orgies, he was acquitted after four years of legal proceedings against him.
Last year, Christine Lagarde, who took over from Strauss-Kahn and is the current IMF chief, was found guilty of "negligence" for approving a €405 million government payout made fraudulently by a state-owned bank to business tycoon Bernard Tapie, during her tenure as French finance minister. Despite her proven involvement in the high-level corruption, she was neither given any sentence for her wrongdoing nor fined for her 'negligence'.
---
This article (Spain Prosecutes 65 Crooked Bankers, Imprisons Former IMF Chief for Fraud) is a free and open source. You have permission to republish this article under a Creative Commons license with attribution to the author and AnonHQ.com.
---
Supporting Anonymous' Independent & Investigative News is important to us. Please, follow us on Twitter: Follow @AnonymousNewsHQ