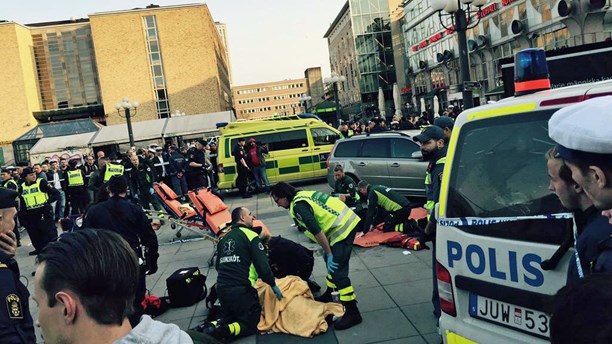 On April 30, an unmarked police car drove straight into a crowd of students celebrating Walpurgis Night at the busy Medborgarplatsen square in Stockholm. According to Aftonbladet, four people were badly hurt and were taken to the hospital. Bystanders who tried to help the victims were peppersprayed by the police.
The police told Aftonbladet that there must have been "something wrong with the car". "It is unfortunate when people get injured by a police car that is not going to stop," said Towe Hägg, information officer at the Stockholm police. The officer driving the car claimed that the car couldn't stop because the brakes failed.
Albin Birch bark Mountains from the Stockholm police said that the cops received an alarm of a disturbance at the square shortly after 6 p.m. A large number of students had gathered at the square where between 10 and 100 people were reportedly involved in a fight.
Michael, a witness to the incident, said "It started as a big fight. I saw girls who tried to stop the altercation, which received bangs. Then I went in to try and calm down the whole thing. The police car came in very high speed and drove straight into the crowd. I heard the sound of bodies that was hit by the car; three people just flew up in the air."
Onlookers, who were distraught at seeing the suffering students for no fault of theirs, gathered near the victims to help them since paramedics came to attend the injured after 15 minutes. At this point a lady officer began shouting and started pepperspraying the crowd hurting even more people. The police brutality is being investigated by the police.