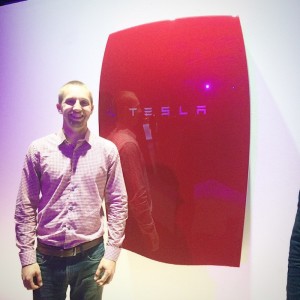 Meet Mr. Jason Roesslein. He's 24, educated and a "Utopian pragmatist enjoying life whilst working towards its sustainability…" and he lives in a van.
A short time after graduating from the University of Illinois at Urbana-Champaign with a Bachelor's Degree in Mechanical Engineering, Jason headed to California to start a new chapter as a Tesla employee and to live the west coast lifestyle he had always dreamed of. Embracing the ideals of minimalism, he made his journey west from Illinois to San Francisco with a backpack and a snowboard bag, chasing the freshman year of his future. It's no surprise that his first year out in the world was not all roses and sunshine. Being money conscious all of his life made his first predicament even tougher than it already was. Finding a place to live proved to be staggering. According to local sources, rent in the Bay Area starts at about $1000, and goes up from there. Living outside or in the suburbs and commuting 2 hours to work just to be able to live was still an expensive and energy draining endeavor "inside the box."
His thought pattern now extended beyond "minimalism" into "essentialism," and he started posing questions: What do I want? Where do I want to be? What do I need?
"My own space: which is nice, doesn't cost too much, can store my things, allows me to be healthy and hygienic, to sleep and to hangout for a bit each day… close to work, close to the gym, close to my hobbies and close to the social scene."
Luckily for Jason, many companies in Silicon Valley (including Tesla) provide employees with a plethora of amenities: showers, gyms, kitchens and in some cases meals are provided to ease long days and late nights at work. With all these tidbits in mind, his first idea was to construct a studio/apartment out of a box type delivery truck. Albeit a nice idea, it was still too big and too much. After a conversation with a coworker (who had been living in a Subaru Forester for a YEAR), Jason decided on a Dodge Sprinter van and quickly found one on eBay. After spending about $1000 to clean, insulate and make it presentable, "Dolly the Dodge" would be his new home for… ?
Keeping with the very basic idea of his driven sentiments, there was no external electricity, no running water, no toilet… his bed was a sleeping bag and camp pad. His dresser was made of cardboard and he had a small propane heater for cold nights. His only "fixed" expenses were vehicle insurance, at about $100 per month, and cell service, at about $75/mo. Fuel, food, clothing and entertainment varied with what he did. However, the convenience of sleeping where you park allowed him to immerse himself into his work most of the time. When asked about his best and worst times in this adventure he replied:
"One of the coolest things was driving up to [Lake] Tahoe, parking at the base of a mountain and waking up the next morning to go skiing."
On the down side:
"…one night I woke up from a nightmare, only to find myself living a nightmare — in a terrible sweat, in a strip mall parking lot, in a cold resourceless van, yakking my brains out on their parking lot multiple times before walking inside to brush my teeth. Thanks again, Safeway."
Five months after starting this adventure and saving as much cash as possible, Jason has moved into a non-mobile setting while still having his own space. "Dolly" has been sold for a $2000 profit. Between this profit and the money saved, he's been able to pay off student loans and still have a substantial savings. As a bonus to his new found stability, he's currently continuing his education at Stanford University. Relentless forward motion.
Though many articles (including this one) may give you a feeling of, "if he can do it, why can't I?" …even Jason cautions people:
"I would encourage you to do a bit of reading on the subject, and potentially even attempt one act of essentialism, to see how it impacts your life…"
Jason Roesslein's transition into the world from school is definitely a story of resolve mixed with some obsession and a pioneer spirit. His is just one case that attracted a mass amount of attention. Is it because of his age, the people he met on the way, or maybe because he blogged about it? Through research and personal encounters, I can say that there are citizens that do this everywhere… for an array of reasons. Jason, himself, mentions a coworker living in a Subaru but neglects to say why. He did it to get ahead but there are just as many doing it just to keep their heads above water. Bravo to all of them for the spirit and resolve it takes… no matter what the reason is!
SOURCES:
Roesslein, J. (2015, July 21). Silicon valley Vanlife
Elkins, K. (2015, November 16). A 24-year-old Tesla engineer lived in a van for 5 months and paid off his $14, 000 of student loans
Writer, S. (2015, November 17). How a Tesla engineer lived in a van to pay off student loans – photos
This Article (Tesla Energy engineer lives in a van for 5 months) is free and open source. You have permission to republish this article under a Creative Commons license with attribution to the author and AnonHQ.com.