(Zero Hedge) It looks as though new keyless entry vehicles are not only offering conveniences for their owners, but also for thieves, who can now steal these vehicles "in seconds", according to the BBC.
In a test performed by "What Car?" magazine, seven car models with keyless entry and start systems were tested to see how quickly they could be stolen. The results? An Audi TT RS was stolen in 10 seconds and a Land Rover Discovery Sport was stolen in 30.
Security experts performed the tests using the same type of technology that's commonly used by thieves. They measured the amount of time it took to get into the vehicle and drive it away. The BBC notes that car theft rates in places like England and Wales have reached eight year highs and that more than 106,000 vehicles were stolen in 2018 alone.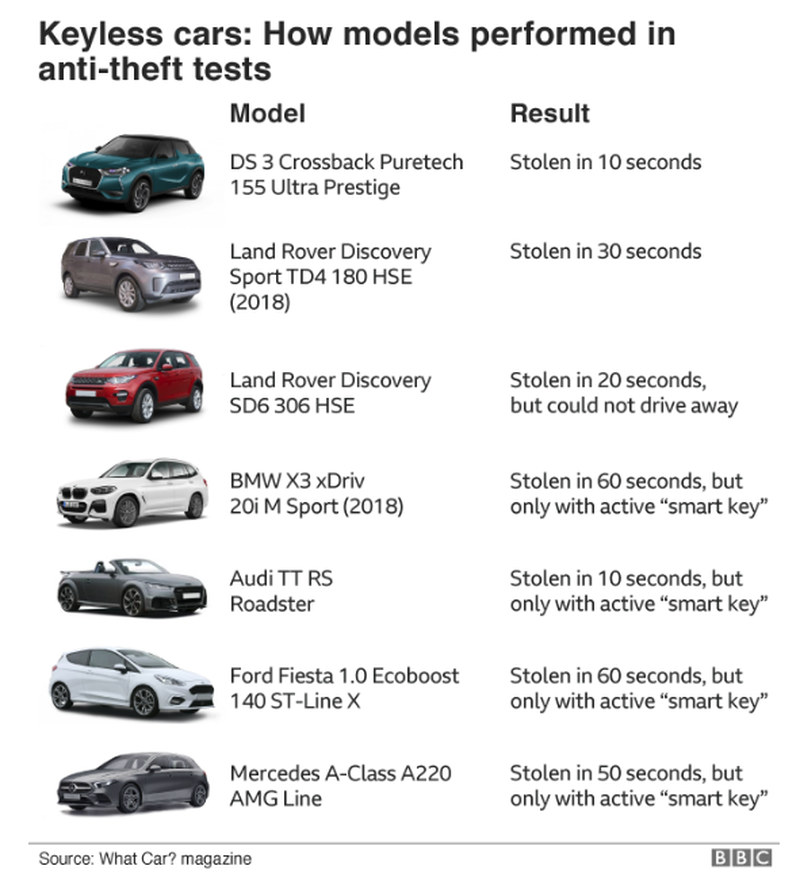 Additionally, insurance claims for stolen vehicles hit their highest level in seven years at the beginning of 2019. Claims for January to March were higher than for any other quarter since 2012, according to the Association of British Insurers. Keyless car crime was part of the blame, the ABI said, but it did not have exact figures on what proportion of claims were for keyless vehicles.
VW, the parent company of Audi, says that it continually collaborates with police and insurers as part of its work to improve its vehicle security measures. PSA group, the parent company of DS, says it has a team dedicated to treating security weaknesses and also has worked closely with police to analyze methods being used for theft. It also said that dealers could deactivate keyless entry systems if the owners requested it.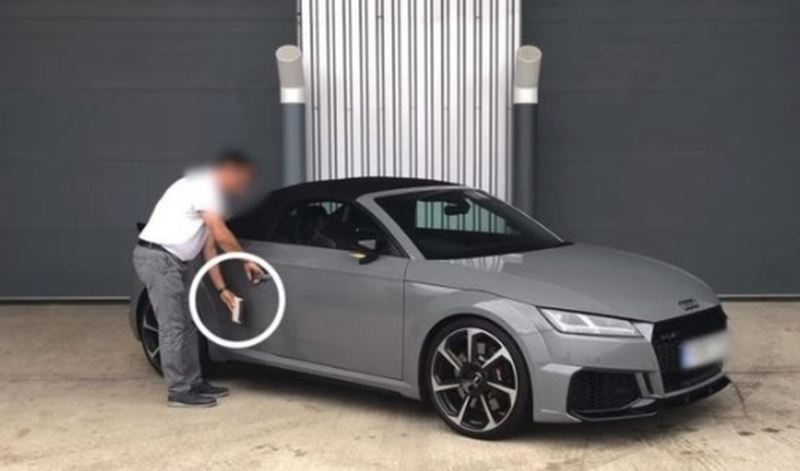 The article cites one example of a couple who were victims of a keyless car theft after stopping for a bathroom break on their way to the airport.
The owner of the Ford Mondeo, Stephen Savigar, said: "While we were inside thieves jammed my car's locking system. They stole my travel bag which had mine and my wife's passports inside, as well as our glasses and an iPad. It meant we were unable to fly. But we still dropped our friends to the airport and waved them off at the desk. My wife ended up passing out at the desk as we were in a terrible state."
The couple was forced to drive home and then pay for a different flight after missing the first one. In another instance, someone from North London had his keyless Mercedes c220 stolen from outside his home. The owner said:
"The vehicle had keyless entry and my keys were not even near the front door. I was given the line by Mercedes that if I double tap my key when locking the vehicle it will be safe as the key does not transmit. For me that was standard practice, I had known about this function, the key was on the third floor at the back of my house. I believe people are being misled when manufacturers say vehicles are even more safe. According to my insurance there had been more than 10 cars stolen with keyless entry in my postcode in London alone, in that month."
Often times, keyless theft requires thieves to work in pairs.
One criminal holds a device close to the car that boosts the signal meant for the key and the other stands close to the house with a second device that relays the signal to the key, fooling the system into thinking that the driver is closer to the car than they are.
Then, after being stolen, the cars are usually stripped for parts.