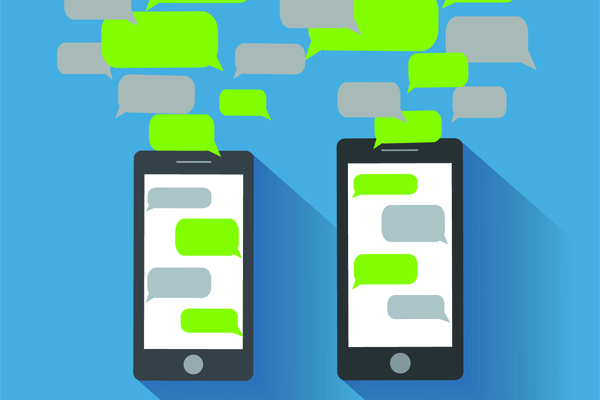 After the Snowden leaks on how the government is spying on us, along with everyday hacks that make the headlines, people have grown conscious on keeping their data private. A majority of us agree with the fact that what we say or show to the other person behind the messaging app, is for them to see only.
If we think about the fact that many of our messages are being sent from our phones and are being stored on servers, or are being read by a software that has been programmed to check key words or messages, from a specific country, it isn't a pleasant thought. This idea of breaching privacy has given birth to new kinds of applications that are completely different from the ones that are popular, and can give away your data to the government upon request. Big Brother is watching.
What is Encryption?
Before we get started with our list of encrypted messaging applications, it is important to understand what you are going to be dealing with. In its very basics, end-to-end encryption means the messages or the data sent only stays between the host and the recipients – no one else can read it. Why? Because the message you send is layered with encryption or secured as it travels to the recipient; once they have it, it decrypts and it becomes readable. This simple method prevents hackers, governments and private companies from reading your messages. Also, if a company that provides end-to-end encryption service is storing your messages on your server, and the government asks them for your messages, they will not be able to read them. Instead, they will be encrypted and can only be decrypted once they are received from your end, and same goes for a hacker. Even if they are listening to the traffic that is being sent via your Internet, the text will not be presented to them in a normal format – all they will see is special characters, symbols and numbers going here and there.
However, it is also important to know that not every company offers the same. Some might offer you end-to-end encryption, but if the government asks them for you information, they will provide them with your decrypted data, as many of the companies out there keep your encrypted messages on their system and can decrypt them, as well.
With that said, the applications that we are going to show here are all end-to-end encryption services. Happy cloaking!
Signal
This company gained fame after Edward Snowden's whistleblowing activities, as it is one of Snowden's favourite messaging applications. There is no hassle in setting it up, it is easy to use (it can automatically detect your number, like many messaging applications out there) and can be used as a normal SMS application.
The software also allows you to create a private group with no limit for adding users, and the application allows users to make phone calls and makes clear calls. Now, it is important to note that Signals does not work very well with tablets, but they are working to enhance the experience the application. The design of the product is simple and offers the feature of adding colours to the contacts, which can be helpful to flag users.
Wire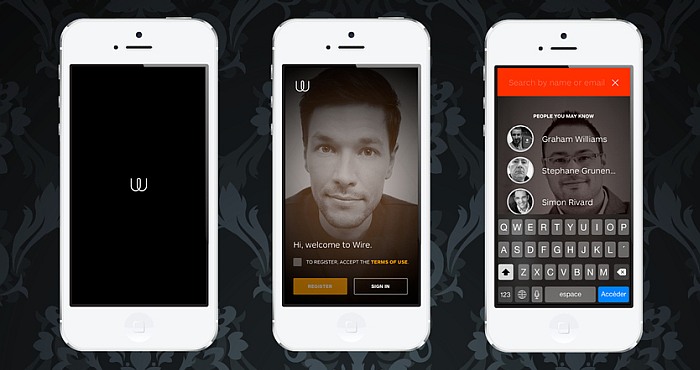 Then you have Wire, which offers some funky features. One such feature lets you doodle; it can change the application's main contacts background; you can send pictures; send voice clips; and it also has a great set of GIF's. The application also includes a chat bot named Otto, which offers you instructions on how to use the features in the application.
The software allows you to create your account using your number, as well as your email address, but since using the number allows you to easily setup your account and later delete it as well, I personally prefer that option. The application is a great design, has friendly user interface, a nice green colour theme, and offers night mode for lowering light levels for those fewer strains on your eyes.
However, the software also offer calls in-group conversations, limiting it up to five people.
Telegram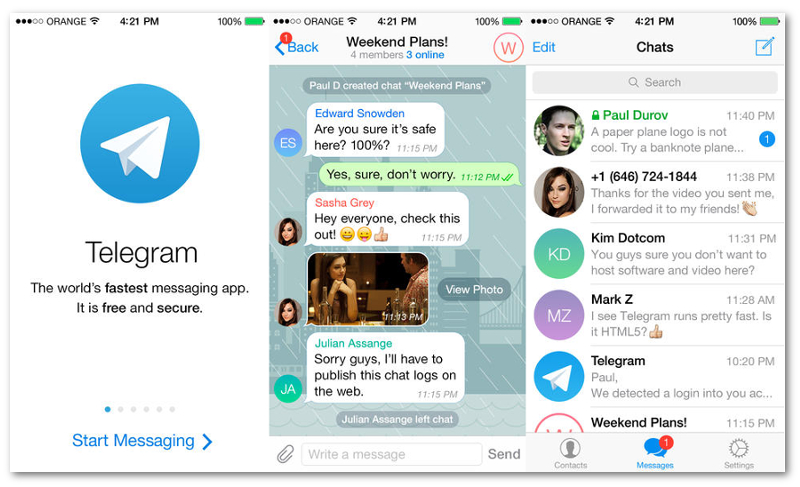 This application is one of the most popular ones out there; it has been, and still is, considered one of the most widely used end-to-end encrypted messaging applications at this current time.
However, one of the worst parts of this app is that it wants you to invite every single person in your contacts, which is available in its navigation options. Once you are done with sending the requests, you can use it like a normal messaging application. It features group messaging with unlimited users in there; there is no limit for using MMS in a group conversation or forwarding it to individual contacts.
The application also offers to create groups that can be displayed publically, as it allows you to create your own little social word – but minus all Twitter or Facebook elements.
Even though the theme is a little old school, the application is one of the best out there, as it also offers the desktop version in both Apple machines and Windows, and even a web-based interface.
Threema
Little is known about the Threema app. The name come from EEEMA, meaning end-to-end messaging application and this application has been in the market for more than three years.
From the start, the messaging application uses encryption once you install it; it generates two sets of keys that are randomly generated and asks you to run your fingers across a set of letters that are constantly changing. However, the private key is kept on your phone, while the public key is on their Switzerland servers. The initial setup requires your phone number with your email address so it can link up all of your contacts. It also generates a QR code, so when your contacts meet, you know that you and your contacts have the right public key – which is a good feature that prevents the users from other attacks.
However, the theme of the application can be switched between white and green to a dark grey and green. To add an extra feature, the application uses passphrase along with a pin. It has some standard built-in options such as sending pictures, sending large files, voice messages, and even locations to your contact. Sadly, there is no option for making video calls or even voice calls and the application is not free. Nevertheless, if you are willing to spend a few bucks, Threema is worth the money, offering you the privacy you need.
---
You want to support Anonymous Independent & Investigative News? Please, follow us on Twitter: Follow @AnonymousNewsHQ
---
This article (The List of Good Messaging Applications Offering End-To-End Encryption) is a free and open source. You have permission to republish this article under a Creative Commons license with attribution to the author and AnonHQ.com.