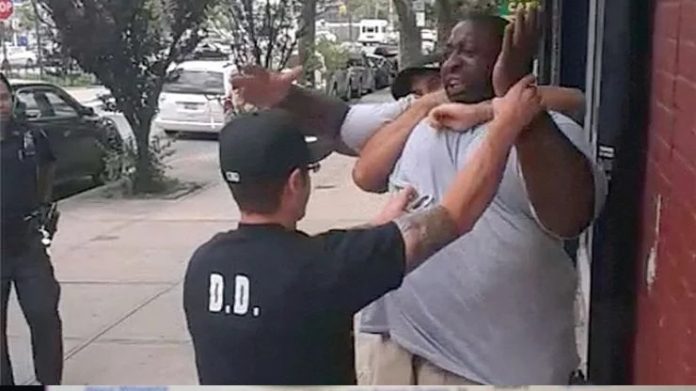 (CD) — Just over five years after Eric Garner was killed during an arrest by a New York City police officer, the officer who killed him was fired on Monday.
The decision came after years of unrelenting advocacy by his family and other supporters.
In a long-awaited statement, New York City Police Commissioner James O'Neill announced that the NYPD had determined Officer Daniel Pantaleo had violated department policy by placing Garner in a chokehold when arresting him in July 2014. The maneuver was banned by the NYPD two decades ago.
"It is clear that Daniel Pantaleo can no longer serve as a police officer," O'Neill told the press.
In addition to his termination, Pantaleo will not receive a pension.
Garner's family—including his daughter Erica, who died in 2017 at age 27—consistently demanded a thorough investigation of Garner's death and Pantaleo's conviction and firing.
A Staten Island grand jury's decision not to bring charges against Pantaleo resulted in an uproar in 2014, and Garner's family expressed outrage last month when the U.S. Justice Department announced it would not prosecute the officer.
But this month Deputy Commissioner Rosemarie Maldonado, a department judge, found that Pantaleo was guilty of "reckless" misconduct, renewing hope that the officer could be fired.
On social media, supporters on Monday gave credit to Garner's daughters, Erica and Emerald; his mother, Gwen Carr; and his widow, Esaw Snipes, for their tireless advocacy for justice.
Eric Garner's daughter, Emerald, mobilized more than 142,000 people to demand Daniel Pantaleo—the officer responsible for her dad's death—be fired.

Today, he was fired. https://t.co/vb4f3Hvmdy

— Change.org (@Change) August 19, 2019
Eric Garner's family has never stopped fighting. https://t.co/hz5HwzKUMX

— ESSENCE (@Essence) August 19, 2019