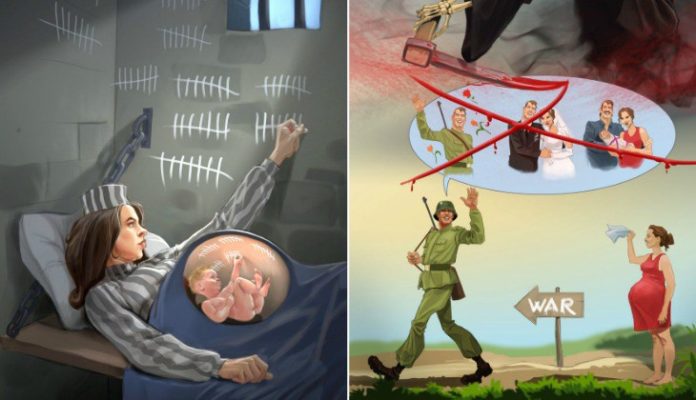 by Amanda Froelich at trueactivist.com
These cynical illustrations will make you think twice about accepted cultural 'norms'…
Using art to raise awareness about issues that demand acknowledgement and remedy is nothing new. In the past, for example, well-known British artist John Holcroft has used his unique style of illustration to depict the insanities of modern-day society. 
This time, two Romanian cartoonists, have put their imagination to work to depict a satirical view of our modern world.
Horia Crisan shared the following photos with Bored Panda, with the following sentiment:
"These cartoons represent our views on relevant topics, such as war or politics, and people sins, like immorality and shallowness.

Even though our work has been acclaimed by the art community and won many prizes, our main goal is to bring attention to touchy subjects."
Scroll through the thought-provoking artwork below, and share your thoughts in the comments section. You can follow Petry and Crisan's artwork on Facebook.
1) The Soldier's Future
2) War
3) True Love
4) The Opening Ceremony Of Life
5) Two Prisoners
6) The Cure For Stupidity
7) The Bible, Corrected By God
8) The Revolutionary's "Victory"
9) The Grandmaster
10) The Brain
11) The Truth About Original Sin
12) Doctor or Veterinary? Both!
What do you think? Comment below and please share this series!
---
This article (These 12 Satirical Cartoons Depict The Disturbing Reality Of Modern-Day Society) is free and open source. You have permission to republish this article under a Creative Commons license with attribution to the author and TrueActivist.com