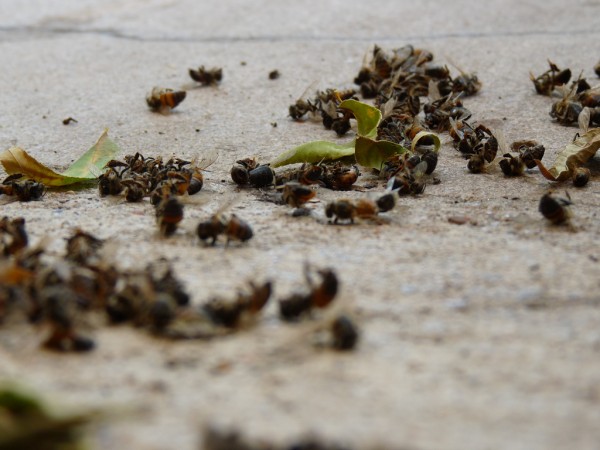 By Whitney Webb at trueactivist.com
Beach goers in South Florida were dismayed to find thousands of dead and dying bees washed up along the shoreline.
South Florida beach goers might not have expected to be stung by a bee in the surf, however, that's exactly what's been happening. In a rare occurrence, thousands of dead and dying bees have been washing up onto a popular beach in Naples, FL. Martha Duff, a Naples, FL resident told NBC Miami, "I've been stung a couple of times and at first, I didn't know what it was and then I realized and then I had an allergic reaction." Residents are confused and concerned asking questions like those posed by Duff: "Why are there bees? Where are they coming from? And why are they in a very specific area of the beach?" Some visitors to the area, local residents, as well as families with children are avoiding the beach due to concerns about bee stings, causing concern throughout the local community regarding the impact the unexpected event could have on tourism.
Local news station NBC2 reported that Naples City crews and facilities maintenance department were investigating the problem earlier this week in an effort to find answers to these questions. Reporters from NBC2 reached out to bee experts for an opinion on what might have caused this phenomenon. Local pesticide spraying could have forced the bees into the water though some have suggested that the swarm succumbed to exhaustion in transit over the ocean and simply dropped into the water. However, the link between the use of certain pesticides and mass bee death is well-established, suggesting the blanket use of pesticides were to blame as pesticides are often sprayed overhead in Florida in significant amounts as part of the state's mosquito control policy.
Great concern over the death of bees has arisen in recent years as bees are an essential component of many key ecosystems. Bees are responsible for a majority of pollination, which is essential to propagating nearly one-sixth of all flowering plant species world-wide. These plants account for approximately 400 different types of crops and other culinary plants. For instance, agricultural production relies on bees to pollinate broccoli, asparagus, melons, pumpkins, berries, nuts, apples and cherries just to name a few of the products which would cease to exist should bees disappear from the food chain.
What are your thoughts? Please comment below and share this news!
---
This article (Thousands of Dead Bees Wash Up on Florida Beach) is free and open source. You have permission to republish this article under a Creative Commons license with attribution to the author and True Activist.