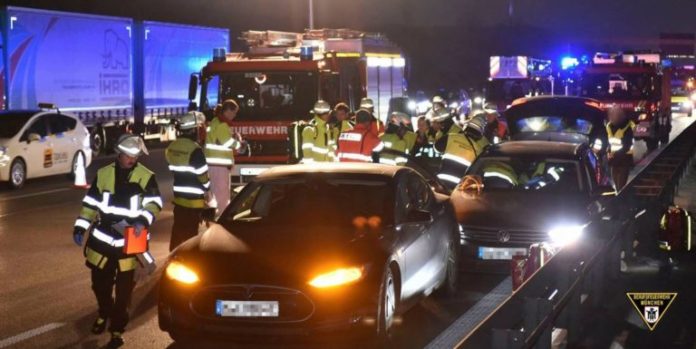 By Amanda Froelich at trueactivist.com
After a man sacrificed his Tesla to save the life of a driver on the Autobahn, Elon Musk graciously offered to cover all repair costs for the car.
A Tesla S might be worth $100,000, but Manfred Kick didn't think twice before sacrificing the car to save a man's life. According to WCPO, the 41-year-old was cruising down the Autobahn – a federally controlled highway with no mandated speed limit – when he noticed a Volkswagen swerving dangerously across the road.
As Manfred sped up, he saw that the driver had fallen unconscious against the steering wheel. Realizing that the individual's life was worth more than any vehicle, he quickly pulled the Model S in front of the Volkswagen and braked until both cars came to a halt. The hero then jumped from his car and rushed to the other vehicle, where he performed first aid on the unconscious man until emergency medical technicians arrived. The driver who had suffered a stroke was then transported to a hospital in Munich, Germany.
Manfred's quick-thinking saved the individual's life. However, it did have a cost. Reportedly, the expensive car endured $10,000 in damage and the good samaritan wasn't sure whether or not his insurance would cover the repair work. CEO of Tesla, Elon Musk, did something to put his mind at ease, however. Congratulating Manfred for his heroism, he offered to pay the bill on Twitter:
"Congrats to the Tesla owner who sacrificed damage to his own car to bring a car with an unconscious driver safely to a stop! In appreciation, Tesla is providing all repair costs free of charge and expedited."
In appreciation, Tesla is providing all repair costs free of charge and expedited. https://t.co/D68HNJcCoQ

— Elon Musk (@elonmusk) February 15, 2017
This isn't the first charitable deed Musk has conducted to help others, and it most certainly won't be the last. If you've been inspired by this story, please share this positive news and comment your thoughts below!
---
This article (Man Sacrifices Tesla To Save A Life, Elon Musk Offers To Repair All Damage) is free and open source. You have permission to republish this article under a Creative Commons license with attribution to the author and TrueActivist.com